Which 'BIP' Contestant Is The Most Genuine?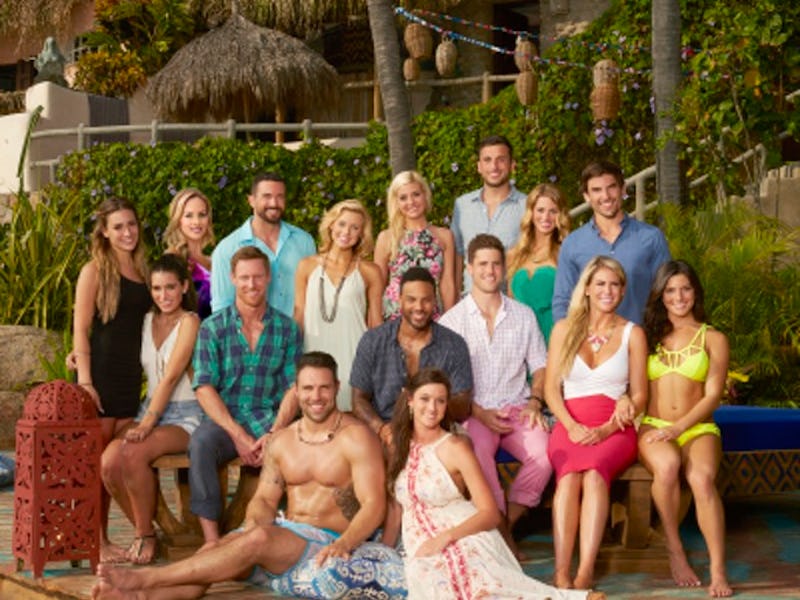 As a proud resident of the Bachelor Nation, my life has become completely enveloped by the glorious escapism that is Season 2 of Bachelor in Paradise. While reality fodder is known for delivering the drama, this season of BiP has been particularly on fleek in keeping us at the edge of our couch cushions. While many contenders arrived in paradise with genuine hopes of finding love, other seem more consumed by the idea of competition. Most notably, the official "villain" of the season, Joe Bailey, has received an onslaught of backlash due to his apparent cahoots with Samantha Steffen, and manipulation of fan favorite, Juelia Kinney. Other season shockers have included Lauren Iaconetti's revelation about being attached to a man back home, and subsequent exit from the reality landscape.
Despite the many tears and histrionics, several of the contestants have kept it real the entire season thus far. Case in point: Tanner Tolbert and Jade Roper's romance endeared many fans due to their unremitting sincerity. Sadly, these two haven't gotten as much camera time due to their lack of drama, but hopefully that will change soon.
So, who is the most real of all the cast members — past and present — on this season of the addictive Bachelor spinoff? Because I'm sure you are all dying to know, I have taken it upon myself to provide you all with a definitive ranking of each contestant's realness — from most genuine to borderline fictitious.
1. Tanner Tolbert
Sadly, Tanner hasn't been getting as much screen time as of late, due to his lack of drama. Still, whenever we get bestowed with the gift of Tanner's presence — and witty one-liners — he is the quintessence of realness.
2. Jade Roper
It's no surprise that Tanner's bae has also been keeping it real. Jade initially caught the eye of pretty much every male cast member when first entering paradise, likely due to her charming authenticity.
3. Juelia Kinney
Juelia has been touted by many cast members as one of the sweetest people they know — and it shows. After being hoodwinked by Joe, Juelia maintained her grace and poise, which is a difficult feat. This single mother deserves all the roses in the world!
4. Tenley Molzahn
Before appearing on this season of BiP, Tenley got far on Season 14 of The Bachelor and the original Bachelor Pad. She's had plenty of camera time, and each moment has been delightfully genuine.
5. Dan Cox
Dan "The Man" Cox basically stole my heart when he stood up for Juelia after getting wise to Joe's manipulative ways. Although I was sad to see him end his burgeoning romance with Ashley S., he definitely went about the breakup in the most genuine and chivalrous way possible.
6. Carly Waddell
Carly's assertiveness with Kirk (i.e., "Just kiss me! I want you to!") is something to truly admire. This girl knows how to keep it real, even under the most awkward of circumstances.
7. Jonathan Holloway
Although Jonathan kind of put me off at the start of the series with his incessant use of the word "delicious" to describe every female contestant, he proved himself to be a true class act during his run. Jonathan wasn't afraid to show his vulnerability, and even admitted to some "wrongdoing" when he had been tricked by Joe. Anyone else hoping this guy gets his own spinoff?
8. Kirk Dewindt
I got a little apprehensive about Kirk when he started to balk at the idea of staying with Carly on last week's episode. However, the amiable suitor was able to have an honest conversation about his reticence, which garnered a place in all our reality television-loving hearts.
8. Ashley Iaconetti
All those tears and histrionics are definitely real, which is one of the many things that I love about this contestant. Although she has a tendency toward melodrama, Ashley has definitely been one of the most entertaining cast members.
9. Jared Haibon
OK, I adore Jared. Still, his wishy washy nature with Ashley I. takes him down just a few notches in this ranking. He also has a bit of a mysterious quality that — although endearing — can sometimes make me wonder about his motivations.
10. Mikey Tenerelli
Mikey T. initially came off as a bit disingenuous. By the end of his BiP run, however, he proved himself to be a definitive "Beef Heart."
11. Ashley Salter
Ashley S. seems to fluctuate a bit when it comes to her demeanor. One minute she's the voice of reason, and the next she's talking smack about Dan to a crab. Regardless of how authentic all of her actions are, I can't get enough of watching this quirky contestant.
12. Megan Bell
Anyone who can rouse JJ Lane awake and spontaneously proclaim their affection is pretty real, in my book. Being that Megan is a relatively new arrival, however, her true motivations remain to be seen.
13. Michael Garofola
Poor Michael G. didn't get too much time on this season. He seemed like he would be a frontrunner for Tenley's affections, but sadly, didn't make it past more than a couple episodes. Because fans didn't get to know this contestant too well, his ranking drops a few notches.
14. Joshua Albers
I have yet to figure out the puzzle known as Joshua. He mentions wild nights with substances before quickly back peddling, and lest you forget how he basically threw everyone under the bus during his time on Bachelorette.
15. JJ Lane
After proudly proclaiming himself as a villain, JJ turned into a bit of an antihero after standing up to Joe. I still suspect this wishy-washy contender may have some tricks up his sleeve, though.
16. Amber James
Viewers barely know much about Amber as of yet, other than the fact that she is making Ashley S. super upset by beginning a romance with Dan. Her realness remains to be seen, although I'm hopeful.
17. Clare Crawley
When you fluctuate between "not wanting to step on anyone's toes," and "not being afraid to ruffle a few feathers," your place on a realness ranking officially plummets. Also, that impassioned speech during a rose ceremony was particularly suspect. That being said, I remain an avid fan of Clare, and her banter with the paradise raccoon remains at the top of my list of #FriendshipGoals.
18. Jillian Anderson
Jillian openly admitted to using JJ simply to get a rose before being the first eliminated, so yeah...
19. Lauren Iaconetti
Oomph. Ashley I.'s sister had quite the stint this season. Between calling all the contestants "old," and later revealing that she was already in an illicit relationship, I can't give this gal a high ranking.
20. Joe Bailey
Do I even need to explain the low ranking, here? Joe has gleaned the spot of this season's villain with his lying and manipulation. I'm still holding out hope that he can somehow redeem himself, but it ain't looking good thus far.
21. Samantha Steffen
The only person that may be a greater master at hoodwinking than Joe is Samantha. The contestant was initially swathed in mystery. Last week, we saw that Samantha and Joe likely planned to be together on the show from the start, and Samantha was also seen instructing Joe on how to frame their love story during interviews.
Being that this season has had more twists than a crazy straw (remember those?!), who knows which contestant will emerge from the finale as the most genuine. I, for one, can't wait to find out.
Images: Bob D'Amico/ABC (2); Rick Rowell/ABC; Giphy (4); Jared Haibon/Instagram;