8 Labor Day Drinks To Toast Summer Goodbye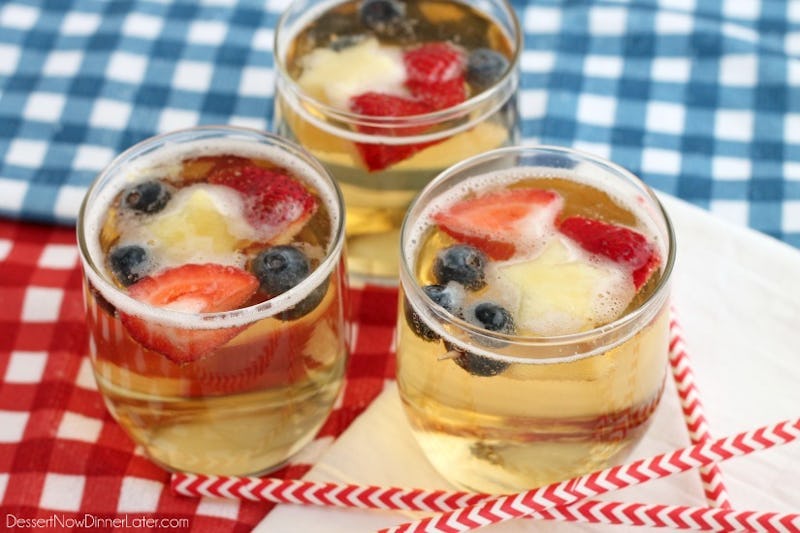 Summer might be winding down, but we still have one last summer holiday to look forward to before the reality of autumn and winter really sinks in. So, let's whip together some delicious Labor Day drinks, and send summer off the right way!
Finding the right elements and recipes for your Labor Day party can be a bit of a challenge, especially if you aren't quite sure what the holiday is commemorating. The other summer holidays — Memorial Day and the Fourth of July — are obvious. But, what the heck are we actually celebrating on Labor Day?
I'll give you the abbreviated history lesson. Labor Day has been a national holiday since 1896, and it honors exactly what its name implies. It's a celebration of the American Labor Movement, and basically exists to recognize the contributions of United States workers. No wonder you get the day off, right?
You definitely don't need an excuse to invite all of your friends over for a festive celebration and some delicious cocktails. But, Labor Day is a fitting occasion! Not sure what drinks to mix up to honor the day? Have no fear, my hard-working friends. I've pulled together eight drink recipes that are perfect for your Labor Day get-together. Just don't drink too many — you do need to go back to work the next day.
1. Sparkling Cojito
Summer isn't over yet. So, celebrate with a coconut twist on the traditional mojito that will inspire thoughts of warm, sunny weather and island breezes. This pitcher cocktail by The Kitchn is perfect for sharing — although you may want to keep it all to yourself!
2. Cucumber Raspberry Vodka Sparklers
Who says your drinks need to stick with a specific theme? Your guests will appreciate any crisp and refreshing summer cocktail, and these cucumber raspberry vodka sparklers by Joy The Baker definitely fit the bill. They're so refreshing, it's almost dangerous.
3. Patriotic Punch
Of course, any summer holiday is a great excuse to whip out a patriotic drink. Labor Day is no exception, and this fizzy patriotic punch by Dessert Now, Dinner Later is definitely a party pleaser. With pieces of pineapple cut into star shapes, this beverage is almost too adorable to drink!
4. The Bootleg Cocktail
With mint leaves and both lemon and lime juice, this bootleg cocktail by Cookie and Kate is a summery taste sensation. As Minnesota's signature country club cocktail, it'll perfectly complement any sophisticated (or not-so-sophisticated) Labor Day bash.
5. Raspberry Limoncello Prosecco
You need to get your fill of fresh, fruity drinks while you still can. This raspberry limoncello prosecco by Damn Delicious is fizzy, refreshing, delicious, and super easy to make. Chances are, you're going to want more than one.
6. Whiskey Lemonade With Honey Simple Syrup
Sure, you've had your fair share of vodka and lemonade. But, combining whiskey and lemonade? That sounds almost too good to be true. I'm willing to bet that this delicious whiskey lemonade by Foodie Crush will quickly become one of your go-to summer drinks.
7. Blueberry Lavender Lemonade
Is there anything more summery than drinking booze straight out of a mason jar? Probably not. Combine that with lemonade — a staple summer drink — and you have a cocktail fitting for any and every summer party. This blueberry lavender lemonade by Cookie and Kate is both beautiful and delicious. Just prepare for all of your guests to ask for the recipe.
8. Champagne Jello Shots
No party is complete without jello shots — or champagne. Why not kill two birds with one stone, and combine them in one glass? A shot glass, that is! These champagne jello shots by Food Fanatic will be the icing on the cake of your Labor Day party.
Looking for more great food ideas? Check out Bustle on YouTube.
Images: Amber/Dessert Now, Dinner Later; Faith Durand/The Kitchn; Joy/Joy the Baker; Kate/Cookie and Kate (2); Chungah Ree/Damn Delicious; Heidi Larson/Foodie Crush; Food Fanatic