Meet One Of Zac Efron's EDM 'Friends'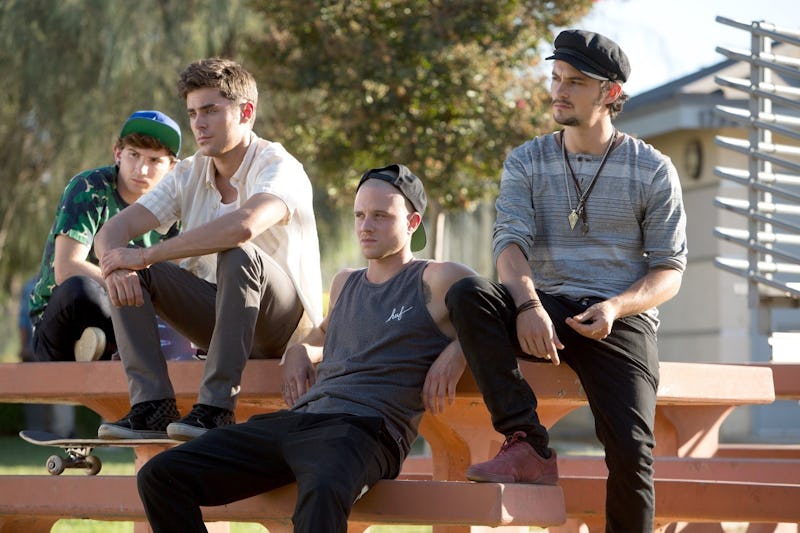 Feeling a little lonely for Zac Efron these days? Same. Lucky for humanity, he's back in theaters on Aug. 27, playing an aspiring DJ and producer in We Are Your Friends . The N.W.A. biopic Straight Outta Compton is already a certified box office success; if WAYF can attract a similarly-sized audience to its dramatized version of the EDM scene as Compton did to a watershed moment in hip-hop, then music movies are officially having their moment in summer 2015. In Friends, Efron's character Cole rolls with a crew of long-time pals, promoting parties and partying themselves. Among them is a mustached, beanie-ed guy named Ollie who probably looks a little familiar. So, who plays Ollie in We Are Your Friends ?
Shiloh Fernandez is actually 30, but plays a hustling millennial in the movie. The California-born actor has been working steadily since the mid-'00s, piling up credits in film and television. He missed the opportunity to become a household name back in 2008 when he came just shy of scoring the role of Edward in the Twilight series. He was summoned back by director Catherine Hardwicke to work with her on the nursery rhyme/thriller mash-up Red Riding Hood, a role Fernandez describes as "a much better fit." (Would Bella and Edward fans have been buzzing about "SFernz" instead of "RPattz"? The world will never know.)
Cullen close-call aside, Fernandez has had no trouble getting cast in a variety of compelling roles. Here are six examples of his past and upcoming work to get you on Team SFernz.
1. Jericho
Fernandez's first meaty role on television was Sean Henthorn, your standard tough teen, on the cult favorite Jericho. Jericho went dystopian before dystopian was cool; how do you like them apples, Hunger Games?
2. Red Riding Hood
As I said above, Fernandez reunited with Twilight director Catherine Hardwicke for this terrifying take on the already scary children's story. The actor romances Amanda Seyfried as a penniless woodcutter, though her parents are rooting for the rich other guy. Aren't they always?
3. Evil Dead
Evil Dead just won't die. First, the cult franchise was rebooted in theaters with a new young cast (including Shiloh Fernandez), and now it's making a TV comeback on Starz with original hero Bruce Campbell.
4. White Bird In A Blizzard
The actor plays the boy-next-door to Shailene Woodley's character's creepy family in this independent thriller. Dreamy as he is, he may have had a hand in the beautiful and tortured mother's disappearance.
5. Return To Sender
This one went under the radar, but color me intrigued at a rape revenge fantasy starring Gone Girl femme fatale Rosamund Pike. Fernandez goes dark as Pike's character's attacker, who she goes to great lengths to get to know to after he's released from prison. Why? Keep your enemies closer.
6. Chronically Metropolitan
Soon, you can see Shiloh Fernandez along with Pretty Little Liars star Ashley Benzo, Josh Peck, and Mary-Louise Parker in a New York City-set coming of age drama. There's no official theater date yet, but the film has been impressing at film festivals, including Cannes. Expect a release in 2016.
There's more to the We Are Your Friends actor than all-night faux-partying. Make sure to check out the rest of the rising star's cool projects.
Images: Warner Bros. Pictures