Kendall, 'Vogue,' & Estee Lauder Are Teaming Up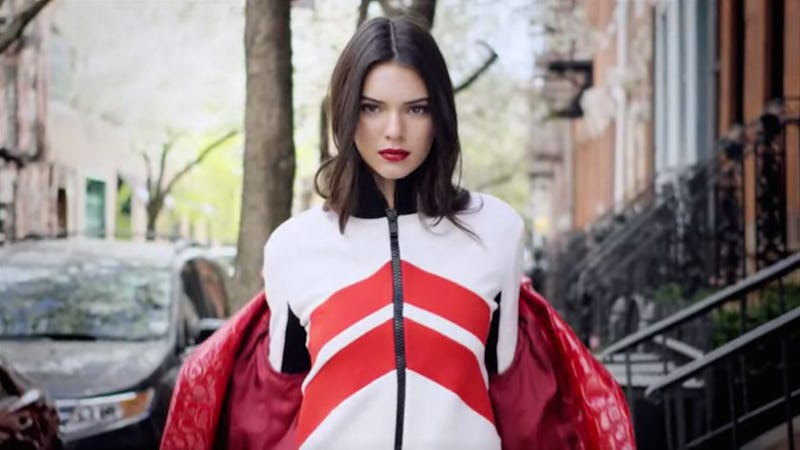 Somewhere between fielding Nick Jonas rumors and driving around in her newly-matte Ferrari, Kendall Jenner managed to pick up a new stint with Vogue. Get this: Kendall Jenner, Vogue, and Estée Lauder are teaming up, and together, they will be releasing a series of vignettes over the course of the week.
Pretty cool for Kendall and Estée Lauder, right? Plus, aside from their dynamo new vignette series, both parties have been doing pretty darn awesome lately. Kendall just scored another endorsement (this time for Filipino brand Penshoppe), while Estée Lauder recently launched a covet-worthy collaboration with Opening Ceremony, along with a new ambassadorship for rainbow-haired it-girl Irene Kim. Now that they've joined forces with Vogue, they've officially created something of an unstoppable trifecta.
Their first collaboration, in fact, is already here — and it's every bit as fabulous as you might expect. Kendall struts the pavement in the most perfect shade of perfect red lipstick ever (based on past adverts and her curated page on the Estée Lauder website, I'd hazard a guess that the shade is Pure Color Envy Liquid Lip Potion in Lethal Red), as she demonstrates her fashion super power. As Vogue jokes, she's a "supermodel with super powers" — and in this case, it's the magical ability to dress with keen sartorial precision, along with some rad telekinesis.
Funnily enough, it's not her first time with powers — in an earlier shoot for Estée Lauder, she demonstrated the power to transform high-fashion pout to silly selfie (and vice versa). At any rate, in her newest mini-commericial, her ultra-stylish outfit (which includes a fur scarf and a crocodile coat) matches her lipstick to a T (of course), and the overall effect is nothing short of stunning.
Pretty darn stunning, no? And seeing as this is the first in a weeklong series of shorts, we're seriously in luck! Let's buckle our collective seatbelts, because it's sure to be quite the stylish week.
Images: Kendall Jenner for Estée Lauder/Vogue Magazine