Eazy-E's Legacy Extends Beyond N.W.A.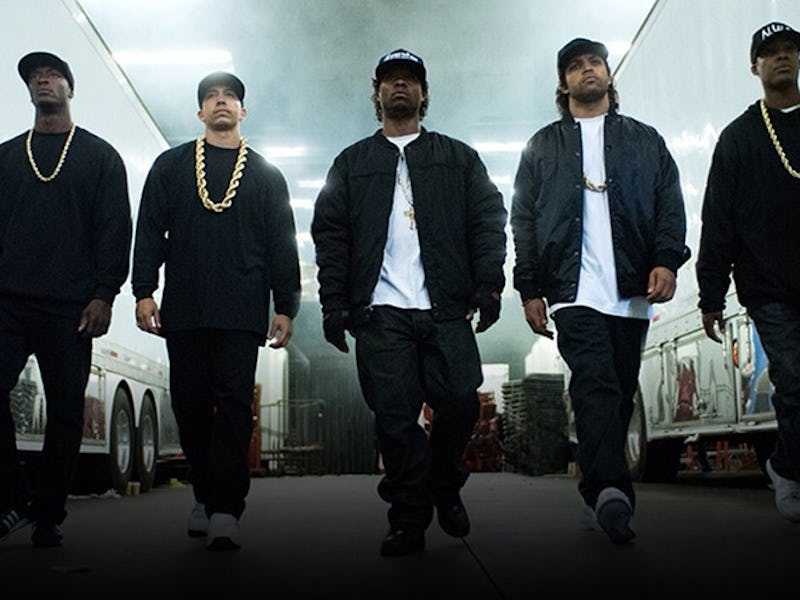 Straight Outta Compton may be a film about N.W.A., but it also acts as a tribute to Eazy-E, one of the group's charismatic frontmen who died in 1995. Eazy-E is the only member of N.W.A. who died before Straight Outta Compton was even a credible idea of a film, let alone before production began. The four surviving members, Dr. Dre, Ice Cube, DJ Yella and MC Ren, were all involved in the film, though DJ Yella and MC Ren were less involved than Dre and Cube. As the only N.W.A. member unable to help craft his on screen legacy, Eazy-E remains one of the most mysterious pop culture figures. The legacy of Eazy-E is equally as mysterious, spanning N.W.A., the birth of gangsta rap and the success of Dr. Dre, Ice Cube, and the Black Eyed Peas.
Eazy-E is largely known as the businessman behind N.W.A., or at least one of the more business-minded members of the group. The rapper founded Ruthless Records, the group's record label, and owned the rights to N.W.A. music until his death in 1995, when the rights were inherited by his widow, Tomica Woods-Wright. Woods-Wright acted as a producer on Straight Outta Compton, and so she had a huge hand in shaping her late husband's on screen legacy.
Eazy-E may be remembered as a musician, but, as has been pointed out in interviews with DJ Yella and Ice Cube, Eazy-E was far from a natural rapper. He was never a writer, and originally struggled with the fast-paced skills required to rap. That said, N.W.A. members appear to be in agreement: N.W.A. would not have existed without Eazy-E.
"N.W.A. would have not existed without Eazy-E. no doubt in my mind. He was bold and not scared of anything. He was 21, 22, I was 16 — to me he was fearless. That's what he brought. 'I don't want to do no corny ass records that try to get on the radio. I want to do hardcore records about what the hell is going around,'" Ice Cube told Billboard.
N.W.A. isn't the only rap group that credits its success to Eazy-E. Will.i.am of the Black Eyed Peas was taken under Eazy-E's wing in the '90s, signed to his Ruthless Records shortly before Eazy-E's death, and the artist has frequently cited Eazy-E as his mentor. Will.i.am. went on to become part of one of hip hop's most popular groups, the Black Eyed Peas, and has now taken over pop music as a producer. To will.i.am., Eazy-E's legacy is what he left to other artists.
"There wouldn't be a Dr. Dre, no Beats by Dre if it wasn't for Eazy having that belief in him. There wouldn't be an Ice Cube as we know him. Eazy set the foundation for people to even have a start. How many people have emulated what Eazy has done in terms of being the street dude who went out and did on his own? There wouldn't be a Tupac, a Cash Money or none of that stuff if it wasn't for Ruthless and Eazy-E. It wasn't called gangsta rap before N.W.A. came out," will.i.am. said in an interview with BET.
Eazy-E's legacy extends far beyond N.W.A. and his music. A father of seven, Eazy-E's legacy lives on in the form of his children, a few of whom helped actor Jason Mitchell prep for the role in Straight Outta Compton. Eazy-E's 24-year-old daughter, E.B. Wright, is working on a documentary about her father, hoping to explore the complexities of Eazy-E's death and personal legacy that weren't touched on in the film.
"It's going to touch on a lot of my dad's life and a lot of things that they didn't show in the movie, but mainly focus on the scandal surrounding his death and what happened afterwards. What happened to his kids? What happened to his estate?" Wright told Essence.
Putting aside Eazy-E's legacy as a music icon and father, there's no question that Eazy-E's sudden death also contributes to how the rapper is remembered. In 1995, Eazy-E was hospitalized and diagnosed with AIDS. He died just weeks later and became one of the first hip hop artists to publicly state that he suffered from AIDS. His death is still a source of conflict, as some people, including Eazy-E's son, Yung Eazy, believe that Suge Knight actually killed the rapper by injecting him with HIV.
For Mitchell, the actor who plays Eazy-E in Straight Outta Compton, it was important that the film extend Eazy-E's legacy beyond his death, as he said during an appearance on HuffPost Live:
"You have to rebuild the [mindset] of people who only know him for messing over the group and [dying] of AIDS. ...He was so much more than that. And it was important or me to hit every little mark because by the time he dies of AIDS [in the film], I want everybody to feel like L.A. felt when they came out with the candles and all these vigils and all these tributes. ...I wanted people to really really understand why."
As the incredible success of Compton shows, people are responding deeply to the movie's portrayal of Eazy-E and his fellow N.W.A members, and the rapper's legacy is now stronger than ever.
Image: Universal Studios