5 Dating Apps That Are Not Just About Hooking Up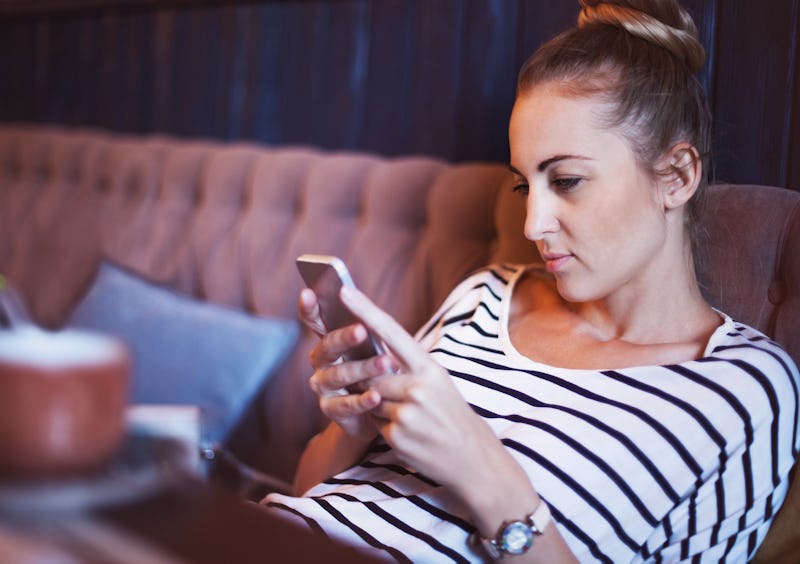 By now, you may have heard about the so-called "Dating Apocalypse" which was portrayed in a recent Vanity Fair article. It explores the melding of the hookup culture we live in (like it or not) and dating apps, particularly Tinder, which has an assumed, unspoken understanding that people want casual encounters instead of actual relationships. Now, Hinge has launched a new feature for users to state their dating "intentions" at the very top of their profile. Open to: Dating, Relationship, or Casual. When Hinge surveyed a sample of 1,500 of its members, these were the results: 63 percent are looking for a relationship, 33 percent are looking for dates, and three percent are looking for a hookup,
"This feature empowers our users to swipe smarter, and only match with those who have the same intentions," says Hinge's blog. It seems that their users are the complete opposite of Tinder ones. (I guess we'd have to survey Tinder ones to actually know.) Speaking of which, the writer of the Vanity Fair piece, Nancy Jo Sales, spoke to several daters in their twenties, many of whom use Tinder. One guy, Alex, boasted about having slept with five different "Tinderellas" within eight days and that he tells the women up front that he is not looking for anything serious. And if you have the app—or know people on it—chances are you know an "Alex" or two yourself. Or several. Whether intentional or not, Tinder seems to be about hooking up.
Of course, when I was on Tinder, my profile was very non-hook-up specific and I only attracted guys who wanted to date, not have a one-night stand or no-strings-attached "relationship" (unless they were just good actors). Of the few hundred guys who messaged me, only one ever was vulgar (something about licking whipped cream off of him after going to dinner, but said in a more overt and crude way. One Tinder guy even resulted in becoming my boyfriend. Here was my Tinder profile:
With Tinder and any dating apps (and relationships, for that matter), I think your intention needs to sync up with the other person's intention. (Kudos to you guys for being specific, Hinge!) Like with anything in life, I think it's all about what you put out there—if you hate that guys post shirtless pics but then have bikini shots up yourself, you're sending a certain message, too. (And if you don't want hookups, don't message the shirtless guys! I know, maybe one or two shirtless guys actually want a relationship, too, but in my Tinder dating months, all of my dates had shirts on in every pic, as well as on our dates.)
OK, so if you're tired of Tinder (unless you try it my way and focus on seemingly more chaste matches), here are a few other dating apps to try that are more suited to finding a relationship vs. a hookup.
Hinge connects you with potential matches through Facebook—whether they are "friends" of yours or friends of friends. Similar to Tinder, you and a potential mate both have to "like" each other to begin communicating and both apps pull information from Facebook, such as your interests and pictures. However, Hinge gives you more background info, including: someone's height (always a big question on Tinder!), where someone went to school, and where they work. Whereas you can spend countless hours a day on Tinder (admit it—you've done it!), Hinge only gives you a limited number of matches a day (up to 20), so it's not as big a time sucker (which gives you more time for going on actual dates).
Bumble, founded by Whitney Wolfe (a co-founder of Tinder), is all about the ladies—because the women always make the first move, and they have 24 hours to do so. (For same-sex connections, either person has 24 hours to initiate communication.) If you forgot to message someone within the timeframe, Bumble will give you one freebie and extend one connection for an extra 24 hours. I personally love that there's a deadline, since I'm sure we can all relate to making matches, yet never hearing from them. By putting the woman in control, this app automatically weeds out a lot of unwanted, vulgar, overly sexual messages (the type that can happen on sites like OkCupid, where anyone can message you). Additionally, as of this month,Bumble is changing its algorithm to try to eliminate jerks and trolls, then reward users' "good" behavior with a verified status ("VIBee").
Don't you hate when you cross paths with someone you think there could be potential with, yet never see them again? That's where Happn comes into play. With the geo-tracking app, you can see users who just, literally, passed you by and reach out to them, or them to you. Whenever you pass by another user, they will appear in your timeline, along with the location of where you "saw" each other and when. Both of you have to like each other in order to start "talking," which seems to be a trend among these mobile dating apps. You can also be a bit more aggressive, so to speak, and send someone a "charm" (with a guaranteed delivery) for 10-20 cents.
The Grade's tagline is: "Make the Grade or Be Expelled," which describes how the dating app uses a proprietary algorithm which assigns letter grades to its users, A+ through F. The grades are based on users' profile and message qualities, as well as responsiveness. Those with "D"s or "F"s get warnings and suggestions on how to do better, but if that "F" does not go up, they are expelled. Similar to Bumble's 24-hour rule, I like that The Grade makes people accountable. After all, I'm sure we've all stumbled upon profiles we've really liked, only to see that the person hasn't logged in for months (they could be married by now, for goodness sake). And grading profiles and the quality of one's messages seems intriguing, as we all know good profiles and messages from bad ones.
"Date. Intelligently." That's the standard that the members-only dating app, The League, goes by. They do the scouting for you (granted, you make it in—and through their long waiting list), based on qualities such as professions and educational background. (They also eliminate close colleagues.) The app only sends you five potential matches a day (which is great news, I think, so you won't get bogged down for hours by swiping; you'll have lots more free time now!). The League is more selective than the other mobile dating apps out there and says it sets itself apart by these main six elements:
No voyeurs
No games
No noise
No fakes
No shame
No randoms
Plus, like any club, you can get kicked out for bad behavior (being unresponsive or crude). Here, CEO Amanda Bradford shared some ways to make your dating profile stand out (whether you get into her club or not).
Want more of Bustle's Sex and Relationships coverage? Check out our new podcast, I Want It That Way, which delves into the difficult and downright dirty parts of a relationship, and find more on our Soundcloud page.
Images: Dasha Petrenko/Fotolia; Hinge (5); Natalia Lusinski (3); Bumble (6); Happn (7); The Grade (8); The League (9)