What's On The McDonald's All-Day Breakfast Menu?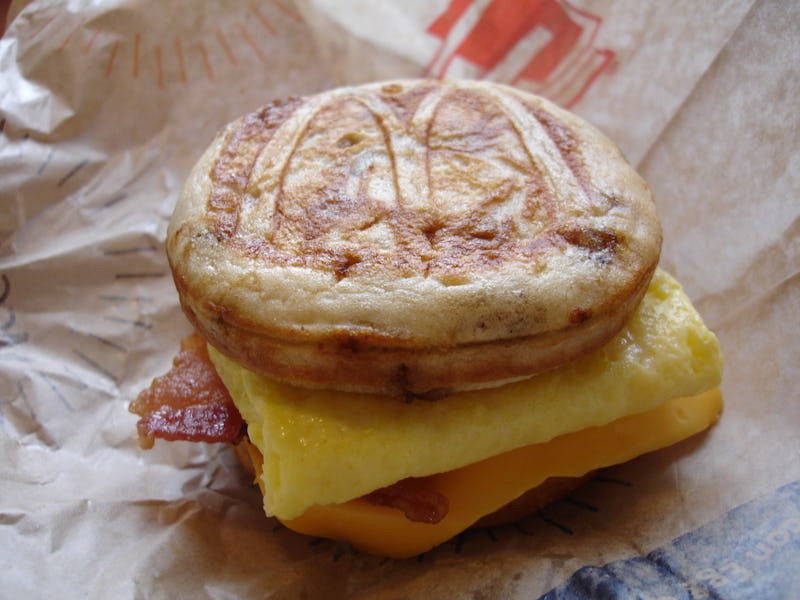 It finally happened — McDonald's has decided to gift the world with the news it's been waiting to hear since humans got their first-ever taste of a sausage McMuffin. McDonald's all-day breakfast will begin Oct. 6 at participating stores across the country. But just what's on the McDonald's all-day breakfast menu, exactly? Not to worry, my fellow Micky D fans. McDonald's is including most of your classic morning-time favorites, and then some.
McDonald's has been toying around with the idea of all-day breakfast for a while now, and with good reason. Anyone who has ever waltzed on up to a McDonald's counter at 10:35 a.m. with their sights set on a sausage and egg biscuit knows just how painful it is to be told the store stopped selling them five minutes ago (sob). Earlier this year, McDonald's experimented with all-day breakfast in San Diego, serving up hash browns and breakfast sandwiches all hours of the day and night. Apparently, that test was successful — McDonald's franchises voted to roll out all-day breakfast at 14,300 locations nationwide, meaning chances are high there's a participating restaurant near you. 'Tis a happy, happy day to be obsessed with all things bacon, egg, and cheese.
As for menu items, here's what fast food fans can expect to order up:
1. Egg McMuffin, Sausage McMuffin, And Sausage McMuffin With Egg
Variations of the beloved McMuffin sandwich will be sold at restaurants that currently have these bad boys on the regular breakfast menu.
2. Bacon, Egg, & Cheese Biscuit, Sausage Biscuit With Egg, And Sausage Biscuit
Biscuit markets will still sell your favorite sandwich combos — only all day, you guys.
3. Breakfast Platters
Hotcakes, hotcakes with sausage — order them for breakfast, order them for lunch, order them whenever the heck you please, because — you guessed it! — as of Oct. 6, they're gonna be on the menu all day, every day.
4. Sausage Burrito
Want to hear something crazy? I've actually never tried one of these in real life before — but that's all about to change, because starting in October, I can guarantee these are going to make my usual lunchtime rotation.
5. Fruit 'N Yogurt Parfait
Honestly, I'm kind of shocked these weren't available all day to begin with. Thank you, McDonald's, for seeing things my way.
6. Fruit & Maple Oatmeal
Oatmeal for dinner? I'm down.
7. Hash Browns
Say it with me all together now people — HECK. YES.
OK, so you won't be able to get your hands on an all-day Egg White Delight just yet, or the ever coveted McGriddle, but this, we can agree, is a much-needed step in the right, breakfast-loving direction. I, for one, find myself craving hash browns pretty much every hour of the day. Thank you, McDonald's, for answering my one greatest wish.
Images: Courtesy of McDonald's; Ondra Soukup, Zhao !/Flickr