Netqtr Wants To Bring Integrity To Dating Apps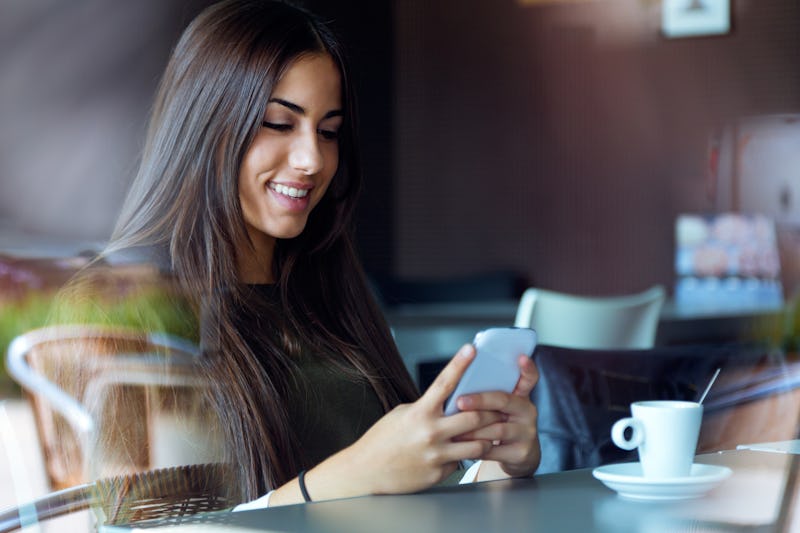 Although there are some couples who have met on Tinder and have successfully found themselves in a happy relationship, far too often I hear women's stories about just how degrading the men who use the app (along with others) tend to be. From sexual harassment, to threats, to men who firmly believe they're owed something from women, there seems to be no shortage to the negativity that women have to endure. Tinder has become such a toxic place that Neqtr, which proudly markets itself as the "anti-Tinder," has decided to launch the BreakupWithTinder.com campaign as a means for women to take a stand against their treatment on Tinder.
#BreakupWithTinder wants to put an end to all the unwanted aggression and sexually explicit messages that women receive. The campaign calls for women to change their Tinder profile photo to one of them holding a signs that reads: #BreakupWithTinder. As an invite-only dating app, Netqr wants to make a positive change in the online dating world and they feel that asking people to turn their back on Tinder is a necessary step in making the whole online dating process easier and far less scary.
Neqtr is meant, specifically, to weed out creeps and help "socially conscious people meet, for love or for friendship." It's based on the idea that no woman should be subjected to such sickening harassment and cruelty all in the name of trying to meet someone awesome.
In Neqtr, women are empowered and can find a safe zone in which dating doesn't have to be a hostile environment full of sexism and aggression. Still not convinced? Here are nine reasons to give Neqtr a try.
1. You've Seen All The Dick Pics You Can Handle For One Lifetime
I'm not sure when guys decided the best way to woo the ladies was to send them a picture of their penis without being asked, but it seems to be a trend. With Neqtr being an invitation-only app, the chances of someone inviting an incessant dick pic sender to the platform isn't very likely.
2. You're Sick Of Having Your Appearance Insulted By Men You Have Rejected
If you're a woman who, even in the most polite way possible, has rejected a man on Tinder, you've probably experienced the oh-so creative insults of "you're fat" or "you're ugly," as a "punishment" for turning a guy down. While Neqtr can't promise that some guy isn't going to flip his lid when you say adieu, it can at least offer a chance to avoid that as much as possible.
3. You've Been Stalked And Harassed One Too Many Times
Of course with rejection, comes stalking. Some guys just can't wrap their brain around the fact that a woman just might not be interested, so he decides the best tactic is to wear her down. Does that ever work? Hell NO.
4. You Know That Online Dating Shouldn't Be THAT Scary
If you get sick to your stomach every time you get a notification from your dating app because you've had THAT many horrifying encounters, then it's time to cut that app loose. Online dating should be fun and exciting, not a scary cesspool or vulgarity, insults, and blatant sexism.
Neqtr wants to inject integrity into the online dating process. It wants you to wash your brain free of all the horror stories that have forced you to scream out, "I effing give up!"
6. You're Completely Over Pickup Lines
Have you ever Googled "Tinder pickup lines?" It's terrifying! While some can be sweet, there are probably just as many that are degrading and are sexually harassing. No woman should be subjected to sexually-explicit comments without her consent.
7. You Want To Meet Someone Who Isn't Going To Threaten You When You Say You're Not Interested
The problem with Tinder is that it's majority owned by IAC, which also owns the ever-popular OkCupid, another site notorious for creating a space in which men can be awful. Although repeat offenders can be flagged on Tinder, they can creep on OkCupid and continue their ways. As the anti-Tinder, Neqtr isn't owned by Match and therefore adheres to a different standard of conduct.
8. You Want To Feel In Control Of The Dating Process
The first step to feeling empowered is to feel like you have control over your dating life and are not at the hands of men who are trying to have the upper hand.
9. You Actually Want Someone Who Gives A F*ck
Neqtr prides itself on creating a community that isn't just about people with similar passions meeting each other, but giving back to the world in which we live. You can even purchase a shirt on their site that reads "Giving Back Is Sexy" ― because it is. Making the world a better place while meeting new people is definitely the way to go. I mean, who doesn't want to meet "the one" while helping pups find for a forever-home at the ASPCA?
Want more of Bustle's Sex and Relationships coverage? Check out our new podcast, I Want It That Way, which delves into the difficult and downright dirty parts of a relationship, and find more on our Soundcloud page.
Images: Fotolia; Giphy(9)