17 Nonfiction Books Every Woman Needs To Read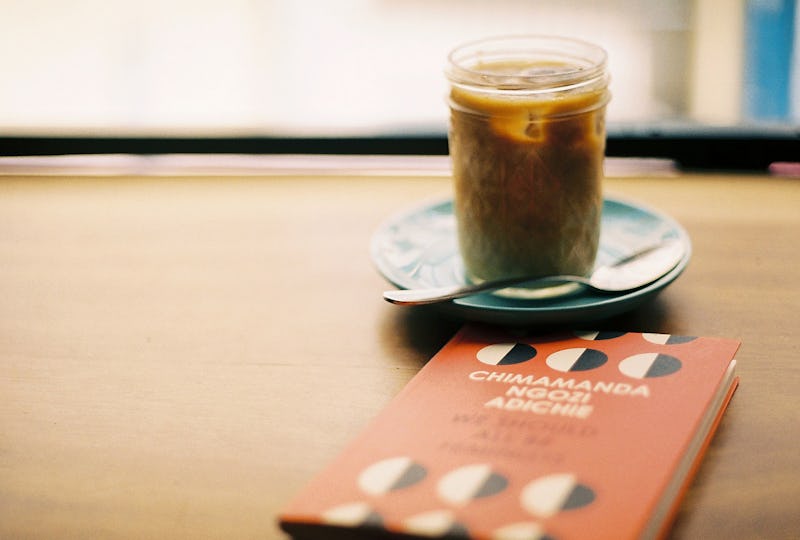 I first fell in love with nonfiction in college when I took a feminist-focused creative nonfiction writing class. The stories we were required to read, which is what they really were at their core — stories — read like fiction. They kept me hooked as well as any thriller, drama, or romance ever could. Surprised as I was, I fell in love — became obsessed even — with reading nonfiction. My bookshelves are still bursting with the stuff: essay collections, biographies, autobiographies, histories, you name it. Everything is fair game, and the more I read, the more hooked I get.
Most of the time, nonfiction gets a bad rap for being too boring or too academic, but the truth is, nonfiction books are a whirlwind in the best way. They're fascinating, entertaining, and a powerful form of writing. Nonfiction can be about anyone or anything, from presidents to pop stars, from wars to womanhood. They inform, inspire, and explore histories both personal and societal, and uncover truths. They can surprise you, challenge you, make you think off the page and out of the box. As a woman, reading nonfiction about women and by female authors has not only taught me about something, some place, or someone else, but it has also taught me about myself. From histories about revolutionaries to memoirs about mental health, these books have moved me, pushed my limits, encouraged me, and made me look at the world around me in a whole new light.
Reading nonfiction can completely transform you, and as a woman, here are 17 nonfiction titles that should be on your bucket list, because they just might change your life:
Part feminist history, part biography, part comic criticism, The Secret History of Wonder Woman is as fascinating as the title would lead you to believe. It makes you ask the tough questions about feminism and the complicated history behind the creation of the Amazonian heroine you've looked up to since you were a kid while titillating you with stories of sexual promiscuity, polyamory, and BDSM. Every woman needs to read this revealing history of Wonder Woman's creator, and the women who shaped his life.
Few books can express pain so beautifully and truthfully as Maya Angelou's memoir. I Know Why The Caged Bird Sings is a moving and inspiring personal history a woman who had her childhood, and her innocence, ripped from her and who, against all odds and with great strength, found the courage to move on. Put this one on your bucket list, and be ready to check it off immediately.
Food is a vital part of your life — it affects not only your health and wellness, but your disposition, budget, community, and your whole world, really. In Animal, Vegetable, Miracle , which is part memoir, part journalistic investigation, Barbara Kingsolver both captivates you with her personal journey and educates you about eating in an interesting and frank way. Because all women eat, all women should add this to their "Must-Read" pile. Your body will thank you for it.
Short but powerful, Chimamanda Ngozi Adichie's essay is a personal and profound take on feminism. Based on her own experiences, the Americanah author explores what it means to be a 21st century feminist and the reason everyone should be one. Read it and pass it along, and if you can't get enough, watch the TEDx talk that the book was adapted from.
Though it sounds like dramatic fiction — one teacher and her group of committed female student who, despite the danger and despite the threat to their lives, read forbidden literature in secret — Azar Nafisi's real-life account of teaching female students in a tyrannic Iran is true. A sincere and thought-provoking look at female oppression and revolution, Reading Lolita in Tehran exposes just how far women will go for their right to an education.
Gloria Steinem has a lot to say, and her timeless collection Outrageous Acts and Everyday Rebellions says it all with wit, honesty, and intelligence. In her essay collection, Steinem tackles issues of equal pay, sexual harassment, genital mutilation, and so many other conditions of inequality that, more than 30 years after its original publication, still exist. This, ladies, is essential reading.
How does a black tobacco farmer with cancer become one of the most important tools of modern medicine? With a lot of mystery, a lot of questionable ethics, and a lot of heartache. Even if you aren't a "science person," The Immortal Life of Henrietta Lacks , the true story behind the discovery of the HeLa cell, will completely enchant you... and make you question everything. All the time.
Let me be clear: as a woman, every Joan Didion book should be on your reading bucket list, but if you have to pick one, you can't go wrong with Slouching Towards Bethlehem . Poignant and relatable, Didion's brilliant prose captures life in the 1960s, the spirit of the counterculture, and the experiences of womanhood. This is an absolute must, and when you're done, you can move on to Didion's other prophetic works.
It doesn't matter that you've seen the movie, you have to put Wild on your reading bucket list immediately. Though Reese Witherspoon's on-screen portrayal was inspiring, Strayed's written memoir takes it to a whole other level. Wild is a touching story of perseverance in the face of loss, and that is something any woman can relate to and learn from.
This gripping, uncensored memoir will transform the way you look at body image, cultural pressure, and mental health. Marya Hornbacher's brave retelling of her personal struggle with eating disorders, something she's battled with since childhood, is gut-wrenching and compelling, and the kind of hard-to-read book you have to dive into.
Because every woman knows heartbreak, every woman has questioned her identity, and every woman has thought about leaving everything behind to start over, Elizabeth Gilbert's memoir of experiencing just those things is a crucial addition to your reading bucket list. Eat, Pray, Love will convince you to take the chances you've been too scared to take and give you hope that your happy ending, no matter where, what, or who that is, is out there.
What does it mean to be a woman? Simone de Beauvoir's masterpiece explores the idea of womanhood through the ages through a philosophical, historical, and cultural lens. Groundbreaking and prolific, The Second Sex will challenge the way you look at being a woman.
The remarkable story of 13-year-old Anne Frank, a Jewish girl hiding for her life in 1942 Nazi-occupied Holland, was probably on your high school reading list, but it was there for a reason. The Diary of a Young Girl chronicles Anne and her family's struggle with hunger, with isolation, and with the constant fear that they would soon be discovered. Their personal hardships, told through Anne's diary entries, and ability to find strength and hope even in the darkest times is worth revisiting, even if you skipped it in high school.
When you need an outlet for your outrage, when you need a laugh, when you need to know you aren't the only one suffering through man-splaining, you need to turn to Rebecca Solnit's slim but splendid essay collection. Men Explain Things to Me is accessible, empathetic, and just the book you need to make you feel like you aren't alone in this outrageous, male-driven world.
Women understand how complicated mother-daughter relationships are, but Claire and Mia Fontaine might know better than most. In their joint memoir Come Back , mother and daughter chronicle their experience with drug abuse, mental illness, separation, and, ultimately, recovery. Add this to your list, but get the tissues (and your mom's number on speed dial) ready.
Mala Yousafzai became the youngest recipient of the Nobel Peace Prize for a reason. She stood up for her right for education, defended her fellow women, and refused to be silenced, despite the threats, despite the violence, and despite the fact she was shot by the Taliban. Her story of courage is truly remarkable, and it truly has to be on your TBR list.
Friendships, young love, self-discovery — Patti Smith's memoir captures the ups and downs of youth with her trademark lyrical prose and brazen honesty. Make sure you check it off your bucket list before Showtime's miniseries based on the book comes out.
Image: Savannah Van der Niet/flickr