26 New Fall Shows To Replace Those We Loved & Lost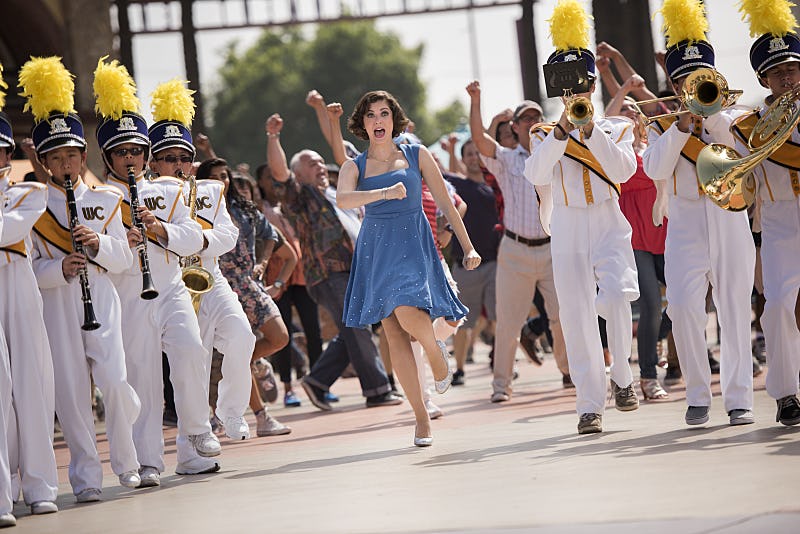 According to the site TV Series Finale, a staggering 122 television shows were either cancelled or ended their runs in the 2014-2015 season. That list runs the gamut from short-lived broadcast sitcoms (Selfie) to long-running prestige cable dramas (Mad Men). There are likely millions of faithful viewers across the country still mourning the loss of beloved characters like Leslie Knope and Don Draper. But unlike the human beings who watch, the television is a cold, emotionless machine. And it's already moving on, replacing the series we loved and lost with a whole host of new fall shows. Over two dozen such programs will premiere from September to November alone, across broadcast networks, cable channels, and online streaming services.
If you're wondering which of these many shows to tune into, look no further than this handy dandy guide to Fall 2015. It pairs up each new offering with a series that went off the air at some point last season. While none of them may fill the Mad-Men -shaped hole in our hearts, they may at least distract us from our inconsolable grief.
Caveat #1: Obviously, with only 26 new shows premiering this fall, not all 122 of our dearly departed programs will be represented here; apologies if your personal favorite didn't make the list. Caveat #2: This list only includes American series; no foreign imports, miniseries, or new seasons of anthology shows like American Horror Story or Fargo.
1. If You Loved About A Boy, Watch Grandfathered
A grown man's carefree existence is turned upside down when a needy boy enters his life. That description could apply equally to the cancelled NBC sitcom and the new John-Stamos-starring FOX comedy, except instead of a next-door neighbor, it's a long-lost son — who comes with an adorable daughter (instead of a beautiful mother) in tow.
Premieres: Tuesday, Sept. 29 on FOX
2. If You Loved Boardwalk Empire, Watch Wicked City
Cops and criminals collide in a period drama about an iconic — and incredibly corrupt — American city. Just replace Steve Buscemi, Kelly Macdonald, Michael Shannon, and Gretchen Mol with Ed Westwick (Gossip Girl), Erika Christensen (Parenthood), Jeremy Sisto (Suburgatory), and Taissa Farmiga (American Horror Story).
Premieres: Tuesday, Oct. 27 on ABC
3. If You Loved Constantine, Watch Hand Of God
Ron Perlman (Sons of Anarchy) stars as Pernell Harris, a man who is compelled by a higher power to enact vengeance against demons ... except they're the metaphorical, mortal kind of demons, and not the literal ones John Constantine was prone to hunting.
Premieres: Friday, Sept. 4 on Amazon
4. If You Loved Covert Affairs, Watch Supergirl
For five seasons, Piper Perabo kicked ass and took names as CIA agent Annie Walker. Those viewers sorely missing her absence this fall can look to CBS, where Melissa Benoist (Glee) will be kicking ass and taking names as Kryptonian hero Supergirl.
Premieres: Monday, Oct. 26 on CBS
5. If You Loved Cristela, Watch Dr. Ken
A multi-cam ABC sitcom created by a popular nonwhite comedian who plays a fictionalized version of themselves juggling a demanding job and a chaotic home life. Sounds familiar. Based on the promos, Dr. Ken's broad humor may be a poor substitute for Cristela's acerbic wit, but maybe give it a shot anyway?
Premieres: Friday, Oct. 2 on ABC
6. If You Loved The Following, Watch Quantico
If you liked the Kevin Bacon thriller, maybe a show in which FBI agents are actually good at their jobs might make for a nice change of pace! Although, given that the ABC pilot flashes forward to tease that one of the trainees (Priyanka Chopra) will be framed for a devastating terrorist attack, maybe they're not that good after all ...
Premieres: Sunday, Sept. 27 on ABC
7. If You Loved Forever, Watch Minority Report
A man uses his inexplicable, mystical power to help solve crimes by teaming up with a female police officer in a major East Coast metropolis. Based on the Tom Cruise movie (which was itself based on a Philip K. Dick short story), maybe FOX's Minority Report will have enough built-in brand recognition to stick around longer than one season.
Premieres: Monday, Sept. 21 on FOX
8. If You Loved Glee, Watch Crazy Ex-Girlfriend
It's tempting to pair Glee with Ryan Murphy's new fall creation, but the musical dramedy's true spiritual successor is this show, about a young woman who quits her job to follow her high school sweetheart from NYC to California. Oh, and she often imagines herself bursting into elaborately choreographed song and dance. Ex-Girlfriend was originally bound for Showtime before landing on The CW, so here's hoping it will bring some premium cable smarts to the tween-oriented channel.
Premieres: Monday, Oct. 12 on The CW
9. If You Loved Hannibal, Watch Ash Vs. Evil Dead
Because why not trade television's previous most blood-soaked show for television's newest most blood-soaked show? Evil Dead may be exactly the gory medicine inconsolable Fannibals need.
Premieres: Saturday, Oct. 31 on Starz
10. If You Loved Justified, Watch The Player
OK, so probably nothing this fall will match the unique tone of FX's modern Western action/drama about a man enforcing his own unique brand of justice in small-town Kentucky. But this NBC action/drama (with a few Western touches, thanks to its desert setting) about a man enforcing someone else's unique brand of justice in bright-and-shiny Las Vegas might come close.
Premieres: Thursday, Sept. 24 on NBC
11. If You Loved Looking, Watch Red Oaks
An indie filmmaking sensibility, understated and naturalistic performances, and a well-defined sense of place are equally important to this new Amazon series as they were to the cancelled HBO show. Just swap out the hills of modern-day San Francisco for the golf courses of a 1980s New Jersey country club, and you've got a similar half-hour coming-of-age dramedy.
Premieres: Friday, Oct. 9 on Amazon
12. If You Loved Mad Men, Watch The Man In The High Castle
Amazon's new drama pays as much attention to its period '60s setting as Mad Men did — except in this case, that setting is a parallel universe in which the Allies lost World War II and the U.S. has been occupied by Japan and Nazi Germany. The second series of the fall based on a Philip K. Dick story, High Castle is probably the season's most prestigious new property. It's executive produced by Ridley Scott (Gladiator), written by Frank Spotnitz (The X-Files), and directed by David Semel (Buffy, Heroes, Homeland, AHS, Hannibal).
Premieres: Friday, Nov. 20 on Amazon
13. If You Loved The Mentalist, Watch Limitless
A CBS crime procedural about a man with an unusually expanded mind who uses his impressive intellect to solve cases for the local authorities while grappling with his own lightly-serialized personal mythology? This series, based on the 2011 Bradley Cooper film, should tick all the boxes for the network's fans.
Premieres: Tuesday, Sept. 22 on CBS
14. If You Loved The Newsroom, Watch Code Black
A drama about an idealistic group of belabored but brilliant professionals doing their best in an overly chaotic workplace with fast-paced dialogue and inevitable romantic complications. Hopefully, the writing on CBS's Code Black will be even half as smart as Aaron Sorkin's. And hey, if not, it stars The Newsroom's Marcia Gay Harden, and she's always a pleasure to watch.
Premieres: Wednesday, Sept. 30 on CBS
15. If You Loved Parenthood, Watch Life In Pieces
This CBS comedy, which aims to tell four overlapping short stories each week from the differing perspectives of various family members, sounds like a combination of the departed NBC drama and Showtime's The Affair, distilled into half-hour form. Like Parenthood, its eclectic family is played by an all-star cast, including James Brolin, two-time Oscar winner Dianne Wiest, Colin Hanks (Fargo), Thomas Sadoski (The Newsroom), and Betsy Brandt (Breaking Bad).
Premieres: Monday, Sept. 21 on CBS
16. If You Loved Parks And Recreation, Watch The Grinder
Not only is Rob Lowe's infectious smile a big part of both this new FOX series and the dearly departed NBC sitcom, but they're both workplace comedies about people who may or may not be as good at their jobs as they think they are. Lowe co-stars with The Wonder Years' Fred Savage as an actor who played a lawyer on TV for eight years ... who decides to join the family practice when the show ends. Hilarity ensues, no doubt.
Premieres: Tuesday, Sept. 29 on FOX
17. If You Loved Revenge, Watch Blood & Oil
Ah, the Sunday night ABC prime-time soap: a beloved staple of anyone's TV diet. Revenge may have tied itself into too many plot knots over the course of three seasons, but it was always a sudsy pleasure filled with attractive actors in gorgeous costumes. This series looks to seamlessly continue that tradition, replacing the Hamptons with North Dakota and red sharpies with oil wells.
Premieres: Sunday, Sept. 27 on ABC
18. If You Loved Selfie, Watch The Muppets
Because Karen Gillan's Eliza Dooley was basically a muppet in human form, right? Too bad that underrated ABC gem was cancelled after one season, because the candy-colored design, perky tone, and zippy dialogue would've been a perfect match for the zany world of The Muppets.
Premieres: Tuesday, Sept. 22 on ABC
19. If You Loved Sons Of Anarchy, Watch The Bastard Executioner
Those still grieving the loss of Jax and the rest of SAMCRO can salve their wounds with this new drama from Anarchy creator Kurt Sutter, which also stars his wife, Katey Sagal (this time as mystical healer Annora), and looks continue the violent sensibilities of his previous FX drama.
Premieres: Tuesday, Sept. 15 on FX
20. If You Loved State Of Affairs, Watch Chicago Med
NBC has a certain formula when it comes to its prime-time procedurals that is comforting in its predictability. If you were one of the few who watched and mourned the passing of Katherine Heigl's political drama, perhaps this new NBC medical drama can fill the hole in your life. The third iteration in the network's Chicago brand (after Fire and P.D.), Med should be the TV equivalent of comfort food.
Premieres: Tuesday, Nov. 17 on NBC
21. If You Loved Strike Back, Watch Blindspot
The Cinemax action series came to an end last year after five seasons, but those looking for a jolt of adrenaline from their fall TV might still find it with Strike Back star Sullivan Stapleton's new show, Blindspot. It looks like a combination between Prison Break and NBC's own The Blacklist — except with Thor's Jaimie Alexander instead of Ultron's James Spader as the central character in possession of a list that's of paramount importance to the FBI.
Premieres: Monday, Sept. 21 on NBC
22. If You Loved Two And A Half Men, Watch Truth Be Told
With its trailer consisting solely of two straight minutes of shockingly unoriginal hot babysitter jokes, the "humor" on this multi-cam NBC sitcom wouldn't have been out of place on Charlie Sheen's old stomping grounds. If you could stomach it there, you can probably stomach it here.
Premieres: Friday, Oct. 16 on NBC
23. If You Loved Under The Dome, Watch Heroes Reborn
Nine years ago, a sci-fi drama about ordinary people dealing with extraordinary circumstances premiered to great promise. However, after a popular first season, the show became a critical and popular punching bag. If that sounds familiar to fans of CBS's Under the Dome, perhaps Reborn can redeem the promise of the original Heroes, as well as the current state of science-fiction on network television.
Premieres: Thursday, Sept. 24 on NBC
24. If You Loved Wayward Pines, Watch Scream Queens
A short-order horror series packed with big-name guest stars who get killed off in increasingly horrifying ways? FOX's Wayward Pines was a surprise hit this summer, and viewers who had fun trying to solve the mystery of the creepy town while watching Terrence Howard, Juliette Lewis, and more celebrities die horrible deaths should get a kick out of Ryan Murphy's new series, in which viewers will have fun trying to solve the mystery of the creepy sorority while watching Nick Jonas, Ariana Grande, and more celebrities die horrible deaths. (No spoilers, I'm just assuming they'll all meet a grisly end at some point.)
Premieres: Tuesday, Sept. 22 on FOX
25. If You Loved Web Therapy, Watch Angel From Hell
A hilarious blonde comedienne dispenses terrible advice in this CBS sitcom. Lisa Kudrow cracked us up for four seasons on Showtime's Web Therapy as hapless therapist Fiona Wallice, and now it's Jane Lynch's turn to ruin lives with her less-than-stellar guidance as literal guardian angel Amy.
Premieres: Thursday, Nov. 5 on CBS
26. If You Loved White Collar, Watch Rosewood
With its seaside setting, pastel color scheme, and ridiculously attractive stars, Rosewood looks like it belongs on the USA network anyway. Instead of Matt Bomer's thief, we have Morris Chestnut's pathologist, but this frothy crime procedural feels more like a spiritual successor to White Collar than the FOX drama you would expect to lead into Empire every Wednesday night.
Premieres: Wednesday, Sept. 23 on FOX
A show ending is always sad, but at least there will be some new ones to fall in love with come this fall.
Images: Eddy Chen/The CW; Robert Trachtenberg, Bruce MacCauley, Ray Mickshaw, Steve Dietl, Jeff Daly/FOX; Eric McCandless (2), Danny Feld, Guy D'Alema, Fred Hayes/ABC; Amazon Studios (3); Darren Michaels (3), Jeff Neumann, Neil Jacobs/CBS; Starz; Gregory Peters, Elizabeth Morris, Virginia Sherwood, Ben Cohen, Christos Kalohoridis/NBC; Ollie Upton/FX