Finally, Big Moves Are Being Made On 'BB17'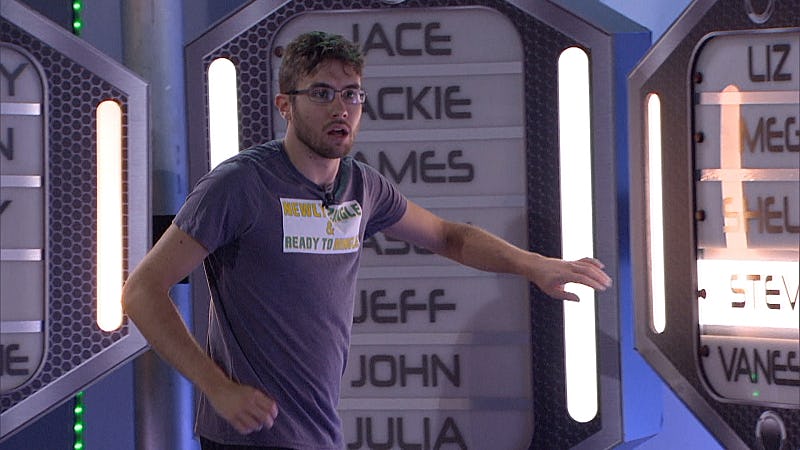 After that most recent double eviction which saw the unfortunate eviction of James and Meg, Sunday's Big Brother 17 showcased Steve winning Head of Household. If that isn't exciting enough, at least for those who are not rooting for the Austwins, Steve nominated Liz and Austin. That's right, both the Austwins and Liztin are finally being targeted. Well, that sure took long enough, didn't it? After making it to the final six, Steve pulled the plug on the Scamper Squad and decided he needed to focus on himself and what is best for his game. Let's just say, the Austwins aren't happy with him.
Anyways, during the HoH competition, Liz and Julia felt great (and safe) with Steve being in charge of the house, but little did they know that his plan is to break up their three-person alliance. Why wouldn't he? It's the smartest move for his game, not to mention his other alliance with Vanessa and Johnny Mac. This way, Steve has a better chance at making it to the finals and taking home the $500,000.
Before officially putting Liztin up on the block, Steve sat down with Austin and told him his plan to nominate him this week. With that said, Steve said he wants Austin to stay over the twins. But, we'll have to wait to see what happens. During the HoH ceremony, Steve obviously announced his nominations and Liz became extremely emotional. She even got up and left the table before the ceremony was adjourned. Liz or Julia better work hard for that Power of Veto, because, if not, I have a feeling one of them will be packing their bags.
It's really about time. For far too long have the Austwins been running the house, with a lot of help from Vanessa. They should've been split up a long time ago, but I guess better late than never, right? Finally, like James nominating Clay and Shelli, big moves are being made and I couldn't be more thrilled.
As I mentioned above, who will go depends on the Power of Veto, but either way it looks like the powerful trio that is the Austwins will soon be severed. Thank goodness.
For more on this season of Big Brother, check out Bustle's podcast The Diary Room.
Images: Screengrab/CBS