What Happens When Dudes Test Drive Miley Outfits?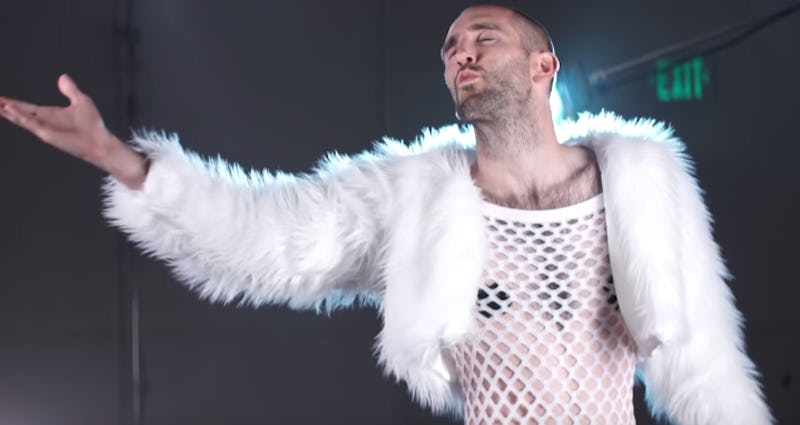 Guys attempting to do stereotypically "feminine" things when they haven't before is funny. When they attempt to create a winged eyeliner look or apply false lashes or navigate fake nails, they end up with a new appreciation for what many women and men go through when it comes to makeup. But when a bunch of regular guys wear iconic and outrageous Miley Cyrus outfits, like they did for Buzzfeed, hilarious doesn't even begin to describe the results.
These guys are game for anything, since Cyrus has rocked some cray cray fashions in her short, stylish, and very public life. Replicating them is dangerous stuff. Okay, not really. But it does require a bit of digital bravery!
In general, the gentlemen admit that they like the singer's badass nature, the fact that she can hold her own and party hard, and that she brings it every time there is a camera. Yeah, that includes her iPhone camera, since her Insta is full of cray cray selfies.
Here, Cyrus is christened "the Michael Jordan of girls." That sounds like a compliment.
Overall, the boys celebrate her boldness, branding brilliance, and her good-girl-gone-bad gamble, which paid off.
So what happens when these chaps try on things like a Hannah Montana-like ensemble? Cyrus' pasties and fishnet dress combo? Her VMAs romper? Her "Wrecking Ball" video undies?
A whole lot of peculiar fabulousness, that's what!
1. The Hannah Montana Period From 2006 To 2011
Remember the cute, safe, and Hannah Montana-era Miley?
Yeah, so does he! With long hair and a pretty print dress, this Cyrus wannabe said he "feels like a Disney princess."
2. iHeart Radio Music Festival 2013
Remember when Cyrus donned black "X" shaped pasties over her nipples and paired 'em with a see-through, white fishnet dress and furry shrug? It was her version of high fashion.
This guy proclaimed his status as a "sexy abominable snowman," while feeling oddly beautiful.
It was his first time in couture and he was lovin' it... like the McDonald's jingle.
3. VMAs 2013
Who could ever forget her teddy romper?
Is this what you wear when you get kicked out of Chucky Cheese? It's an existential question.
The ears! They are like nipple flaps. Hmm, I never thought of it that way.
4. The Wrecking Ball Video 2013
She just closed her eyes and swung... for the minimalist fashion fences with her iconic video.
Because of her wild child choices, Cyrus got labeled "this generation's Madonna" while this dude wore a cropped tank and tighty whiteys.
Enjoy the Cyrus fashion shenanigans below. There are tons.
Want more beauty tips? Check out the video below, and be sure to subscribe to Bustle's YouTube page for more hacks and tricks!
Images: YouTube (8)