Go Ahead & Put Your Money On Miss Iowa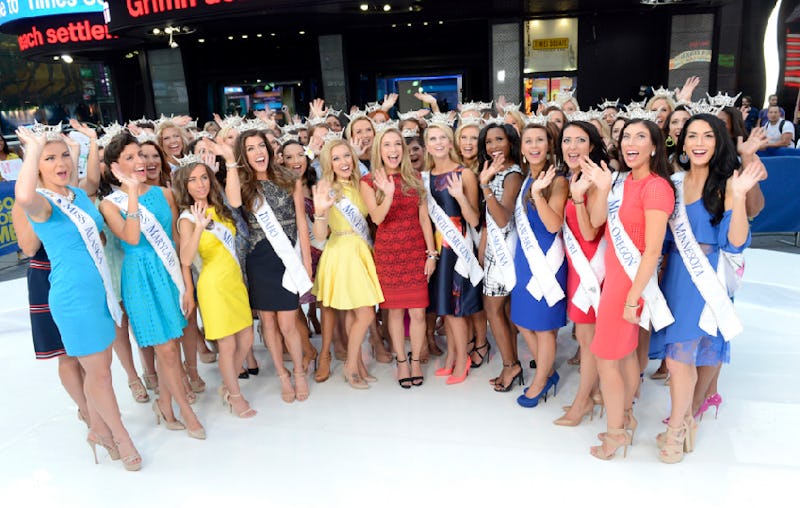 There will be no Sunday Night Blues this weekend, so cancel your regularly scheduled weekend mourning period. The 89th annual Miss America pageant airs on ABC on Sep. 13, and bright smiles and sequined gowns will drown out all Monday morning anticipation. The event will be filmed in the heart of Atlantic City, which is pretty much the glitter capital of the East — an added bonus. But the national audience doesn't join the party until the very end. The competition is already in motion, and the results of the primaries can give fans some insight into who is coming into the finals as a frontrunner. I've got my eye on Miss Iowa, Taylor Wiebers.
Wiebers, a 21-year old student from Clinton, Iowa, has already swept two of the primary events. She's reigned in her Iowa position since June, after trying for and falling short of that title in 2011, 2013, and 2014. But her persistence has paid off; clearly, the contestant gained enough pageant experience to make her one of the fiercest competitors to vie for this year's Miss America title. Here are six reasons why I'm picking Miss Iowa to come out on top.
1. She Won The Talent Primary
On the first night of formal Miss America competition, Wiebers dazzled the judges with a vocal performance of the song "Don't Forget Me" from the canceled TV series Smash. (Oh, Smash. How I miss you and your vast misunderstanding of the American theater.) This early win is a huge boost to the competitor, and not just in terms of her chances in the final. This victory alone won her a $2,000 scholarship. Not bad for one song.
2. And A Lifestyle & Fitness Primary
Night 3 brought more accolades Miss Iowa's way when she walked away with this preliminary win. (Known also as the Swimsuit competition, for obvious reasons.) Love seeing contestants who look this strong!
3. She's All About Personal Acceptance
On her social media profiles, Wiebers regularly uses the hashtag #youreenough. The pageant life involves constant ranking and evaluation, so I bet this mantra reminds Miss Iowa that it's her own concept of self-worth that's the most important.
4. She Once Shaved Her Head To Support Children With Cancer
When the beauty queen was 16, she hosted an online fundraising page through the St. Baldrick's foundation and then took an electric razor to her blond locks. It was pretty baller of her to commit so extremely to the cause; high school is not an easy time to make such a drastic change, pageant participant or not. Pediatric cancer remains one of her main platforms.
5. She's No Fan Of Cyber Bullying
In solidarity with contestants in a North Carolina teen pageant who were plagued by offensive comments on social media, Wiebers posted this bare-faced selfie. "I hope all the contestants know how truly beautiful they are!" she wrote. Falsies are stunning, but reality is gorgeous too.
6. She's A Boss
Whatever your feelings on pageants in general, you have to respect that these women are determined, goal-oriented, and incredibly hard workers. Not only is Wiebers fulfilling her Miss Iowa duties and preparing for the big competition, she's also a full-time student earning a degree in Child Life Studies. But when does she sleep?
Tune in Sunday to watch Miss Iowa and her fellow competitors take it to the finish line!
Image: Ida Mae Astute/ABC