13 Books You're Not Already Sick of Hearing About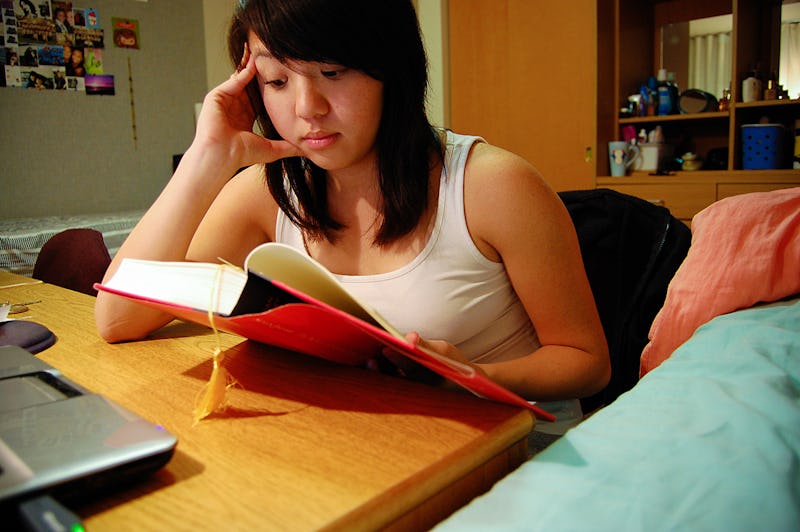 You love books — like love love books. Your inbox is filled with newsletters from all your favorite publishers, bookstores, and authors' blogs. The first question you ask a stranger at a party is, "What are you reading?" You were at the bookstore at 6 a.m. (even though it didn't open until 8 a.m.) just to be the first to buy the new Toni Morrison novel.
But, man… if you hear one more thing about The Fault In Our Stars or Harry Potter, you're going to start giving serious thought to retreating to some deserted, Internet-less island somewhere with a stash of books no one has ever heard of, much less tweeted, fangirl-ed, and reviewed to the stars and back.
You don't hate these books, or scorn them just because they're popular. You've even read most of them, but with all the media channels clogged with the likes of The Hunger Games series and the latest in the Girl Who... I don't know, Stubbed Her Toe — that's the newest Millennium series book, right? — you'd think that the entire literate population of the world was just constantly cycling between the same four books every decade or so.
You love books, even the popular ones, but would it be so much to ask to hear about one of the million or so other amazing books worthy of your attention? Well, if you're sick to death of everyone thrusting copies of Elena Ferrante's Neapolitan Novels at you, or nerd-shaming you for not having read George R.R. Martin, retreat into one of these books instead. Don't worry, they're not just weird obscurities from the strange surrealist shadows of literature; you can still get your fix of crime, horror, sex, and, yes, even vampires.
While everyone was busy obsessing over the miserable politics of a world that forces children to battle it out arena style, Chang Rae Lee wrote a brilliant novel about a post-apocalyptic future marred by social stratification, about separated communities heavily governed to keep the people "safe" from the dangers of the world outside them, and about what happens when a young woman dares to step outside of one of these communities.
You want the crime, the noir, the psychopathic killers, the suspense, but if you have to hear one more title about a girl getting dragon tattoos or whatever, you might scream. Instead turn in the anti-social Lisabeth Salander and hard boiled Blomkvist for the widowed black mother of two, Detective Marti MacAlister and her old fashioned partner Vik, as they take on mystery, murder, and conspiracy over a series of 14 books.
Elena Ferrante's blast to fame is well-deserved, but if you'd rather hold off on joining the #FerranteFever until things cool down a bit, you could always turn to Saint Monkey by Jacinda Townsend for a good tale of female friendship and the politics, ambitions, and social climates that complicate it. It might not have beautiful Italy as its setting, but as Audrey and Pookie grow from girls to women, they'll show you the shiny and the gritty of Jim Crow Kentucky and Jazz Era Harlem.
You want wizards and dragons and a magic orphan fighting evil, but the words "Harry Potter" kind of make you wish that Voldemort guy had just gotten the job done right the first time. Well, there are plenty of other orphans who find themselves immersed in magical worlds. Or, at least there's Cat Barahal, who suddenly finds herself in a world of mages and assassination plots. It's a bit Victorian and a bit steampunk, and there's a great female friendship at the center of it. With this series, though, you'll either love love love it or definitely hate it. But if you hate it, you might try…
If you like your fantasy a little less British, and with a lot more city grit, and if you were curious about The Mortal Instruments but aren't looking forward to the all the "faithful to the book" arguments about the upcoming TV show, then you might want to give Shadowshaper a look. Set in a (realistically) more diverse New York than The Mortal Instruments, Shadowshaper follows the tough Sierra as she discovers a world where graffiti art starts crying, zombies party, art is actually magic, and somebody is killing all the practitioners of this old magic.
You love that whole stories-spanning-generations thing that David Mitchell and Gabriel García Márquez are most famous for, but you've already read all of Mitchell's books and you can only read One Hundred Years of Solitude so many times. Land of Love and Drowning follows three generations of a family over the better part of a century, telling the story of the Virgin Islands through fathers and daughters and sons and wars and mythology. True, this lovely novel isn't completely unheard of, but there's no way you can be sick of hearing about it yet.
If you're looking for an even greater time span than Land of Love and Drowning offers, Sapphire's Grave covers two centuries of women, taken from Africa and learning to survive and make lives for themselves in the Americas.
Tyrant Memory by Horacio Castellanos Moya
Next, explore more of the great diversity of Latin America, and pick up a book by Salvadoran writer Horacio Castellanos Moya. Moya's books tend towards dark comedy, draped over the even darker history of El Salvador.
You want vampires, but you'd prefer to avoid all the teen angst of the Twilight series. The Vampire Huntress series gets way deeper than that. It has politics and religion, it's global in scale, and has a whole lot less high school than your typical popular vampire series today. Also, hip hop. There's hip hop. And at 12 books, the series will keep you busy for quite a while.
You want the quest-like life-in-the-wild adventures of a book like The Maze Runner, but maybe with a little less testosterone. Based on an Athabaskan legend, Bird Girl and the Man Who Followed the Sun tells the interweaving stories of two adventurers who leave their respective tribes in Alaska and brave it against the dangers of the wild.
Yes, Ta-Nehisi Coates is brilliant, and Between The World and Me ripped your heart right out of your chest then stuffed it back in. Well, as wonderfully painful a pleasure it would be to reread Between the World and Me for the third time, try a different take on race instead. Mia MacKenzie might not be as famous as Coates, but she hits as hard, and she gets to the tough questions with no nonsense, a lot of facts, and even a bit of humor. And the title says it itself, this book shines its light into all the shadowy margins of society.
Maybe you're still pissed that they cut Rogue out of the latest X-Men film. Or, you may want your dose of "gifted youths" and superhuman powers, but you're tired of all the parallel universes and Wolverine dying and coming back. The Brilliance trilogy is your X-Men antidote. In Brilliance , the world is more like the one we actually live in, the "gifts" these special people have a much more subtle and realistic, but the bad guys are just as dangerous, and the parables are a bit more on the nose.
All the Go Set A Watchman outrage made you tired, but you still want a book that'll ignite the dialogue on what it's like to be white and confront race and racism. Tim Wise is totally the guy for that. He's been doing it a while, and White Like Me is one of his best, since he tells his own very real stories of growing up, dealing with family, and confronting his whiteness and all it's meanings in a race-ified world.
Image: sweetapathy/Flickr