What Would 'BB17's LizTin's Wedding Be Like?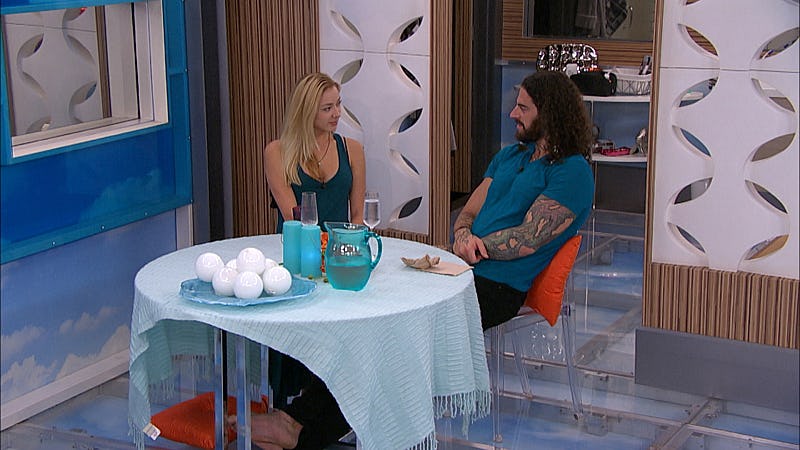 I'm sure the last things on Big Brother 17 houseguests Liz and Austin's minds right now are wedding bells. I mean, the two Big Brother houseguests are definitely a little too busy vying for the grand prize of $500,000 to worry about whether or not they will have a two or three tier cake on their wedding day. (Plus there's the whole will there or won't they make it outside of the house thing.)
I know, I know. First things first.
But hey, I can't help myself. The minute I see two people in "love," I start planning. Blame the perpetual bridesmaid in me. The minute Liz and Austin made it official, I wanted to plan bachelorette parties and bridal showers and rehearsal dinner speeches that would have everyone simultaneously laughing and crying. So it's not wonder that I have already planned out the entire LizTin wedding in my head. It's something that I've been working on during commercial breaks this season, actually: I tune out the toilet paper commercials in order to focus on what really matters, which is throwing them the best damn wedding the Big Brother house has ever seen.
So, just in case Liz and Austin do decide to stick it out outside of the Big Brother house, I've gone ahead and planned their entire big day.
The Location
The Big Brother house, of course. But maybe they could dial back the fluorescence a bit? I'm thinking neutral flowers to help soften the hard surfaces and hung Christmas lights to give it a more romantic feel.
The Maid Of Honor
Julia, obvi. I see her in something short and backless, because the Nolan girls love to show off their legs.
The Best Man
Jace. Chilltown for lyfe!
The Ceremony
It will look pretty typical, except for one important omission: That whole "does anyone have any objections" thing. Nobody wants Austin's current girlfriend showing up and causing a fuss. That would just be awkward for everyone.
The Officiant
Julie Chen! And right before she announces them man and wife, she'd look expectantly toward the audience and say, "but first... " and then cue the commercial break.
The Reception
Complete with HoH-style challenges, guests will definitely want to pack their sneakers and workout gear for this party. And they'd want to make sure they didn't eat too much of the slop that will be served as an appetizer — the first event would definitely be a dizzying Bowling Ballerina session.
The After Party
It would take place in the HoH Suite, of course, where each guest would receive a gift bag containing the couple's favorite snacks, and a letter thanking them for attending their big day.
Now doesn't that sound like the best wedding in the history of showmance weddings? Don't worry, LizTin, you can thank me later.
Image: CBS (8)