'Cooties' Could Come Back For More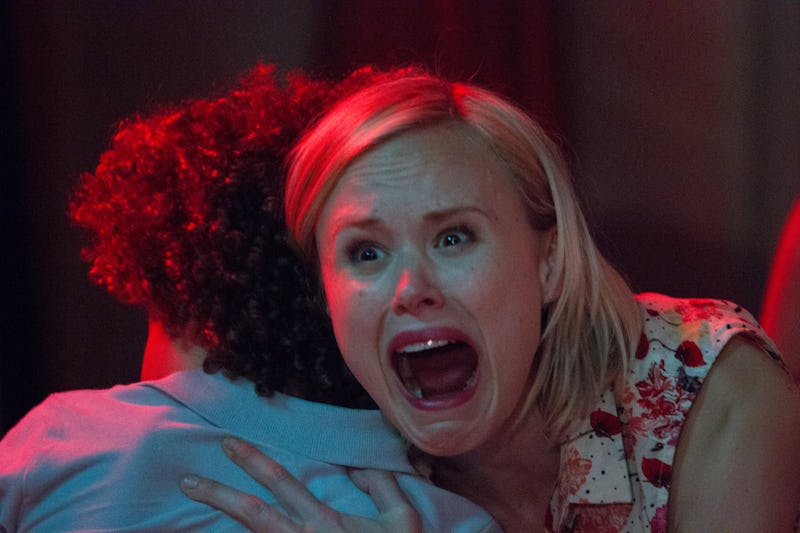 Cooties sounds like it should be a movie about two 10-year-olds falling in love. Imagine how cute that would be? But, no, instead the new film Cooties is about a group of misfit teachers who band together after almost all the young students become infected with a kind of zombie-like disease — dubbed "cooties." Spearheaded by producer and star Elijah Wood, Cooties is a comedy that lives comfortably within the horror genre. So, like many other horror movies, will Cooties get a sequel? More likely than not, no.
Cooties, which opens in theaters on Sept. 18, probably won't get a sequel — at least not one made in the spirit of the original film. Nothing can ever be ruled out in Hollywood when it comes to potential franchises, but there are a few clues that point to a Cooties 2 just being a pipe dream. First, it's not your typical horror movie; the script was co-written by Ian Brennan of Glee and Leigh Whannell, whose credits include the Saw and Insidious franchises. Whannell's writing credit as well as the nature of the plot, could easily place Cooties in the horror genre, yet the all-star comedic cast suggests a different story. Wood is joined by Rainn Wilson (The Office), Alison Pill (The Newsroom), Jack McBrayer (30 Rock), and Nasim Pedrad (SNL) — all of whom have proven themselves in comedic roles on television. Given its well-known cast (plus Grey's Anatomy favorite Armani Jackson) and unique horror-comedy hybrid tone, it would be easy to see how studios would want more Cooties, yet that's unlikely to happen.
For one thing, the film competed in the festival circuit before earning wide release. When was the last time the beginning of a major franchise debuted in festivals? (And I don't mean opening night of Cannes.) Furthermore, the film is being released simultaneously in theaters and on VOD. Releasing a film on demand while it is still in theaters has become increasingly common practice in the film industry, but typically, it signifies a smaller movie that doesn't exactly scream "franchise."
That said, no one expected Paranormal Activity to take over the world, and that small-budget horror flick ended up spawning a handful of sequels and spinoffs. Even if Cooties becomes a surprise box office hit, it seems unlikely that a sequel would have the same creative team behind it. Co-writer Brennan is currently wrapping up Fox's Scream Queens , star Wilson has four movies in the works, including starring alongside Nicholas Cage in Army of One, and Wood's career as a producer is taking off. With a cast and crew this busy, any sequel will likely be years away.
Images: Lionsgate Premiere