I Matched With A Celebrity On The Bacon Dating App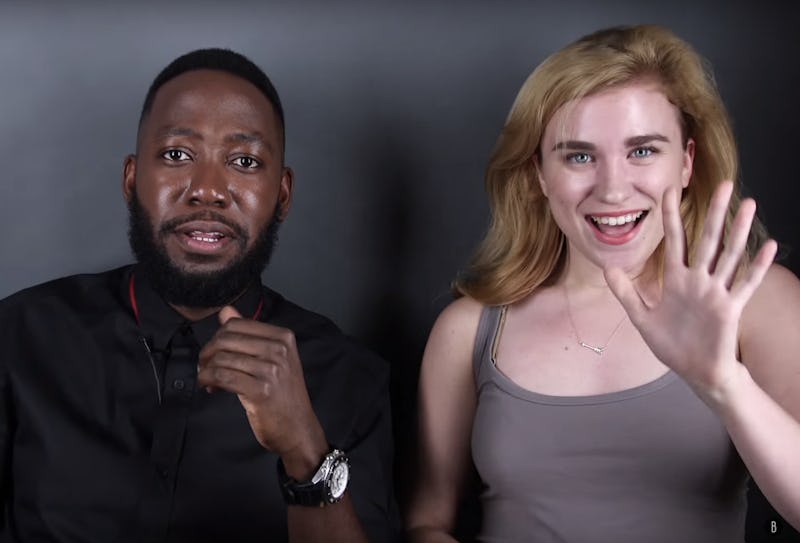 They say to never meet your heroes, so instead I scarred mine for life by proposing marriage to him in front of all my co-workers. I'll back it on up to explain: a few days ago I matched with Lamorne Morris on Sizzl, the bacon dating app by Oscar Mayer, a mere three hours after I downloaded it for my one true shot at ~love~ in this otherwise dating app saturated city. It wasn't long before he messaged me the few words that will surely be immortalized lovingly in the restraining order he will probably file against me: "We are now lovers! Thanks!" Another hour later, he was sitting in the Bustle offices, where I promptly used my one opportunity at love with a celebrity to make him regret the day he ever got an Internet.
If you're not familiar with Lamorne Morris's character Winston on New Girl , then first off, what is your life? But second off, he is unequivocally one of the best characters on television of all time. For years I've met so many people who aspire to be Jess Day, but I have always, always thought of myself as the Winston of my friend group. Being harrowingly awkward in social situations? Check. Overly eager and simultaneously terrible at pranking anyone ever? Check. Belting Wicked in the car so loud that the sound barrier stretches in protest? CHECK and CHEEEEeeEeEEECKKK. I may appreciate glitter and baked goods, but I am a Winston, through and through.
Instead of telling Lamorne this, though, I proceeded to thoroughly and effectively break his brain in a record 10 seconds. (Get on my level.) Here is the story of the love that almost was:
First, A Match Made In Bacon
I'm gonna be real, guys. I thought this was someone catfishing me as Lamorne, and I was STILL so on board with it that I Sizzl-d him anyway (that's this app's version of swiping right). Even someone who catfishes as Lamorne is infinitely better than a regular human.
Then, The Message That Stilled My Bacon-Laden Heart
Again, I was still not quite convinced it was real. I mean, put yourself in my shoes! The man put on his profile that he loves his bacon crispy and that he was willing to share — of course it's too good to be true.
Anyway, little did I know, Lamorne was actually visiting our office that day to talk bacon and dating with the Bustle team. And even littler did I know (I'm making that a thing, don't question it), but it fully was Lamorne who had messaged me on the app, and he was mightily offended that I ignored his advances. But I think we can all agree after watching our encounter that I shut that down pretty quick. Behold, everyone — how to scar your faves for life in 10 seconds or less:
Awww, he's so cute when the light dies in his eyes!! Anyway, the wedding's in June, and you're all invited. Maple bacon wedding cake, because duh!
Images: Sizzl(2); YouTube