3 Hearty Meatless Tailgating Recipes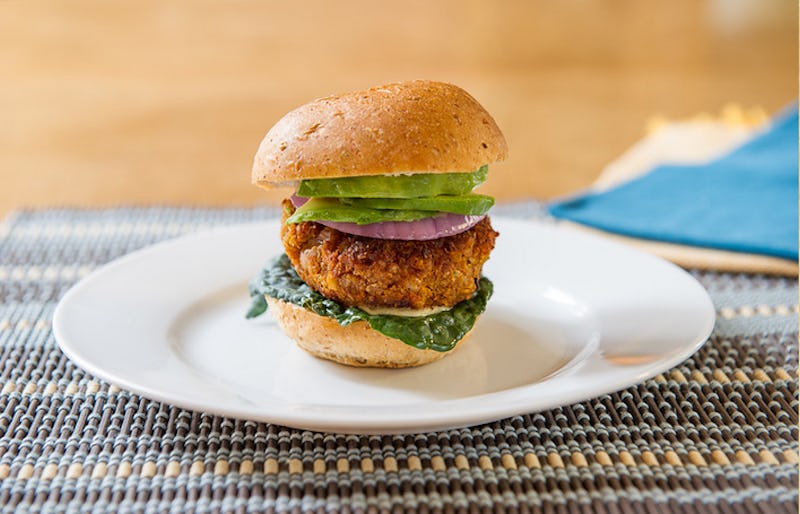 I've always been in the business of changing peoples' perspectives on football. No, football doesn't have to be a boy's club. Yes, you can attend games solely for the tailgate food and booze. Basically, it can be anything you want it to be. But it took three New York Giants to change my perspective on something football-related. And that thing is cheeseburgers. Let me explain.
I sat down with Giants running back Rashad Jennings (who has impossibly long eyelashes by the way), and offensive linemen Justin Pugh and Geoff Schwartz, arguably three of the NFL's meatiest stars, to talk about going meatless once a week. "If some offensive linemen can start eating [meatless] stuff, I think anyone can give it a try," a bearded Pugh says. The 300-pound athlete has got a point. Their goal, along with Silk, is to get football fans to go meatless just one day of the week. This isn't meant to be a way to lose weight, but instead a chance to think more critically about the things we're all putting into our bodies. In fact, Pugh says that he struggles to keep his weight up.
Celebrity chef Candice Kumai engineered a hearty meatless menu for the guys knowing that if they could get behind it, it has the chance to affect a lot of lives. "Americans look up to these guys, they are heroes, and they are [who] our youth are aspiring to be," Kumai says. She says that by going meatless more often, "you are fueling yourself for your future, your health, your families' health."
So what exactly are the benefits of a plant-based diet? Besides simply feeling better or going vegetarian for animal rights, Jennings says it's about cleansing your body, and giving it a rest from breaking down meat everyday. Jennings' hardcore diet and wellness regimen is as much a topic of conversation as his on-field prowess. I decided that if an athlete like him could get behind a sweet potato slider, I could at least give it a try.
So here are three meatless recipes for your next tailgate, taste test-approved by three New York Giants, and, well, me.
1. Sweet potato sliders, hearty enough for a linebacker
Going into this "experiment" I tried to explain to the guys that when I consciously go meatless, I find myself thinking I'm automatically starving. "I feel the same way," Geoff Schwartz repeated twice. He gets me. That said, these sliders were super delicious, filling, and an actual alternative to the everyday cheeseburger.
2. Spicy cashew hummus
Sriracha lovers, rejoice! Mixing cashews and hot sauce into all the other usual hummus fixings is an excellent life hack.
3. "Single bite" chocolate pumpkin football brownies
Rumor has it that Schwartz eats these brownies in one bite. While he denies that's true, he admits he eats multiple at a time [aka they are *really* good].
For all these recipes and more, visit Silk's Sideline Meat hub.
Looking for more great food ideas? Check out Bustle on YouTube.
Images: Silk