'Unbreakable' Deserves To Win All The Emmys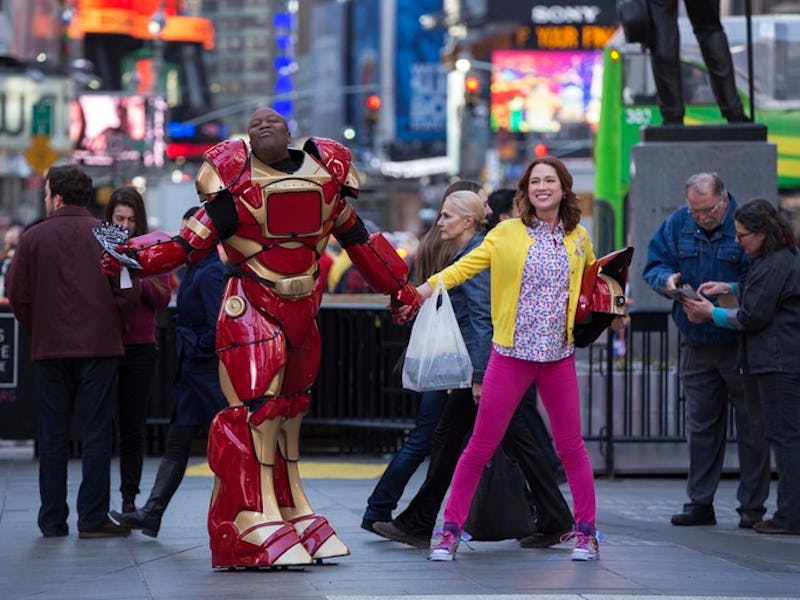 Have you properly stocked up on pinot noir? You better get on top of that, because the 2015 Emmy Awards will air Sunday, Sept. 20, and the delectably absurd Netflix series, The Unbreakable Kimmy Schmidt, is up for five Emmy nominations. Sadly, Best Actress in a Comedy Series is not one of said nods, as Ellie Kemper was not nominated. Given that Kemper's portrayal of the impossibly optimistic former cult hostage, Kimmy Schmidt, was — IMHO — worthy of all the awards (and bottles of pinot noir) imaginable, it would be easy for me to stew over what Kemper's costar, Titus Burgess, called "the snub of all snubs." Still, I can't deny the acumen of the talented actresses who are nominated in the Best Actress category, and five nominations is far from shabby.
ICYMI, the Emmy nominations for Unbreakable include Outstanding Comedy Series, Best Supporting Actor in a Comedy Series (Titus Burgess), Best Supporting Actress in a Comedy Series (Jane Krakowski), Best Guest Actress in a Comedy Series (Tina Fey), and Best Guest Actor in a Comedy Series (Jon Hamm). I am going to go on the record right now and posit that Unbreakable should win every Emmy it has been nominated for — every single one.
Do you doubt me? Fortunately, I come armed with evidence as to why Sunday night should mark a full-blown sweep for this deftly irreverent piece of comedy.
1. "Peeno Noir" Happened
This is not simply an "ode to black penis" — the GLORIOUS anthem imbues confidence and speaks to a nation. Burgess' killer set of pipes and comedic execution are also evidence that he needs to take home the trophy for Best Supporting Actor.
2. The Show Has The Best Theme Song Since Friends
Don't even pretend that you're not about to play this on a continuous loop and subsequently search for it on iTunes.
3. Jon Hamm As A Maniacal-Yet-Strangely-Charismatic Cult Leader Is Everything
Hamm's eccentric departure from his long tenure as Mad Men's stoic Don Draper proved that he has the acting chops to take on any role. To be honest, I kind of already knew that from the moment I saw him in Bridesmaids, but his turn as Kimmy's former captor on Unbreakable completely cemented the fact.
4. Tina Fey, Guys
Do I even need to explain this one?
5. Jane Krakowski's Jaqueline May Be The Most Lovable Narcissist Of All Time
It takes a true talent to make a gold-digging narcissist who trashes perfectly good bottled water on a dime unequivocally lovable.
6. This Genius Lion King Reference
Titus' staging of his "own version" of The Lion King — complete with a domestic cat as Simba — is comedy gold at its finest.
7. The Series Was An Endless Dispensary Of Epic One-Liners
Along with its compelling story arcs and intricately constructed characters, Unbreakable never failed to be wonderfully quotable.
Above all else, Unbreakable was deft and unique in its comedic prowess. While each episode catalyzed many guffaws, lessons about facing fears, believing in yourself, and overcoming obstacles were also carefully weaved into the show's fabric. Yes, this is one series that deserves every award it is nominated for.
I rest my case.
Images: Eric Liebowitz/Netflix; Giphy (4)