How Traveling Affected My Hair & Beauty Routine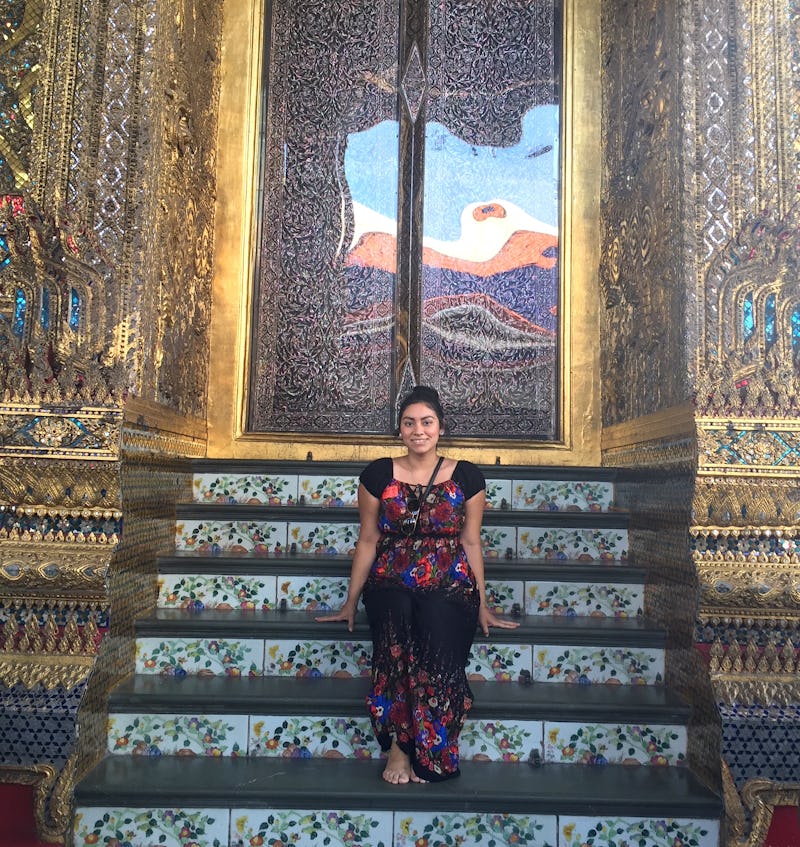 Traveling requires being selective about what we really need versus what we want to bring. For a sentimental person, deciphering between these two categories is difficult. Yet, nothing is worse than dealing with hair and beauty when traveling to a bunch of places without all of your tools. It's unfortunate that my endless stock of hair products, cleansers, and makeup create such a hefty chunk of weight in my luggage. Those of us who have ever traveled anywhere know that bringing everything just isn't an option. This inevitably means having to modify our routines while we are away, and that's exactly what I did when I traveled to Asia.
Of course, the last thing we wish to do when we are exploring the world is deal with a new regimen. We already must face the change in environment, which can affect our skin and hair in not-so-good ways. But, alas, these are the trials of travel and, as a wanderlust, a nuisance I'm willing to accept. My adventure in Asia this summer had the biggest affect on my hair and beauty routine. I learned how attached I had been to my methods and why change is, yet again, something to embrace in our lives.
My Previous Routine
Before I left for China and Thailand, I was a stickler for maintaining my routine. I wholeheartedly believed that my method for dealing with my curls and problematic skin was the best for me. I would wash my hair every four to six days (combing only in the shower), and then applying argan/jojoba oil with a curl cream or leave-in conditioner. This would make sure I didn't dry out my hair because dry curly hair is not a good thing.
For my face, I would wash with Lush's Fresh Farmacy or an exfoliator at least twice a day (because I sweat loads in the summer), as well as a cleansing oil to remove any dirt my wash missed. I also made sure to use moisturizer every time because of my oily skin. If I was going out, I had to apply primer, BB cream, or foundation, blush, bronzer, lipstick, eyebrow pencil, and mascara (after curling my lashes). I felt naked if I went out without any of it.
Unfortunately, bringing all of these things just didn't seem possible. I was going be away for close to two months and I wouldn't be staying in one place the whole time.
Here are four important lessons I learned about my hair and beauty routine while traveling around Asia.
1. I can rock a natural face
When I arrived in Qingdao, I had one product of each to keep me going through my trip. While I knew that it was summer where I was traveling to, I wasn't prepared for how hot it was going to really be. Everyday, the temperature reached about 90 degrees Fahrenheit with a humidity level of basically 100%. Even in Boston, it wasn't that hot. I was melting.
With the overbearing heat and no AC in most of the places I went, I knew it would be a bad idea to try and put on a full face of makeup. I ended up rocking my natural face almost all the time because I didn't want to sweat with makeup on my face (gross). Although I wasn't used to it, my natural look surprisingly made me more confident, even when heading out with my brows undone and my lashes not curled.
2. I don't need that many products
I'll admit that I am a tad credulous for believing I needed all of my cleansers to keep my skin healthy and breakout-free. Maybe it was my job in a dusty, lingerie warehouse or the loads of articles I read on dealing with problem skin. Whatever the reason, I assumed I had to wash my face everytime I showered or went to bed.
How wrong I was.
Being in Qingdao and Bangkok during the hottest time of the year with no AC meant I was sweating all the time. This led to multiple showers a day as a means to cool down and temporarily remove the stickiness I developed. But despite all that, my face was totally fine and didn't need to be washed with a cleanser each time. I was in awe when I realized that my skin was actually clearer than it had been for months, even though I was only washing it once a day (usually at night). I would choose the time I felt my face was sweaty and gross to actually use my soap or exfoliator. This step coupled with my lack of wearing makeup saved my skin from any breakouts. Hallelujah!
3. Temporary changes won't ruin everything
Many years ago, I embarked on a journey to wash my hair less to keep it healthy. Because of my curls, I always had to be extra careful to make sure the humidity didn't cause it to frizz or the products didn't make my hair oily. I can finally reach six days without washing before my hair is in a serious need of a scrub (and even then, I am gentle). However, with the insane amount of humidity and because I just wanted to cool down, I ended up washing my hair every other day.
At first, I was nervous that I would ruin all my hard work at keeping it healthy. Then, I freaked out that my curls would stop forming nicely. Both were short-lived fears when I saw that my hair was fine and I could easily go back to my old ways when I went home. I chose being comfortable and cool while on my trip, instead of trying to keep up with my routine. Truth be told, I actually learned that combing my hair was an unnecessary step and have stopped doing it completely.
4. Makeup is meant to be creative
Although I didn't use much of the makeup I brought with me, there were times that I did apply some. Having done my makeup for years, I always knew that it was an art form and a skill that takes a lot of practice. Yet, it wasn't until I was away from all my tools and products that I actually learned how you can do your face with minimal amount of things. I had forgotten some products and tools at home, like my lip brushes for applying lipstick with a ring, so I was forced to think of ways to get it right. I'm a clumsy person and have little-to-no luck with lipstick, especially if it is red, so I went ahead and used tissues and the plastic part of a pen to get my lips to look fabulously red.
Now that I'm home, I'm back to my old ways. But being on the road has taught me a lot about myself and my reliance on beauty and hair products. Although I won't be going make-up free everyday or washing my hair that often, I know I can handle it next time I decide to go on an adventure.
Images: Vanesa Pacheco