Gordon-Levitt Could Win An Oscar For 'The Walk'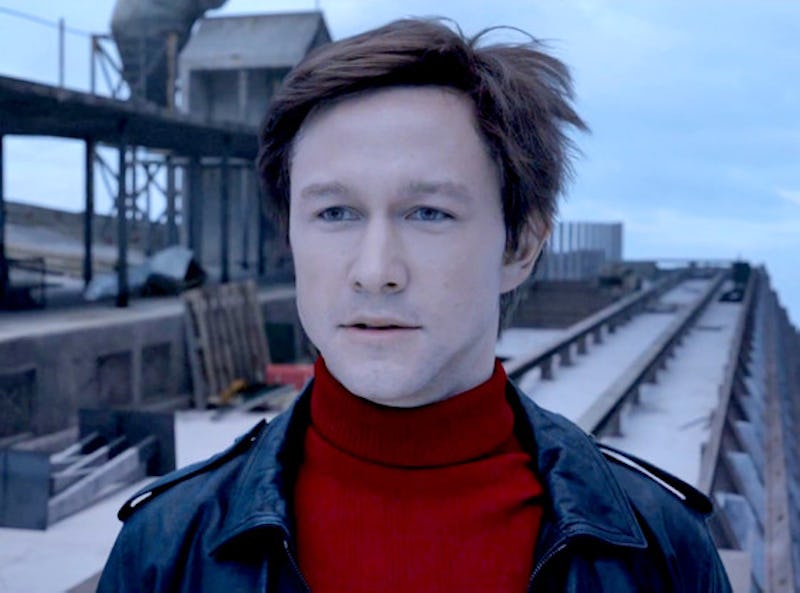 In The Walk, the new film from director Robert Zemeckis, Joseph Gordon-Levitt portrays Philippe Petit, a French high-wire artist who walked a tightrope from one Twin Tower of the World Trade Center to the other in 1974. In order to complete the daring stunt, which Petit did without the benefit of any netting or safety harness, Petit and his accomplices had to sneak onto the roof of the World Trade Center to set everything up since the stunt was not authorized. Petit eventually walked successfully between the towers a total of eight times, performing his act of dancing and lying down on the wire and waving to spectators. The feat was dubbed the "artistic crime of the century", and Petit achieved a small amount of fame for his trouble. Gordon-Levitt already has fame, but he's hoping to achieve some awards love from the Academy for his portrayal of Petit. Will Joseph Gordon-Levitt win an Oscar for The Walk ?
He certainly could. Gordon-Levitt has gone above and beyond the call of duty to make sure his performance in the film is accurate; a must for anyone portraying a real, living person. He hides his leading man looks behind a wig and blue contacts. He spent time with Petit to get down his specific French accent, and underwent eight days of intense high-wire training with the daredevil so he wouldn't have to fake his way through the stunt. He even had to endure the emotional stress of working on a movie about the World Trade Center, one that included a mock up of the buildings on set. But fans shouldn't be surprised by the work Gordon-Levitt put into the role. The 34-year-old actor has been preparing to win an Oscar his whole life. Just take a look at the evidence.
Angels In The Outfield
JGL was a child star, lest you forget, and he cut his teeth in a number of projects. Chief among them was this 1994 flick from Disney, which featured a 13-year-old Gordon-Levitt in the lead, holding his own among early '90s heavyweights like Christopher Lloyd and Danny Glover.
Brick
Gordon-Levitt took a break from acting to study at Columbia University, and when he returned he made a vow to only be in really good movies. This inventive high school-set detective noir was one of the first of these films, and Gordon-Levitt's performance in particular put people on notice that this guy was for real.
The Lookout
Gordon-Levitt played Chris Pratt (no, not that Chris Pratt) in this film about a brain-damaged bank janitor who gets caught up in a heist. Director Scott Frank had practically given up on finding someone who could embody the difficult role until he met Gordon-Levitt, who ended up being better than even he imagined.
(500) Days Of Summer
This is the movie that catapulted Gordon-Levitt into adult stardom, and the 2009 film remains one of the most creative and best-loved romantic comedies of all time. But Gordon-Levitt's performance, which is in turns heartbreaking or hopeful depending on which day of Summer it is, was the best thing about it, earning him a Golden Globe nomination.
Inception
After child stardom, indie praise, and proving he could be a male lead, Gordon-Levitt then showed off his blockbuster action skills in Christopher Nolan's mind-bending ensemble film. When you can share a film with DiCaprio and still shine through, you know you're doing something right.
50/50
Critics really noticed Gordon-Levitt in this film, in which he earned his second Golden Globe nomination playing a young man who is diagnosed with a rare form of cancer. Rarely has a film depicted this devastating disease with such accuracy, and the bulk of that responsibility went to Gordon-Levitt.
The Dark Knight Rises
Having already proven he could be in a Nolan blockbuster with Inception, this movie showed that Gordon-Levitt could also do justice to a well-loved comic book film. His unorthodox take on the character of Robin was a definite bright spot in Rises, one of the highest-grossing movies of all time.
Looper
Being a member of an ensemble in a blockbuster is one thing, but taking the lead is something else. Not only did Gordon-Levitt successfully lead this film, one of the best sci-fi movies of the decade, but he did it while also convincingly playing a younger version of the film's second lead, Bruce Willis.
Lincoln
Talk about Oscar bait. This Steven Spielberg-helmed Best Picture nominee was nominated for a dozen Oscars, and Daniel Day-Lewis took home the statue for Best Actor for his performance in the titular role. Somewhat overlooked was Gordon-Levitt, who played the president's son, Robert Todd Lincoln.
Don Jon
Showing that he's more than just an actor, Gordon-Levitt wrote, directed, and starred in this romantic comedy. His work paid off, as the film earned stellar reviews from critics all around.
Joseph Gordon-Levitt has been in Hollywood a long time, and the guy has clearly paid his dues. The Walk may end up being the best showcase yet for his considerable talents, so don't be surprised if Oscar takes notice.
Images: TriStar Pictures