You Have To See This Adorable Photo Of Ben Higgins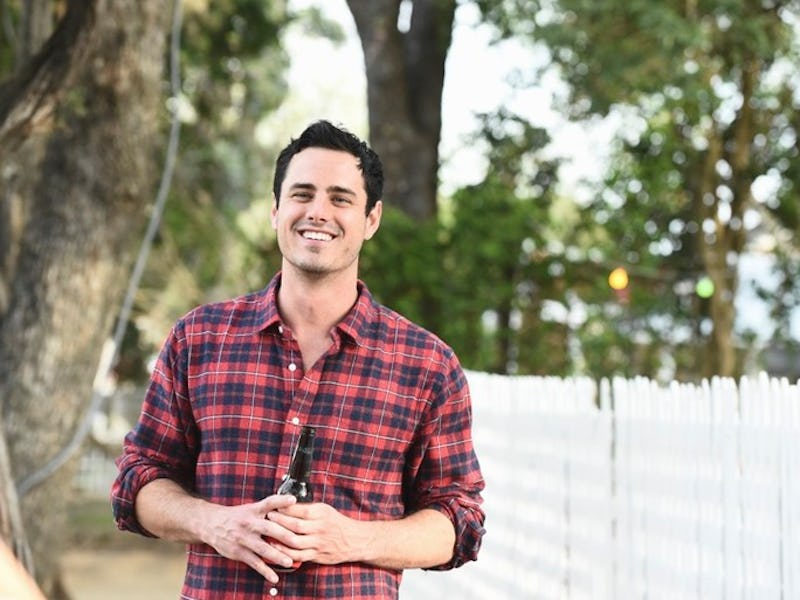 I think it's safe to say that it came as a surprise to nobody when the announcement came forth that Ben Higgins will be the next Bachelor. The former frontrunner on Kaitlyn Bristowe's Bachelorette was an instant fan favorite, has been unwavering in his genial charm, and is quite possibly what Prince Eric from The Little Mermaid would look like in real life. Unlike Prince Eric, Higgins has not foregone a relationship with a mute mermaid-turned-human in favor of proposing marriage to a hypnotic sea witch, which makes me like him all the more. The one caveat to Higgins making Season 20 of Bachelor arguably the most anticipated season (or, at least, one of the most anticipated) in the franchise's history is that waiting for the Jan. 4 premiere is going to feel particularly arduous. With the season finale of Bachelor in Paradise having come and gone, it seems that the next few months are going to crawl by at the same rate as a slug who has no particular place to be.
Luckily, Higgins' Bachelor has commenced filming, and series creator, Mike Fleiss, was kind enough to give fans a sneak peek at ABC's newest heartthrob during his first night. Fleiss posted a photo outside of the Bachelor mansion, which featured Higgins holding a ridiculously adorable infant.
Does life get better than this photo? Don't answer that, because I was clearly being rhetorical. According to People, the baby in said photo is actually Fleiss' son, who is also named Ben, and I can only infer that this means — along with being one of the most dashing gentleman to ever grace reality television — he is amazing with kids. Oh, and there's this:
I can't. Can I even? No, I can't even. I am officially regretting my decision to forego applying to be a contestant on Bachelor Season 20. At least I can console myself with adorable photos of Higgins via social media.
If one thing can be derived from the above photos, it's this: As adorable as Higgins is all by himself, that cuteness increases tenfold when he is paired with something that is also precious. Higgins is clearly a master at knowing how to hold a baby, but what else can he cradle with such ease and warmth? I have a few ideas.
1. A Plate Of Sushi
Obviously, Higgins enjoys fishing. Rather than posting a photo that features the vacant stare of a fish literally out of water, I would personally find it much more aesthetically pleasing to see the new Bachelor embracing a colorful spread of sashimi, complete with a small bouquet of ginger and wasabi for presentation.
2. A Litter Of Puppies
Can you imagine? I just did, and I might faint from swooning too hard.
3. A Bouquet Of Roses
Higgins is already going to be giving out a ton of roses as it is — why not house an entire bouquet within the crook of his loving arms?
4. This Kitten
Nothing could soothe this energetic kitten into a placid state like the calming warmth of Higgins' embrace.
5. Shawn Booth
This bromance is total #FriendshipGoals.
6. A Fine Bottle Of Pinot Noir
A classy accessory for a true class act.
7. My Hand
I would happily use only one hand to clench that fishbowl-sized margarita if I knew that my other hand was going to be clasped by the glorious Higgins. Hey, a girl can dream!
Let's hope that the intermission between newly aired Bachelor episodes continues to be peppered with adorable behind-the-scenes photos of Higgins, and whatever object he feels like holding that day.
Images: Felicia Graham/ABC; Ben Higgins/Instagram (3); Giphy (4); Tracy Dye/Instagram