Cookie Makes A Major Business Move On 'Empire'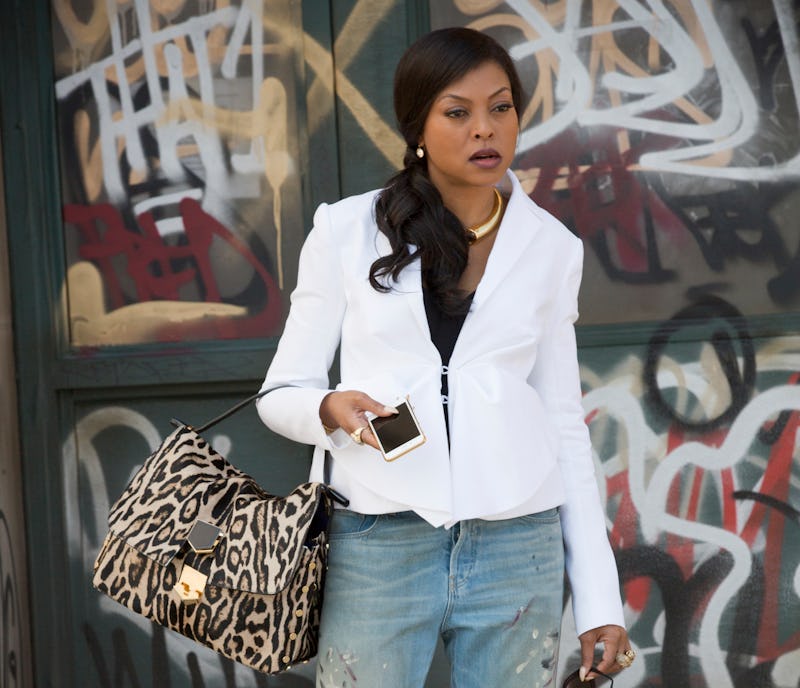 In a move that everyone should have seen coming, Cookie finally started a new record label on Empire this week. After Jamal threw his mother, Hakeem, Andre, and Anika out of Empire Entertainment, Cookie walked out of the office vowing that they should start their own label (without "Boo Boo Kitty," of course). And here's the thing: It's a great idea in theory, since Andre has the business savy, Cookie has the heart and experience working with artists, and Hakeem has the raw talent to be the face of the new label. Unfortunately, things began falling apart before they even began, but the episode did end with some hope for newly formed Empire rival: Lyon Dynasty.
The problems began almost instantaneously. No one could agree on their responsibilities, the talent they wanted at the label, or whether or not Anika should join the team. By the end of the episode, the team of four became a team of two: First Anika, finally fed up with Cookie's rejection and insults, left the company, and then Andre begged Cookie to let him go. But despite Lyon Dynasty's leaders only consisting of Cookie and Hakeem at the moment, I do think it's possible for the label to do great things.
For one, Hakeem actually has some decent ideas for music and talent. He found Valentina (played by Becky G) while trying to hire performers for his new girl group idea (yes, he compares them to Destiny's Child) and he has a vision for discovering new talent. He also tells his brother that he knows it will take work and time to become a legend, but he's going to put in that effort. It's the first time we really see Hakeem understand the responsibilities he'll need to become the star he's always wanted to be, and he won't have his father's help for that anymore. Of course, he's still young and a bit too immature to successfully run a business, but that's where Cookie comes in.
We already know where Cookie's strengths lie. She knows how to work with artists to get their best talent; she did it with Jamal and Tiana just last season. She also understands the business decisions that need to be made and has the most driven attitude of anyone on Empire. But what Cookie and Hakeem need is Andre back on their team. He begged to be let go so he could find his way back to Empire, but Lucious told him in a heartbreaking moment that he does not forgive Andre for his actions. For the time being, Andre is out in the cold with many worries on his mind. He should return to the one parent that has never lost faith in him or his abilities.
With Andre's help, Cookie and Hakeem could really make Lyon Dynasty a name Empire could fear in the long run, despite Lucious making bail and likely returning to his company. But even without the oldest Lyon brother, Cookie and Hakeem already have the drive to do amazing things all on their own.
Forgot what happened last season on Empire? Check out the Season 1 recap video below.
Image: Chuck Hodes/FOX