D.J. & Steve Reunite On 'Fuller House' Set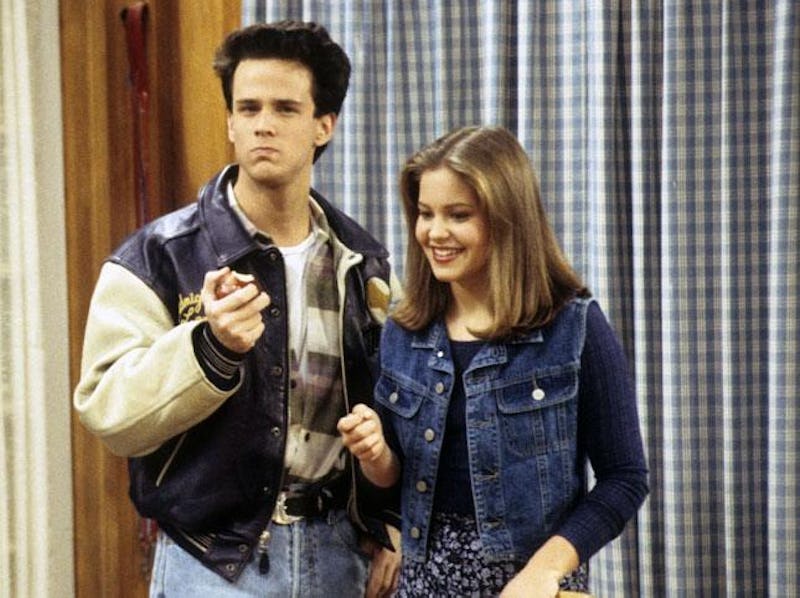 '90s kids need to take a moment to get themselves together before they look at this — well, '90s kids who were huge fans of Full House, anyway. As we all know, John Stamos is bringing a revival of the beloved family sitcom to Netflix: Fuller House, starring D.J., Kimmy, and Stephanie, as well as their kids, in an even, well, fuller house. With the revelation that D.J. would be a widower at the start of the series, many fans worried that her lost husband was her boyfriend Steve from the original series — and then were delighted to discover that Steve is still alive and well, and that Scott Weinger will appear on Fuller House. Now, we're one step closer to our dream of seeing D.J. and Steve be together forever. Weinger posted a picture of himself and Candace Cameron Bure reuniting on the set — aka D.J. and Steve reunited on Fuller House, and it was everything we imagined it would be.
The photo was posted to Weinger's Instagram with the caption, "Sorry, Internet. #fullerhouse @candacecbure #iloveyoudj." Sorry what, Weinger? Sorry for making us scream so loud that our neighbors think we're being axe murdered? Sorry for giving us the (potentially false) hope that D.J. and Steve will be rekindling their adorable relationship years after it first happened? Sorry for making the '90s kid within all of us burst into tears? Well, you should be sorry. Actually, no, don't be sorry, because this picture literally warms my heart.
It's one thing to hear that Weinger, and thus Steve, will be back on Fuller House and another thing to see him on the set interacting so sweetly with the rest of the cast. Now i just get to live in a paranoid fear that Steve will be back on the show, but he and D.J. won't get back together. (NBD, NBD, I'll live — in a constant state of tears.) But, even if, for some reason, D.J. and Steve stay just friends or, worse, only have a few seconds of interaction at most, at least Full House fans will always have this picture to remind them that, once upon a time, when they were teenagers, D.J. and Steve meant the world to one another. Just like they still mean the world to the rest of us.
Of course, Bure wasn't the only former Full House actress that Weinger was having photo ops with on Wednesday. He also posted a picture with Andrea Barber aka Kimmy Gibbler, this one a lot less amorous than the one with D.J. (Duh, girl code. Although the photo was captioned "donttelldeej," so take that however you want.)
The only way these selfies could get better is if they came with a link to watch the entire first season of Fuller House, but, you know, that's fine. I can wait until 2016 to see how this all plays out. I can wait until 2016 to see if my childhood dreams will come true. I can wait until 2016, just as long as the Fuller House cast keeps posting all these amazing selfies to tide me over as I wait and hope and pray for a D.J. and Steve love story that is 11 years in the making. I can wait.
Image: Warner Bros. Television Distribution