How To Update Your Wednesday Addams Costume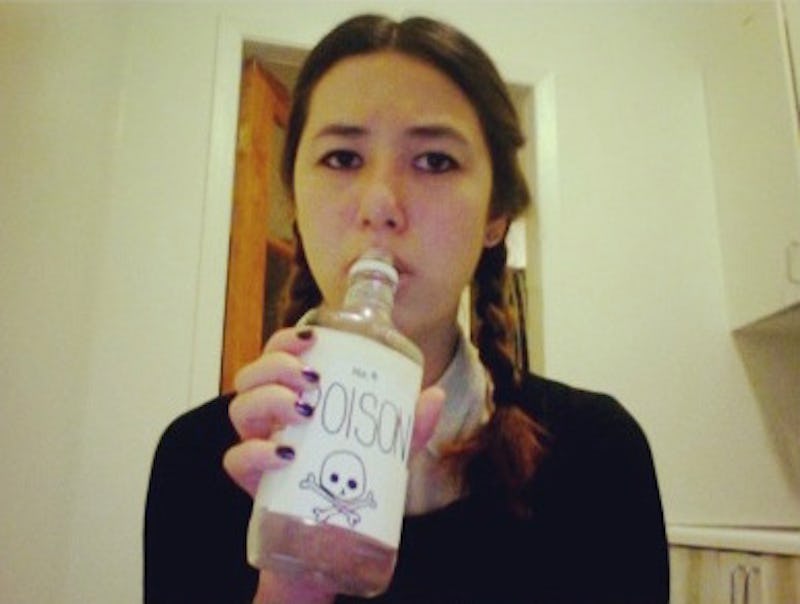 Even if you can't sing along with the finger-snapping theme song of The Addams Family , you've probably heard of Wednesday Addams, the "altogether ooky" clan's youngest member. Wednesday is a pop culture goth icon with a totally macabre attitude and an instantly recognizable look. Plus, the classic Wednesday Addams Halloween costume is perfect for a last-minute ensemble on Oct. 31. With just a little bit of effort, it's easy to update her simple yet somehow still gloomy style.
Wednesday's everyday outfit is as well-known — if not more famous — than her dark exploits, which have included burning down a summer camp and burying a live cat. She almost always wears a black dress with a contrasting white collar and is rarely seen without her signature schoolgirl braided pigtails. Wednesday's mood matches the darkness of her clothes, so if you really want to pull off the look, you'll need the RBF to match.
The discrepancy between her adorable and innocent outfit and her borderline sociopathic tendencies is what makes Wednesday such a fun character, but her look, though iconic, hasn't changed much since Charles Addams's cartoons were originally published in The New Yorker in the 1950s. So if you're looking to make the costume your own while still maintaining that dissonance between the demure and the demonic (or you just want to outdo all the other Wednesdays you might see creeping around on Halloween), here are some ways to update your Wednesday Addams costume.
1. The Dress
Contrast-Collared Dress in Black/Cream, $22.90, forever21.com
ASOS Curve Knitted Skater Dress with Contrast Collar, $63, asos.com
Although we're talking about updating your Wednesday Addams costume, there are certain aspects of the look you can't mess around with and the black dress with a white collar is one of them. (As if Wednesday would ever wear anything with color.) Either of these dresses would be right at home among the skeletons in Wednesday's closet, and they are the ideal base for your costume.
Black Velvet White Collar Dress, $32.50, hottopic.com
If you want an outfit that's a little more unique but still true to Wednesday's style, try out this velvet one from Hot Topic (because we all know that if Wednesday Addams lived through the 2000s, she definitely would have frequented Hot Topic). If you're really not into getting a new dress or are simply pressed for time, you can always wear a white collared shirt underneath a simple black shift dress, preferably with sleeves.
2. The Shoes
Flat Ankle Boots With Buckle, $99.90, zara.com
In The Addams Family TV series, which originally aired in the 1960s, Wednesday wears black Chelsea boots. If you're looking for a tougher, more up-to-date version of her original footwear, try some chunky black boots like these from Zara or any kind of combat boots. Just make sure they're as black as Wednesday's heart.
Agnes Satin Double Strap Heel, $89, urbanoutfitters.com
If you're looking for a sleeker and more modern look that's still appropriately reserved, try some Mary Janes. Though Wednesday primarily wears flats in the TV series and the movie, adult Wednesday Addams would probably wear heels, and these satin Mary Janes from Urban Outfitters add a bit of texture to an otherwise simple outfit.
3. The Braids
Another non-negotiable part of any Wednesday Addams costume is the braided pigtails, which really tie the whole look together and make you actually look like Wednesday Addams instead of just someone wearing a normal black dress with a collar. If you're looking to update this classic schoolgirl look, try your hand at some Dutch braids. This twist on classic braided pigtails stays true to Wednesday's signature hairdo while adding a bit of modern flair.
4. The Accessories
Oroblu "Parigina Lysette" Over the Knee Socks in Black, $16, nordstrom.com
Wednesday usually wears black tights, which would actually be pretty perfect on a chilly Halloween night, but if you want to show a little more skin or are looking for something edgier, swap out the black tights with some prim knee-high or over-the-knee socks.
If you really want to get creative, you can make some accessories for yourself, based on Wednesday's dark and devious adventures. When I dressed up as Wednesday Addams for Halloween, I made a bottle of poison from which to drink. All that involved was drawing a label that read "Poison" and taping it to an empty bottle. It was not only great for photo opps, it was also a perfect flask for gin and tonics.
Other accessories to really bring your Wednesday Addams costume to the next level include a doll with a detached head or a (fake) crossbow. Wednesday is also a pretty good dancer, so don't be afraid to bust out a move or two on the dance floor.
Wednesday Addams Felt Plush Headless Doll, $11.76, etsy.com
Crossbow Weapon, $16.99, trendyhalloween.com
Just remember that you shouldn't ever look like you're having any fun.
Images: maxine_builder/Instagram; Giphy; Courtesy Brands