Want A 'Final Girls' Sequel? It's In Your Hands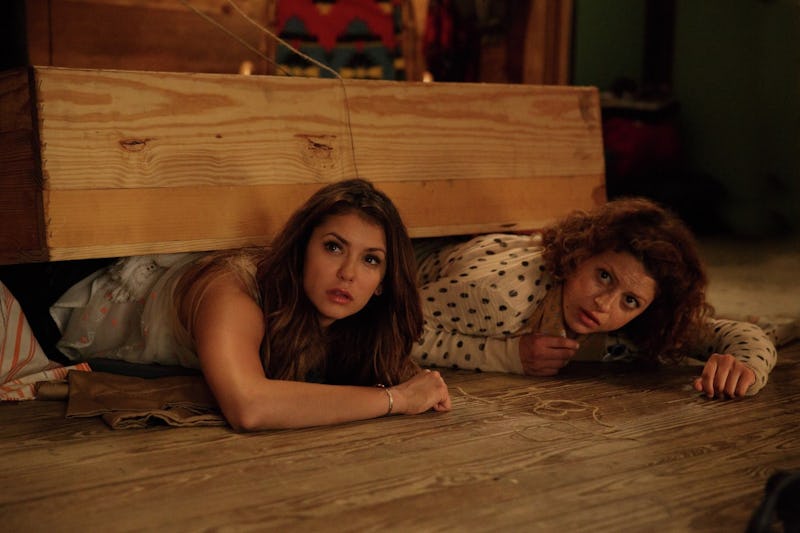 When I tell you that The Final Girls is a horror comedy about a group of modern-day high school friends who are somehow transported inside a 1980s camp-set slasher movie, and that it stars American Horror Story 's Taissa Farmiga, The Vampire Diaries' Nina Dobrev, Silicon Valley's Thomas Middleditch, Workaholics' Adam Devine, Arrested Development's Alia Shawkat, and Malin Åkerman, you're probably going to have two questions for me. First, you'll want to know when and where you can watch this movie, because it sounds amazing. And second, you'll be dying to know if there's going to be a Final Girls sequel because, again, it sounds amazing. So to answer the first question, you can watch The Final Girls in theaters starting October 9. As for the second question... well, the answer to that one is not so simple.
While speaking at the film's world premiere in Austin, Texas, co-writer M.A. Fortin revealed that he and the film's other writer, Joshua John Miller, have had extensive discussions about a possible sequel and what that might entail, seeing as the end of the movie (spoiler!) hints at a follow-up in which the characters get sucked into Camp Bloodbath 2. Still, it takes more than just writers to make a film. Thankfully, director Todd Strauss-Schulson is on board as well. During a Q&A at the Toronto Film Festival, Strauss-Schulson had this to say when asked about a second film.
"The sequel starts when you and all your friends show up at the movie theater on October 9, and hashtag Final Girls and convince Sony to spend money on a sequel! It's up to you, we all wanna do it! We love each other, we think this movie's rad, we wanna do it. You gotta tell these middle-aged white adults that they should do it."
So the writers are in, the director is in, and according to Strauss-Schulson, the rest of the movie's cast and crew are in, too. By the sounds of it, a sequel is entirely dependent upon the film's box office performance. If the movie makes a lot of money and proves profitable, then Sony is likely to greenlight a sequel. If it doesn't, well, then this might be the final Final Girls. But if history is any indication, the movie should do fairly well.
For one thing, the film likely has a small budget. Åkerman is arguably the biggest movie star here, and yet she's far from a household name. Also, the film is not being distributed directly by Sony Pictures, but by its subsidiary Stage 6 Films, which typically does not produce films with budgets exceeding $10 million. If the film does indeed have a budget below that number, then a box office take of at least double that — and it could be much more — should be more than enough to warrant a sequel. And if you look at other films in the genre, that number seems totally doable.
2012's similarly-themed The Cabin in the Woods brought in $42 million in the U.S. alone, and another $23 million in foreign markets, giving it a worldwide total of over $65 million. 2009's Zombieland, which parodies zombie horror rather than campground slasher flicks, was a box office smash, quadrupling its budget and making over $100 million worldwide. That movie currently has a sequel in the works, produced by none other than Sony Pictures.
A sequel for The Final Girls definitely seems plausible, but like Strauss-Schulson said, it's ultimately up to you. So go see the movie, talk about it on social media, and then maybe fans will get to take another trip back to Camp Bloodbath.
Images: Stage 6 Films