14 Literary Pumpkin Carving Ideas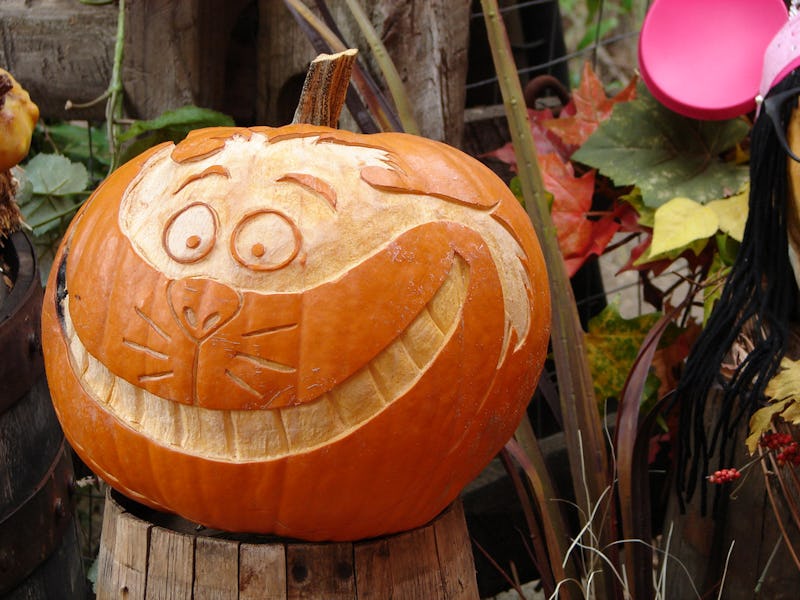 When it comes to Halloween, I get more excited about pumpkin carving than costumes. I love going to the pumpkin patch with family and friends on a crisp fall day and find the perfect orange pumpkin to take home. If you're the same way, then you're probably also pondering what pumpkin masterpiece you should create this year. While carving traditional jack-o-lanterns is always fun, taking it to the next level — the book nerd level — is even better.
Getting into the Halloween spirit with scary books and ghost stories is the first step to this season, anyway. Using your favorite books as inspiration, the pumpkin you carve this year will be one for the books! LOLOL. After you've carved out the inside mush and baked the pumpkin seeds, get your carving kit or plain 'ol knife ready to go. And even if carving isn't your forte, I've found a few painted DIY pumpkins that would also be incredibly fun to make!
From the well-known Deathly Hallows and Mockingjay symbols, to the more child-friendly characters like Tigger from Winnie the Pooh and the Cheshire Cat from Alice in Wonderland, here are 14 unique pumpkin carving ideas to try out this Halloween:
House Symbols From A Song of Ice And Fire Series
If you're up to the challenge, you could carve all of the symbols that make up Westeros and display them proudly on Halloween night.
The Mockingjay Symbol From The Hunger Games Series
There couldn't be a better time to show your Hunger Games spirit than right before Mockingjay — Part 2 releases next month.
Characters From Winnie the Pooh
Or Piglet, Owl, Rabbit, Kanga or Roo — just about any character from Winnie the Pooh would make for a great pumpkin carving.
Hogwarts Crest From The Harry Potter Series
Up for a challenge? Try recreating the Hogwarts crest, or maybe even the House crest you belong to!
Harry Potter Themed Pumpkins
If you're planning on making your house Harry Potter themed this Halloween it will require a few fun pumpkins like these.
Characters From Alice in Wonderland
From the iconic shot of Alice falling down the rabbit hole to this close up and detailed carving of the Cheshire Cat, you've got plenty of choices when it comes to this story.
Characters From The Twilight Series
If you were stoked to read Stephanie Meyer's new book, Life and Death , then you'll probably want to tribute a pumpkin or two to the beloved Twilight series.
Children's Book Characters
If carving isn't your talent, try painting pumpkins instead! This very hungry caterpillar made from small pumpkins is absolutely adorable.
Characters From The Lord of the Rings Series
Whether you're a carver or a sketcher, either way works for these fantastical pumpkins.
Dracula From Dracula
Get a little creepier with your carving by making a haunting portrait of Dracula.
Frankenstein From Frankenstein
If a vampire isn't enough for you, try making this detailed carving of Frankenstein and light it up bright on Halloween night!
Dead Poets and Writers
Halloween is all about bringing the dead back to life, so carving a famous writer like Edgar Allan Poe will make for an incredible pumpkin to show off on your front porch.
Images: John Corey Treveer, Grfx Playground, Jill, bwats2, Eric, Leigh Kelsey, Dov Harrington, Brandi Korte, Joshua Smelser, Melanie Holtsman, Brandi Korte, Tom Simpson, Eric, Ricky Brigante, Brandi Korte/flickr; giphy (1)