How To Use Your Contouring Skills this Halloween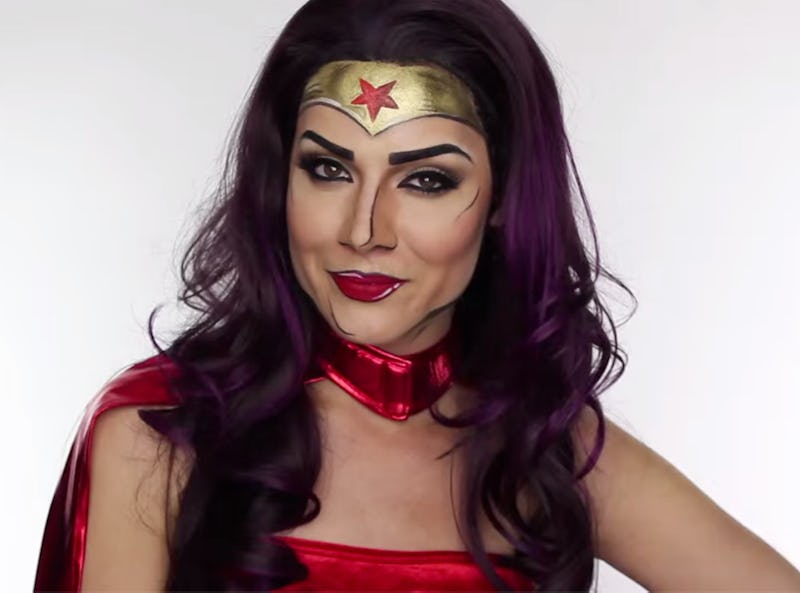 PSA: Don't forget to contour this Halloween. Just because you're wearing a costume, doesn't mean you have to forgo an #onfleek contour. If anything, Halloween makeup is the perfect excuse to take your cheekbones to the next level. Contouring is all about creating dimension on the face. Therefore, it stands to reason that adding a contour to your Oct. 31 makeup look is really going to bring your character to life.
Seriously, a little bit of well placed bronzer and highlight can amp up any costume. Zombie Taylor Swift? Add a contour. Sexy emoticon? You better carve out those cheekbones. This is the perfect time of year to play around with your makeup, since there's no such thing as being "over-the-top" on Halloween. If you want to be a football-playing astronaut unicorn, then go for it. Halloween is all about letting your freak flag fly, and creating a look that takes you a little bit out of your comfort zone. And, of course, killer makeup is the key to any contest-winning getup. Here are eight costume ideas that look especially fabulous with a sculpted contour.
1. Maleficent
When you're an evil queen, you need a strong contour. When recreating this sculpted Maleficent look, stick to gray and taupe contour colors. It will bring out your inner witch.
2. Glamorous Mermaid
Mermaids like an #onfleek contour too. Show off your gleaming scales with this shimmering blue contour.
3. Ferocious Feline
I'd be lion if I said I didn't love this cool contoured look.
4. Corpse Bride
Seeing as you're trying to look like a corpse, you should really focus on carving out those cheekbones. Being dead has never looked so chic.
5. Wonder Woman
When it comes to looking like a comic book character, it's all about adding lines and dimension. Sculpt your cheekbones with a warm bronze color to amplify the look.
6. Morticia Addams
You may be mysterious and spooky, but you have an on-point contour. Isn't that all that really matters?
7. Vampire
No one is going to be looking at your fangs, when your contour looks that good.
8. Deer
This contour look is great for those who want to avoid any creepy looks this Halloween. It's sweet, innocent, and just so darn cute.
Images: Shonagh Scott /YouTube