So, Will ASP Be Involved In This 'GG' Revival?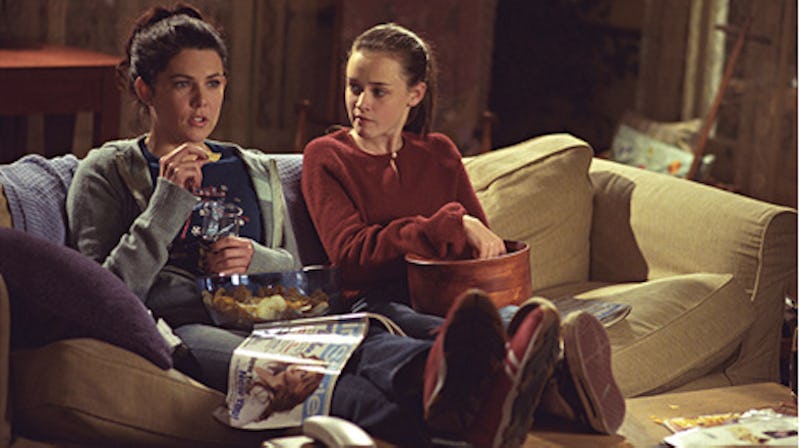 Everyone come hold hands and give thanks because something truly magical may be in the works regarding everyone's favorite Connecticut mother/daughter duo. Gilmore Girls is now rumored to finally be getting the revival treatment by Netflix, so you better go outside and catch a unicorn because it's looking like (with all of our combined juju) it actually might happen. If this extraordinary and blessed event really does come to fruition, will Amy Sherman-Palladino write the Gilmore Girls series? Could it be that she will finally be able to pen the end of the series the way she originally intended to? Should we even dream the biggest of all dreams and consider that we may get to hear the four words that Amy always envisioned signing off with?!
According to TVline.com, sources have confirmed to them that Netflix reached a deal with Warner Bros. to create the revival series. Now, they claim it's really just a matter of nailing down negotiations to get the main Stars Hollow players back in all their quirky glory. This includes Amy Sherman-Palladino, who left the show over contract disputes before its final season but always maintained that given the chance, she would love to come back and write the ending her way. In fact, TVLine's Michael Ausiello told the Gilmore Guys podcast that Amy Sherman-Palladino will likely write two of the episodes, and her husband Daniel will write the other two, with both Palladinos also directing the revival.
While it's definitely not 100 percent confirmed at the moment, Bustle reached out to Netflix for comment and received the following reply: "We are not commenting". Um... did you hear that kids? That's definitely not a no! And at this juncture in Gilmore Girls fandom, we will take it as a seriously positive sign.
While we wait with baited breath for the final word on whether our beloved Amy Sherman-Palladino will return to pen the final part of Gilmore Girls, let's look at some reasons why this absolutely needs to happen.
Those Four Words
We need the four words. The final four words of the series that have been taunting us since Amy declared she had them written all along. Who will say them? What are they? It's almost too much to consider that we may actually live in a world where we will soon know what these words are. Someone fan me, please.
Luke And Lorelai Need Closure
When Amy left, things were different. They just were. Not bad... just different. One thing that never got completely resolved or felt like it had it's due diligence paid to it was Luke and Lorelai. Things with Christopher began and ended so abruptly that it seemed like the last few episodes threw Luke back into the mix without the care of a Sherman-Palladino hand. Amy needs to come in and rework their romance in a way that does their story justice. Does he still have her horoscope in his wallet? Inquiring minds need to know.
Edward Herrmann
Edward Hermann tragically passed away last year and Gilmore Girls fans everywhere mourned the loss of our surrogate grandfather, Richard Gilmore. I feel like Amy is the only one who should be allowed to take on the story line that will inevitably have to be written to accommodate this great loss. I feel like it's not right to let anyone else send Richard off.
The Wrap Up
There is so much to catch up on and wrap up, any newcomer to the show would have their heads spinning at the sheer volume of it all. Amy knows these characters. Amy created these characters. She is the one who can properly put these beloved people back into motion together. Only Amy knows how she wanted them all to end up. I believe in Amy!
Bring back Amy!
Update: TV Line reports that there will be an eight-year time jump and that all of Rory's boys will be back for the show! Also, Lauren Graham has shared something very cryptic on Twitter about her involvement.
Images: Screenshot/Netflix; Giphy (5)