The Gorgeous Book That Inspired 'Brooklyn'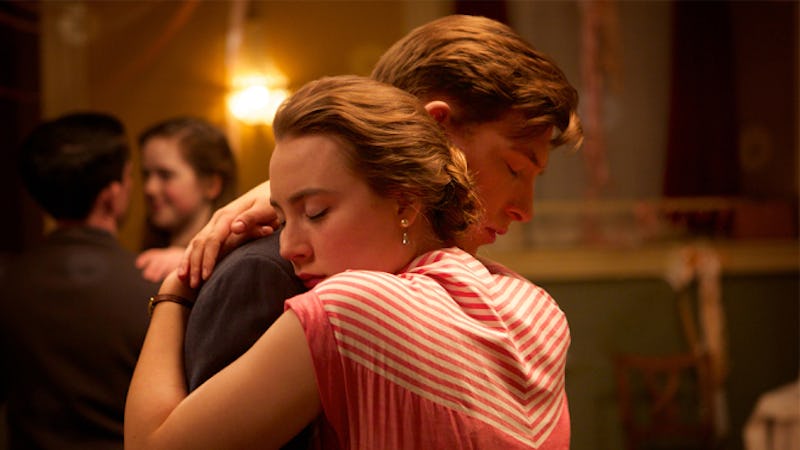 The new film from director John Crowley, Brooklyn , tells the story of a young Irish woman named Eilis Lacey (Saoirse Ronan) who moves to a pre-hipster Brooklyn in 1950. After initially struggling to fit in in her new country, Eilis eventually meets and falls in love with Italian-American Tony Fiorello (Emory Cohen). But just when she's finally loving her new life in the States, Eilis learns of a crisis back in Ireland and returns to her homeland... and into the arms of a man from her past, Jim Farrell (Domhnall Gleeson). Part romance, part historical drama, and part portrait of the American immigrant experience, the film has an enchanting story full of depth and emotion, and one that seems as if it would work as well on the page as it does on a screen. So it should be no surprise, then, that Brooklyn is based on a book — and that it's a novel you're going to want to read, ASAP.
Brooklyn is based upon the book of the same name by Irish author Colm Tóibín, and the screenplay adaptation was penned by Nick Hornby, who also wrote last year's Reese Witherspoon-starrer Wild, which was based on Cheryl Strayed's memoir. Tóibín's book is highly acclaimed, and is considered one of the best additions to the genre. The Observer even ranked it among their top 10 historical novels of all time, sharing space on the list with classics like Leo Tolstoy's War and Peace. So clearly, it's a good book, but how well does the movie capture the spirit of the novel?
If critical acclaim is any indication, the film version of Brooklyn is definitely doing the book justice. The movie currently holds a perfect 100 percent rating on Rotten Tomatoes after 23 reviews, meaning that not a single review gathered by the site so far has portrayed the film in a negative light. But movies based on books can still do well even if they bear little resemblance to their source material. Just look at Stanley Kubrick's The Shining, based on the Stephen King novel. Kubrick's movie is considered a classic, but King famously hates it because of how radically it deviates from his own work. Does Brooklyn face this problem as well?
Luckily for Brooklyn, it seems like Tóibín is completely on board with the film. Even though Tóibín wasn't directly involved with the movie's production, he hand-picked Crowley as the director of the film, and he reportedly liked Hornby's script. He also praised Ronan's performance in the lead role, telling Examiner.com at the New York Film Festival, "Well she has that same thing that Eilis in the book has which is a way of being able to attract people without seeming to try... She doesn't know the effect she has on people. People like her, trust her, and and Saoirse Ronan is like that too. She has a sort of poise, that is natural."
It definitely sounds like Brooklyn the movie is going to go down as being nearly as loved as the book it's based on, which should make any resident of the hippest borough quite proud.
Images: Fox Searchlight Pictures; Amazon