I Tried A Runway Beauty Look IRL & This Happened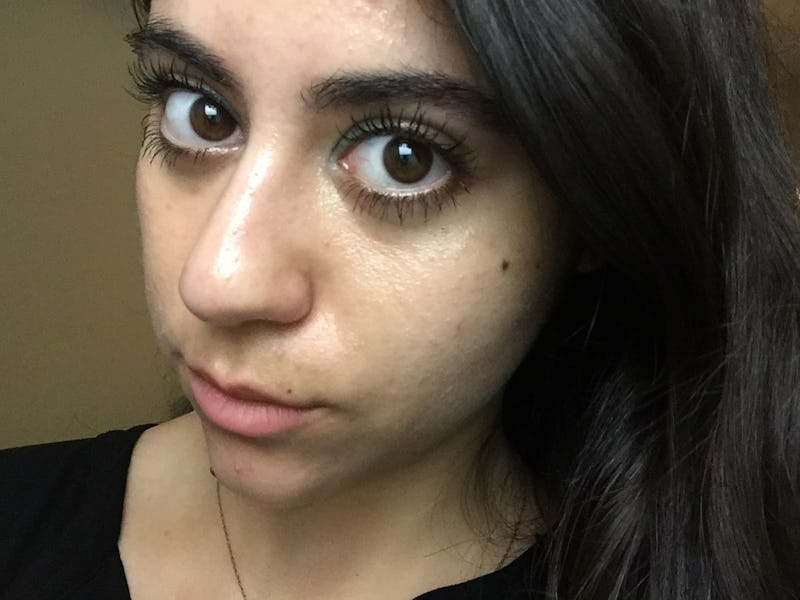 Sure, clothes might be front and center at runway shows, but I like to think it's the beauty looks that really give the garments that extra oomph. If I had to choose one recent collection that proves as much, it would have to be Marc Jacobs S/S 2016 with the hyper glossy beauty look as stunning as its clothes. The collection's '20s-inspired Hollywood glamour would not have been complete without the lived-in, bright yet subdued, glossy makeup that effortlessly made the whole shebang jaw-dropping.
The hyper-glossy cheekbones, highlights, and lids on the models were absolutely gorgeous. Even without the shiny clothes, it's still a stunning makeup look. So you can bet your bottom dollar that once I saw the gorgeous look on the models walking the runway, I was going to take it for a spin myself.
Even though this was one of those typically unwearable-in-real-life runway beauty looks, I was up for the challenge. So, with a whole lot of high-res photos from the runway show and a huge bottle of Vaseline the size of my head, I got to work. After adopting the glossy look for myself, I wore it out and gauged how this pretty runway beauty creation would go down on a normal person's regular day.
The Look
Right off the bat, you can see how Francois Nars, the makeup artist for the show, went for the lived-in makeup look. Nars told The New York Times' T Magazine that the makeup was "a look you get from being out all night, sweating — without looking too undone." While many people might be taken aback by the thought of a sweaty, makeup-is-falling-off-all-night element in their beauty routine, the result was certainly breathtaking.
Yes, the models look a little sweaty. Yes, they look like they've been wearing their makeup for hours. But that's the point. The look was meant to capture that lived-in, diva glam feeling of having worn your makeup the whole night, aligning itself very well with the Old Hollywood-inspired collection itself. Nars also told the publication that he used Vaseline to highlight the models' eyes, cheekbones, and under eyes to create that shiny, sweat-like appearance.
Reaching for lots of mascara, some brown and blue eyeshadow, red lipstick, and a huge tub of Vaseline, I was on to the application stage.
The Application
Following Nars' lead, I avoided foundation and powder and simply dabbed some concealer where I needed it on my blemishes. I'm usually one to layer on the powder, so I was concerned about skipping it because I have super oily skin. My oily skin turns into a sweaty, slick mess by early afternoon anyway, so I hoped the Vaseline would at least keep it in control in certain places.
With my fingers, I spread Vaseline over my cheekbones and under my eyes. It shone like it was a reflective surface, and it felt thick and heavy. I was afraid it was going to pull my makeup apart once I really applied it. But alas, I had gone this far. There was no turning back now.
Next, I applied some blue eyeshadow in the corner of my eyes. Blending it in with a brush and a neutral brown shade, then reaching for some more Vaseline, I spread the jelly over my eyelids. Finally, I applied some red lipstick and globs and globs of mascara. I didn't even clean up the flakes that fell on my cheeks because I thought they would add to the look.
With that, I was off on my day.
The Experiment
Morning
Within the time that I left home, drove 15 minutes, and stepped into my office, my makeup was already disintegrating on my face. The thick layers of Vaseline I applied were breaking down my makeup in the worst way possible, creasing my eyeshadow and making my mascara flake prematurely. Even the concealer I had applied vanished when it was touched by the Vaseline. That being said, my skin was shiny and slick. So I was optimistic that at least the Vaseline could stay as it was until lunch.
Noon
I was totally wrong. By noon, there was no eyeshadow actually on my eye because it had all gathered in my crease. My mascara seemed to have flaked even more since morning (even though I didn't think that was possible) and created a mess of black specks underneath my eyes. On top of all that, my oily skin was not appreciating the Vaseline, making half of my cheeks dry and the other half a sweaty, slick, and shiny mess. At this point, I had to grab some toilet paper from the bathroom and clean up the damage.
Late Afternoon
I guess my mascara finally gave up trying to fight the Vaseline because when I checked up on my makeup in the afternoon, all was just as I had left it. My eyes were still shiny from the Vaseline and my skin looked super slick. There was only a bit of eyeshadow left to really tell that I had applied bright blue and brown to begin with. Sigh.
Evening
By evening, not much had changed. My face was still shiny and my oily pores had maxed out since the afternoon. My eyeshadow was completely gone and my mascara was down to a fraction of what I had applied earlier that morning. I made a trip the grocery store before going home to inspect the look before rushing to the sink to finally wash it all off.
Will I Do It Again?
All in all, it has become clear that not all runway beauty looks are created for real life wear. Don't get me wrong: I still love the lived-in, morning after look Nars created for the Marc Jacobs show. It was different, it was chic, and it took a look often associated with negativity and made it a beautiful complement to beautiful clothes. But, let's be real here: When it comes to your everyday life of running errands, going to work, and attending meetings, a high-maintenance makeup look that makes you look sweaty and disheveled isn't necessarily the best go-to.
I did find that Vaseline is foolproof for getting that slick, shiny look, but it's obviously not meant for long wear. It felt thick and heavy, and only worsened my already oily skin. Plus, it completely disintegrated the makeup by the afternoon.
For now, it's probably best if you stay away from applying globs of the stuff to your cheeks and eyes. As for me, matte will have to be the way.
Images: Melodi Erdogan