This Taco Costume Is Perfect For Couples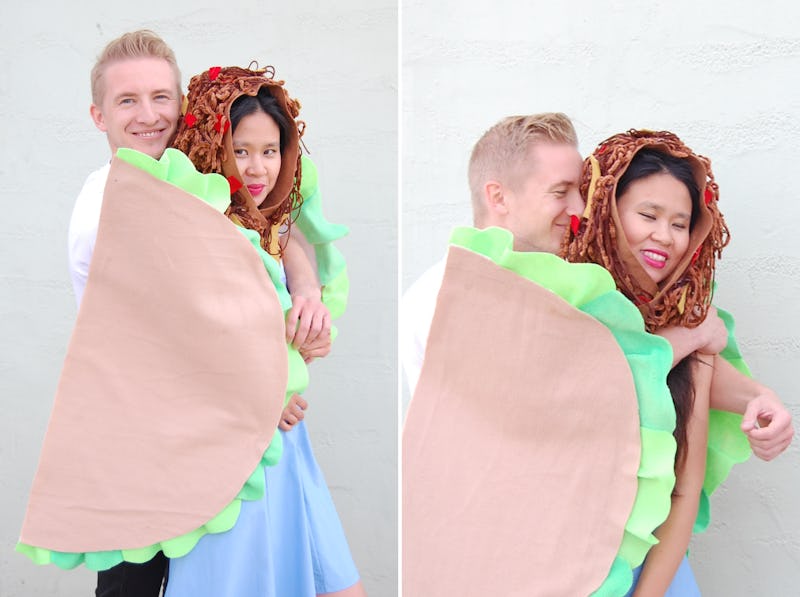 With Halloween creeping around the corner, nothing sounds better than a super easy Halloween costume — and this taco Halloween costume idea for couples is seriously way too cute to pass up. Seriously, instead of scrambling to the nearest party store, try turning you and your other half into a mouthwatering taco. Not only will you two look adorable, but you'll be able to honor one of the most delicious foods out there. And let's be real — the greatness of tacos is one of the few things we can all agree on.
If you're not a frequent crafter, there's a good chance you're thinking, "There is NO way I can learn how to make that in just a few days." Sure, it may be last minute. However, I promise that it requires minimal DIY skills, and less than two hours. It'll take even less time if your significant other lends a helping hand. Between the no-sew factor and inexpensive materials, this project is just too good to pass up. And don't even get me started on the cuteness level.
After all, a taco isn't a taco without the tortilla. A taco also isn't a taco without the filling. Together, they form one of the most awesome things in the world. And since you and your other half are basically the best stuff out there, you might as well use a taco to represent your greatness. If you don't have a significant other, dress up with your best friend, roommate, or sibling, and get ready to win Halloween.
Want to make your own? Let's taco 'bout it, right this way.
Supplies:
- Large card stock paper (at least 35 x 20 inches)- Scissors- Brown yarn - Tan felt (at least one yard)- Brown felt (at least 30 x 6 inches)- Green felt (nine 9 x 12 sheets from the craft store work perfectly)- Yellow and red felt scraps - Wide elastic - Hot glue gun
Don't be afraid to mix and match two different shades (and textures) of brown yarn. This will help it look more like real meat, which naturally has a variety of textures. This is a great way to use up leftover yarn, too.
If possible, choose two different shades of green felt. This will add depth and dimension to your "lettuce" detail, making it look more realistic.
Directions:
1. Lay the strip of brown felt on a flat surface. Hot glue layers of brown yarn scraps, yellow "cheese" rectangles, and red "square" chopped tomatoes. Don't think too much about the placement of things! Keep it random.
Watch your hands as you work on the taco filling scarf. Hot glue can get really hot, and it's not uncommon for it to sneak through the strands of yarn. Your best bet is to pat everything down with another object (like the end of a paintbrush), or wear protective handyman gloves. Gotta protect those digits!
This step completes the meat filling portion of the costume. You're already halfway there, lady.
To wear this portion of the costume, the "meat" scarf will be draped around the head. Use a safety pin to hold it in place. Looking for a cozier option? Hot glue the yarn and felt scraps to the hood of a brown hoodie.
2. To make a tortilla shell, cut out a tan felt half circle measuring 32 x 16 inches.
3. Hot glue the felt to the card stock.
4. Cut away the excess card stock. Tortilla shell, check!
5. Now, it's time for the lettuce. Cut rectangles of green felt measuring four inches wide and seven to 10 inches long. Vary the length of each piece; chopped lettuce isn't perfectly symmetrical, after all.
Cut a wavy edge along one long side of each rectangle.
6. Flip the tortilla over so that the paper side is facing you.
Take the pieces of green felt, and hot glue them along the edge, making sure the wavy side is positioned above the tortilla's edge. Fold the green felt at random intervals to create a ruffled look. You'll want to add some hot glue to keep each fold in place, too.
7. Continue along the tortilla. If you're using two colors of green felt, alternate them as you go.
8. Cut two strands of elastic, measuring about 10 and six inches each. These measurements may be bigger or smaller depending on the person's arms. When in doubt, measure the circumference of the upper arm and right above the elbow. Add another 1.5 inches to each strand to allow room for gluing.
9. Hot glue the ends of each elastic strand to the paper side of the tortilla. This will form two stretchy loops for an arm to slip through. These two elastic strands are about eight inches apart; again, adjust accordingly depending on the person.
This completes the left side of the tortilla, which will be worn on the left arm. To create the right half for the right arm, repeat steps two through nine. It's extremely important to place the elastic loops at the opposite end to make it wearable for the right side. Otherwise, you'll have to be a one-sided taco.
To wear the tortilla, slip an arm right through the elastic.
Once your ingredients are good to go, it's time to assemble the taco. One of you will drape the "meat" scarf over your head, and safety pin it in place. Again, you can also adapt this project with a hoodie and the same materials.
The other one will wear both sides of the lettuce-lined tortilla. Now, that person should give the other a big ol' hug.
Every time a photo opp comes around, pose prom picture style for instant foodie goodness. I dare you to not laugh while wearing this costume.
A big shout out to my buddy, Oleg Panichev, for posing as my faux boyfriend for this photo shoot. Thanks for (literally) having my back.
For more Halloween ideas, check out Bustle on YouTube.
Images: Kirsten Nunez