Gorgeous Snowflake Tattoos To Swoon Over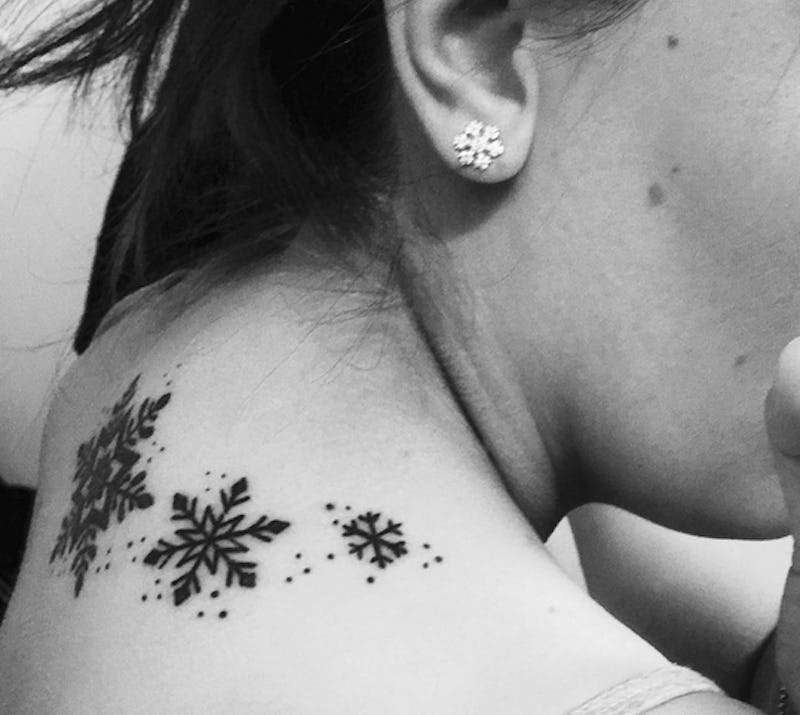 Of all the things that can fall on us from the sky, I'll argue that snow is the prettiest and most welcomed. Which, I think, makes snowflake tattoos a pretty excellent idea for ink. I mean, show me a person who lamented not bringing an umbrella when snow started falling. Or how about a person who was happy that a seagull dropped a little present especially for her? (I admit this happened to me once, and I was not a fan. Not at all.) And besides the fact that snowflakes are just-plain pretty to look at (and fun to play in), they're kind of the epitome of a totally unique, intricate design. So even if many people go for snowflake tattoos, no two should be the same, right?
Oh, and even though a snowflake tat would look bomb in any color, if you've ever considered a white-ink tattoo, a snowflake would be the perfect subject for one. So whether you're a winter baby, love snow sports, or just wanna build a snowman, you're going to love these 11 works of art. And if you're thinking that your next piece should be a snowflake, these will totally inspire you too.
1. Negative Space
Coloring in the space around a snowflake instead of drawing the snowflake itself just looks so cool.
2. Classic
Just try not to stare at your wrist all day long.
3. Accent
A collarbone tat is so sweet and delicate.
4. "Frozen"
I'm obsessed with those purple-and-blue flakes.
5. Knuckle
Who needs rings when you have snowflakes on your fingers?
6. Matchy-Matchy
Because who wouldn't want to match her jewelry to her tattoos?
7. Hidden
A snowflake tucked away behind the ear is so cute.
8. Colorful
Um... a snowflake tree?? Yes, please.
9. Simple
Can't go wrong with a classic design.
10. Ombre
Love the fading blues of this ombre-colored snowflake.
11. Statement Piece
A piece like this = backless tops, always.
Image: @giogrange/Instagram