Jordan Smith's Voice Could Pair With These Celebs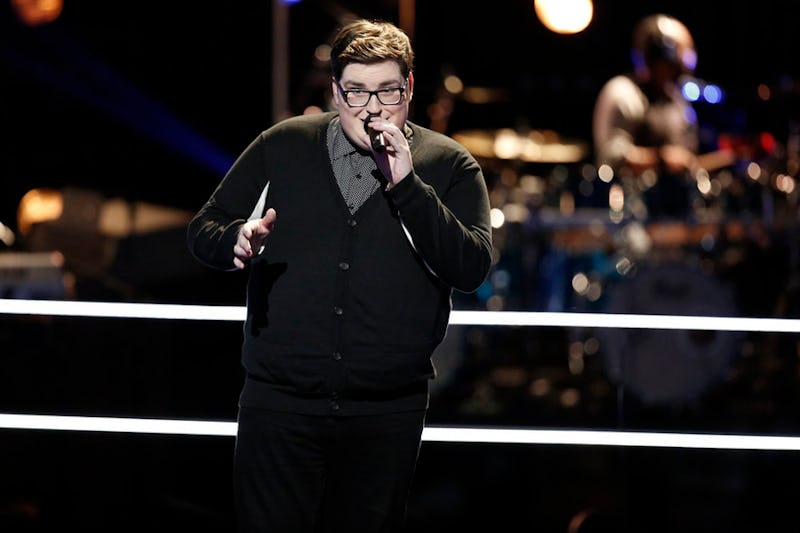 For fans of The Voice, watching Jordan Smith was a special moment that stood out to most people who viewed the Season 9 premiere. The second he sang the first note of Sia's "Chandelier," jaws dropped to the floor and the moment was only heightened when we were all introduced to the man behind it. Usually viewers get to see the singers before the judges, but the producers allowed us to be a part of the magic this time, when Jordan graced the stage. Since that first audition he has continued to amaze with his talent, and his covers are truly legendary. So, which musicians should Jordan Smith collaborate with once the show is over?
He has a uniqueness to his voice that really doesn't come around often. Coming to The Voice with a gospel background gives him the edge of knowing exactly how to use his natural abilities and to make each note he sings flow with such ease. He also has the added experience of singing with his college a capella group. Ever tried singing without music? That is no easy task. The guy has some serious skills in his arsenal.
I mean, I obviously have the power to make these collaborations happen because I have such high-brow celebrity connections. So, while we speculate, I will be making phone calls to get Jordan where he needs to go.
1. Sia
Obviously. Jordan's rendition of her mega hit, "Chandelier" was phenomenal. The two of them need to get together and work it out because I think the end result would be complete magic.
2. Sam Smith
Again, we have already seen Jordan do (and completely nail) a cover of Sam Smith's "Like I Can." His voice combined with the sweetness of Sam's singing style would be a tornado of deliciousness.
3. Adam Levine
Who doesn't want to see the student and coach take the stage together? Their vocal styles would compliment each other insanely well.
4. Adele
I just need this to happen. These two powerhouses would make something other worldly occur if they put their voices together in one project. Adele is back and better than ever. I honestly think these two would make beautiful music as a combo.
5. Ariana Grande
I would love to see some of that Jordan Smith confidence in conjunction with the pint-size fire cracker that is Ariana Grande. Her voice continues to overwhelm me whenever I hear one of her songs and I think he could keep up with her sass and talent. Can you picture it?
6. Sara Bareilles
Jordan sang her song, "Stay" at an event held at his university and he completely demolished the performance. Sara has a playfulness to her voice and a range that Jordan could match with ease. These two would make beautiful music together. Now I just want to hear him sing "Brave."
Basically, Jordan could really match talent with anyone out there, but I think he needs to get with these musicians ASAP. The unique sound he brings to any collaboration would only enhance it exponentially. Hopefully he'll get these chances soon!
Images: Tyler Golden/NBC