6 Ways Rosie The Riveter Has Lived On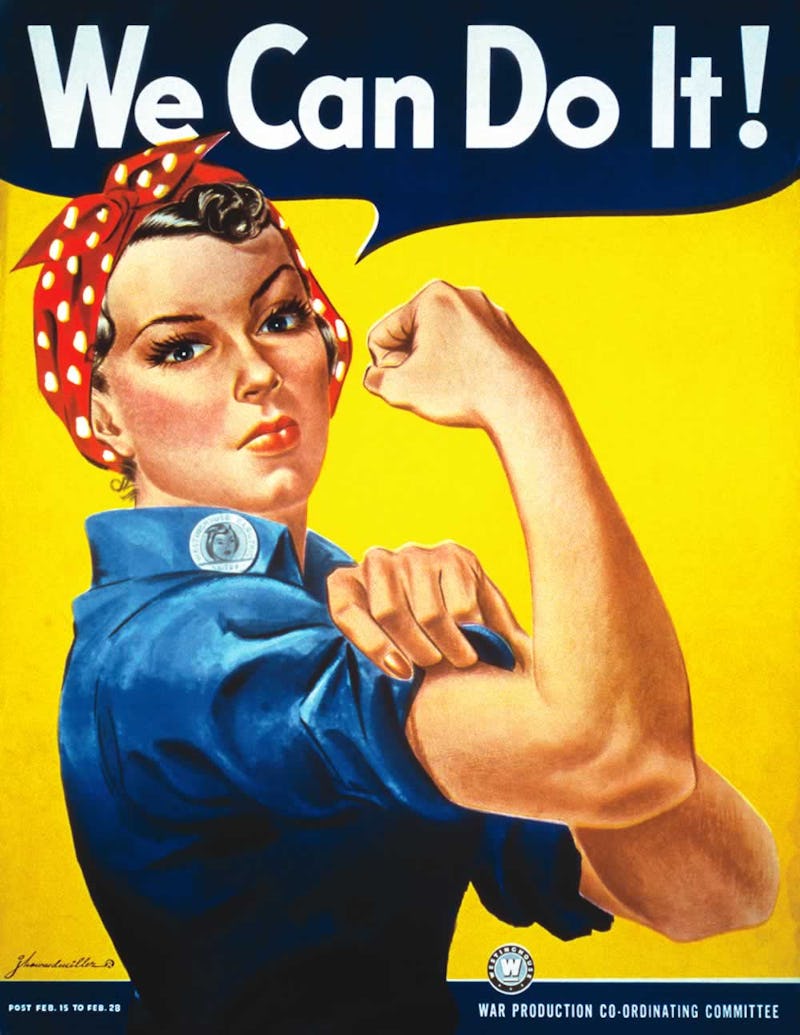 A group of 1,084 people in Richmond, CA broke the Guinness World Record for the most Rosie the Riveters in one place this August, but their victory was short-lived: A group of 2,097 Rosies at Michigan's Willow Run Bomber Plant on Saturday just took back the title, which the plant had previously held from March 2014 up until August with 776 Rosie the Riveters. This means that over the past year and a half, the number of Rosies in the record has almost tripled. This is one competitive record, indeed.
The Willow Run Bomber Plant, which stretches between Ypsilanti and Belleville, MI, is an historically appropriate location for this record to be set: Ford Motor Company built it during World War II to create war munitions, and after initially refusing to hire women in the factory, Henry Ford finally gave in after too many of his male workers were drafted into the war. It's not the most altruistic decision, but it does embody a trend that the original Rosie the Riveter posters set out to encourage: More women working in factories as men went off to war.
Since then, Rosie the Riveter has come to symbolize many things, including women's empowerment, labor rights, and capitalist propaganda. Here are some of the most interesting ways her image has been used and reused over the years, proving that she'll likely be relevant for a good long while yet.
1. A Symbol For The Occupy Movement
Perhaps due to her association with economic justice, Rosie the Riveter's image has been reprinted for Occupy posters, shirts, pins, and other merchandise. And no, the irony of making money off a movement against economic greed is not lost on me.
2. A Persona Of Beyonce
Beyonce, who considers herself a feminist, posted a photo of herself dressed as Rosie the Riveter last year on Instagram, sparking discussion over whether Rosie was a feminist icon after all or just a medium of propaganda.
3. A Persona Of Sarah Palin
Though many questioned Palin's status as a feminist icon, supporters of a 2008 Palin Vice Presidency photoshopped images of Palin as Rosie the Riveter to show that she, too, "can do it."
4. A Character In Pink's "Raise Your Glass" Video
Pink's single is all about standing up for people who have been overlooked, which could explain why she shows up dressed as Rosie the Riveter, a symbol of women who were overlooked as members of the workforce, during the chorus.
5. A Halloween Costume
Rosie the Riveter is among the many feminist icons you can dress up as this Halloween and a great alternative to the many sexist Halloween costumes we're bound to see over the next few days.
Images: SBT4NOW /Flickr; Amazon; Halloweencostumes.com