It's A Sad Night For Blind Joe Fans On 'The Voice'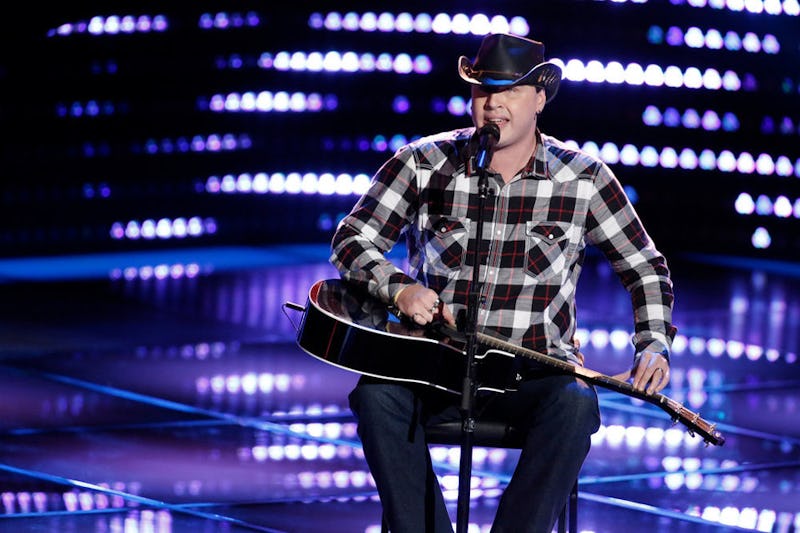 It's only night one of the Knockout Rounds and already my heart is breaking. First, Andi + Alex were let go and now fan-favorite Team Blake contestant, Blind Joe, was eliminated from The Voice . The country traditionalist took the stage with "Mammas Don't Let Your Babies Grow Up To Be Cowboys" but failed to impress the coaches with his somewhat rocky performance. Sure, he was having an off day but, unfortunately for Joe, his competition, teammate Barrett Baber, was having an extremely-on day. Baber wowed with a powerful rendition of Zac Brown Band's "Colder Weather." And while it hurts to see Joe go, it's for the best.
Blind Joe has an amazing voice and an even more amazing personality and presence, but he wasn't cut out for this competition. His old-school country tone appeals to a very niche audience, but it won't win over the masses. He failed to show any versatility during his short time on this show and that's what ultimately cost him the competition. You could tell that it was tough for coach Blake to let him go, but he was right in eliminating Joe. As talented and enigmatic as he is, Joe's voice isn't meant for the mainstream and that's okay.
Though it's a sad day for Blind Joe fans, it's a great one for Barrett Baber fans. The seasoned country artist worked hard for his win, proving that he's in it to win it this season. Much of his talent reminds me of a former Team Blake winner — Craig Wayne Boyd. Boyd and Baber are both on the older end of the competition and have some experience under their belts. They both know who they are as artists and are willing to take Shelton's direction to gain the skills they need to excel in this industry. The process certainly worked for Boyd, so will they same be said of Baber? It's too early to tell, but he proved tonight that he definitely has it in him to take down the rest of the competition.
Image: Tyler Golden/NBC