Ariana Grande Pulls Out All The Stops For "Focus"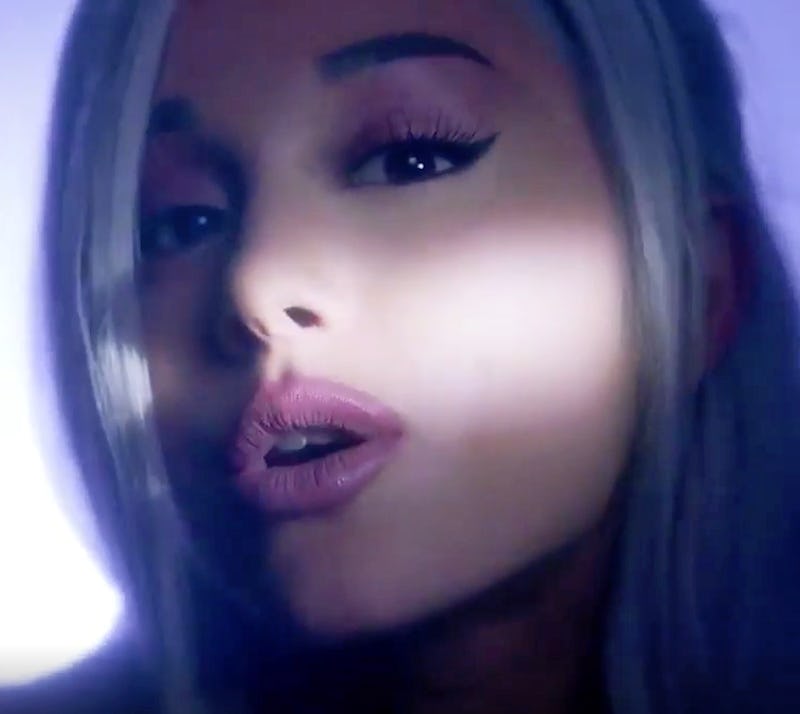 It's been a long, agonizing wait, but Ariana Grande's new song, "Focus," is finally almost here. The track, which serves as the lead single from Grande's upcoming new album, Moonlight, premieres Friday. The 22-year-old star shared a preview of the "Focus" music video with her Twitter followers on Tuesday, and it looks as though she pulled out all the stops. Not only is she rocking a totally new style in the clip (her hair is light blonde — or possibly even gray), she busts out a little choreography, as well. (The singer regularly dances in her live shows, but dancing hasn't played a major role in any of the music videos she's done thus far.) Will the treatment help "Focus" become Grande's first No. 1 single?
Though the success of Grande's last LP, 2014's My Everything, made her a household name, she has yet to earn a No. 1 single on the Billboard Hot 100 chart. (My Everything's lead offering, "Problem," came close, but ultimately fell short, peaking at No. 2.) Grande's pal Justin Bieber just recently nabbed his first No. 1 with "What Do You Mean?," thanks in large part to a relentless social media marketing campaign that kicked off long before the tune's debut.
It seems as though sought-after music manager Scooter Braun — who represents both Bieber and Grande — is hoping the same strategy will work for "Focus." After all, Grande announced the track over a month before its scheduled release date and has been tirelessly hyping it up on Twitter and Instagram ever since. Check out the latest "Focus" preview below.
In order to reach the summit of the Hot 100, "Focus" will need strong radio airplay, streaming numbers, and sales numbers. In other words, it needs to resonate with the general public in a big way. An eye-catching music video with lots of replay value can be critical to a song's success, as YouTube views now affect chart positions. So far, the "Focus" vid definitely looks promising.
However, any artist who puts out new music from now until the end of 2015 is at risk of being overshadowed by Adele, who returned last week with her new single, "Hello," and is poised to dominate holiday music sales with her forthcoming album, 25 (due out Nov. 20). "Focus" will need to be truly special in order to shift the spotlight away from the beloved British diva. Fortunately, I think Grande's up to the challenge. I can't wait to see how it all shakes out.
Images: ArianaGrande/Twitter (2)