It'll Be A While Before 'Bond 25' Gets Rolling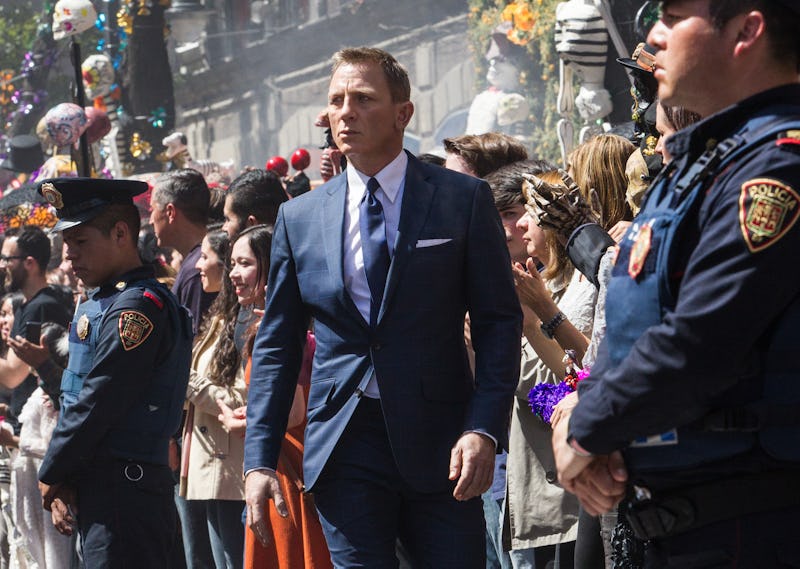 Spectre marks the 24th James Bond feature film that has been released since 1962's Dr. No. That's over four decades of sexy spy action — and people still want more. And why not? It's a great franchise of films with a handsome leading man, cool gadgets, luxury sport cars, hand-wringing villains, and a whole lot of action. Everyone loves all of those things so I'm sure that the Bond franchise will not die any time soon. Plus, the library of books started by Bond creator Ian Fleming is so massive that there is an endless amount of source material. All the material is there, but when will the next Bond movie start filming? With the way things look right now, I would say that it might be a long wait.
When Daniel Craig donned the tux as the eponymous character in 2006, he breathed new life into the franchise. Nothing against Pierce Brosnan, but it really needed it after his movies. Craig's Bond was fresh, edgy, rough around the edges, and catered to the modern audience. He was a new kind of Bond that the 21st century needed. Although the films have performed well at the box office and with critics, it's what's going on behind the scenes that make me question the future of the franchise.
It's been nine years since Craig starred in Casino Royale — which was an unbelievably awesome installment in the James Bond cannon. In fact, it is probably one of my all-time favorites. However, like any job, Craig seems to be getting a little restless with the role. During the press tour for Spectre, he's been really open about how he feels about the role. But it was his interview with Time Out, that really drove the point home that Craig seems done with playing James Bond.
"I'd rather break this glass and slash my wrists," he told Time Out when asked if he could imagine doing another Bond film, before continuing, "No, not at the moment. Not at all. That's fine. I'm over it at the moment. We're done. All I want to do is move on."
Well, he certainly isn't holding anything back. His comments about not playing Bond aren't set in stone. He said that he is "over it at the moment" so this isn't necessarily the end all of his Bond career. Keep in mind, he has been inundated in the Bond universe for the past nine years. I'm pretty sure 007 fatigue is beginning to set in. Even though Craig is reportedly signed on to do two more sequels after Spectre , he might have reached his limit with four. Contracts can always be broken and with Daniel Craig's outspokenness during interviews, he is very well on his way to ending his run. Brosnan did four movies before checking out, so perhaps Craig is following suit.
If Craig leaves, they'll have to fill his finely tailored Tom Ford suit with another hunky actor, obviously. The recasting process of Bond would delay a sequel further. From Hugh Jackman to Idris Elba, there have been plenty of talks about a new Bond, but with how finicky the Hollywood casting process is, it may take a while to find a replacement for Craig. It took four years until we saw another Bond movie after Brosnan's dismal Die Another Die so if history repeats itself, we probably won't see another sequel rolling until 2017 or 2018.
Craig is not the only person thinking about walking away from the franchise, director, Sam Mendes, also had a indecisive relationship with the movies. Mendes directed 2012's Skyfall, which raked in a $1.1 billion payout worldwide and received critical acclaim. With all of the success, it was a given that the Academy Award-winning director would return for the next Bond installment, but Mendes said he was wooed back in order to do Spectre.
"I felt like I didn't know where to go narratively after the last one. These things take a lot out of you, and I went immediately into a huge theater project, Charlie and the Chocolate Factory," he said in an interview with The Hollywood Reporter. "So I didn't feel I had any headspace to try to work out how to crack it again."
But after some convincing, he got signed on. "I felt like there was an opportunity [with Spectre] to perhaps reimagine on a more epic scale some of the darker characters and organizations that had haunted Bond in in the early part of the franchise — which are all of course rooted in Ian Fleming's novels," Mendes continued. "The thing about the novels is that they're much darker than the movies that were made of them, because by the '60s and '70s, dark was not commercial. And that has changed."
It seems like Craig and Mendes are ready to call it quits when it comes to Bond, but there is a chance that they might just need to reset and come back refreshed for the 26th installment. Until they give fans an official confirmation, we might have to start considering the thought of seeing a whole different Bond in the next movie.
Image: Metro-Goldwyn-Mayer Studios Inc., Danjaq, LLC, and Columbia Pictures Industries