A Cheat Sheet For 'Spotlight's A-List Cast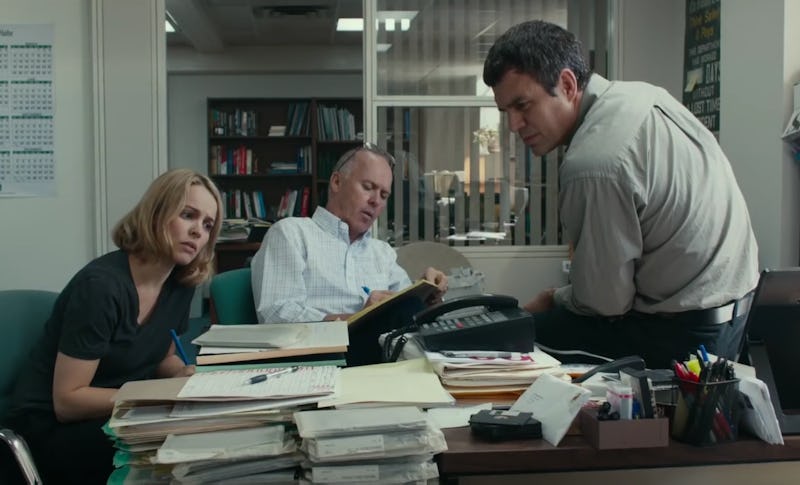 Watching the trailer for Spotlight is overwhelming — how can so many beautiful actors be in one movie? Rachel McAdams, Mark Ruffalo, Michael Keaton and Liev Schreiber star in Spotlight as the team of investigative reporters that exposed the cover-up of child molestation charges against the Catholic Church in Boston for the Boston Globe. But they're not the only big names featured in Spotlight. The film also co-stars Billy Crudup, Stanley Tucci and John Slattery, rounding out the cast with a grand total of three Oscar-nominated actors (Tucci, Ruffalo and Keaton). Such an A-list ensemble can be a bit intense for just one movie, so here's a Spotlight cast round-up to help you keep it all straight.
Before you delve into the cast, though, a bit about the movie's plot: in 2002, the Boston Globe published a series of articles exposing a massive cover-up in the local Catholic Church, protecting priests accused of child molestation by moving them around the country. Cardinal Bernard Law resigned as a result of the scandal, and the Church was forced to pay settlements to hundreds of victims. The series earned the group of journalists — known as the Spotlight Team — a Pulitzer Prize in 2003. Now, that same group of journalists is being brought to life on-screen in Spotlight by a group of hugely respected actors.
Michael Keaton As Walter "Robby" Robinson
Where You've Seen Him: Michael Keaton is best known for his turn as Batman (1989), but last year he earned an Oscar nomination for his leading role in Birdman.
Who He Plays: Keaton takes center stage in Spotlight as editor Walter Robinson. Robinson led the Spotlight Team of journalists, and was heavily involved in the making of the film.
Mark Ruffalo As Michael Rezendes
Where You've Seen Him: Mark Ruffalo is probably best known for his role as Bruce Banner/Hulk in Marvel's Avengers series, but he's also a two-time Oscar-nominee — for The Kids Are All Right (2010) and Foxcatcher (2014). He also played the hopelessly romantic Matt in 13 Going on 30.
Who He Plays: In Spotlight, Ruffalo plays Michael Rezendes, one of the reporters on the Spotlight Team. Rezendes was also involved in the making of film and helped go over the script to ensure the dialogue felt as natural and truthful as possible.
Rachel McAdams As Sacha Pfeiffer
Where You've Seen Her: Rachel McAdams broke out in 2004 with starring roles in Mean Girls and The Notebook. This past year, she starred in the second season of HBO's True Detective as well as the boxing drama Southpaw.
Who She Plays: Sacha Pfeiffer was another reporter on the Spotlight Team, and the only woman. Pfeiffer, who worked for NPR after the award-winning report and has since returned to the Globe, has been supportive of the film. In an interview with Variety, she stated that she felt that the fictionalized re-telling of her life in Spotlight was more than accurate, adding, "And our work is not fictionalized. They just captured what it is really like."
Liev Schreiber As Marty Baron
Where You've Seen Him: Liev Schreiber currently stars on Showtime's Ray Donovan, but he has had a long career taking on roles in every genre, from horror to comedy. Like Ruffalo, Schreiber has also dipped his toe in the superhero pool, playing Victor Creed in X-Men Origins: Wolverine (2009).
Who He Plays: The actor stars in Spotlight as Marty Baron, an editor who, new to the Globe, was instrumental in putting together the Spotlight Team and starting the investigation into the Catholic Church cover-up.
Stanley Tucci As Mitchell Garabedian
Where You've Seen Him: Stanley Tucci was nominated for an Oscar for his role as the homicidal neighbor in The Lovely Bones (2009), but he might be best known as one of Meryl Streep's greatest counterparts in Julie & Julia (2009) and The Devil Wears Prada (2006). He is also the make-up loving television host, Caesar Flickerman, in The Hunger Games series.
Who He Plays: In Spotlight, Stanley Tucci stays out of the newsroom as Mitchell Garabedian, a Boston lawyer who led a case against former priest John J. Geoghan, accusing him of child molestation. Garabedian spoke to the Spotlight reporters about his case, and at one time reportedly represented 118 alleged victims claiming to have been abused by Geoghan.
Billy Crudup As Eric MacLeish
Where You've Seen Him: Billy Crudup was a heartthrob of the early 2000s, with starring roles in Almost Famous (2000) and Big Fish (2003). He also starred as Dr. Manhattan in the feature film adaptation of Watchmen (2009).
Who He Plays: Eric MacLeish was the lead lawyer in the case against the Archdiocese of Boston in 2004. MacLeish has since left his job as a prosecutor, but before he did, he managed to negotiate an $85 million settlement with the archdiocese as a result of the scandal.
John Slattery As Ben Bradlee Jr.
Where You've Seen Him: John Slattery will forever be Roger Sterling of Mad Men, the cool and womanizing ad exec of Sterling Cooper. He also has a recurring role in the Marvel series as Howard Stark — Tony Stark's dead father.
Who He Plays: Ben Bradlee Jr. was an editor for The Boston Globe, who worked on the Spotlight Team as an editor. Bradlee, along with Robinson, Rezendes, Pfeiffer and Baron, supported Spotlight at the Toronto International Film Festival in September.
Spotlight hits theaters on Nov. 6, so get ready to see this impressive group of actors take on a powerful big-screen story.
Images: Open Road Films (8)