Zac Efron's Next Film Looks Like A Winner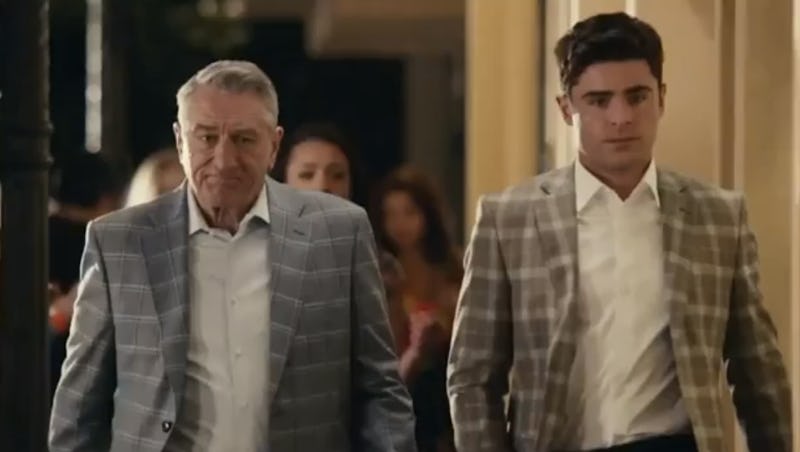 If you weren't looking forward to Zac Eron's new movie, Dirty Grandpa , you will be once you've watched the trailer which luckily dropped Wednesday. Why? Simply put, it looks as though Dirty Grandpa has all the ingredients a Zac Efron film should have: Namely, Efron gets shirtless a bunch of times, and finds himself in a lot of precarious situations! The fact that it's legendary actor Robert De Niro leading Efron astray and encouraging him to party behind his future wife's back makes the premise even more exciting. Aubrey Plaza and Julianne Hough co-star, rounding out an already awesome cast.
Although Dirty Grandpa is very firmly placed in the comedy genre, it definitely has some commonalities with Efron's most recent release, We Are Your Friends . As the trailer shows, in Dirty Grandpa, Efron has the chance to party, dance and chill with his friends. OK, so his friends in this movie consist of his grandpa and a group of strangers — but the road trip they're on appears to be a journey of self discovery for all involved, and an opportunity to cut loose in the best way.
To celebrate the release of the trailer for Dirty Grandpa , here are 13 of its best moments. Enjoy!
Eyebrow-Raising
Don't know about you, but I could watch him wiggle those eyebrows all day long.
Matching Suits
Nothing cuter than your wingman coordinating with your outfit.
Topless Partying
Enough said, really.
Zac's Muscles Are On Point
Is there anything more perfect in the world than this?
Robert De Niro Strips As Well
If you're not that into Efron, then maybe De Niro stripping will be more your style? There's something for everyone, yo!
Zac Just Chillin'
Sometimes Efron just chills at home on the sofa, remote in hand, wearing the cutest nautical sweater, while we order take out on the Internet. *Sigh* If only.
Zac Dances
There will be dancing. Oh yes, there will be dancing.
Julianne Hough Having A Freak Out
Hough's hair is too perfect in this shot. And she's cute when she's angry.
Aubrey Plaza Getting Weird
Plaza has the comedy props to be a hilarious co-star in Dirty Grandpa.
Efron And De Niro Sharing A Bed
Because that's what bros do.
De Niro Takes Some Selfies
Getting in on the selfie action, De Niro's Dirty Grandpa seems to be really enjoying himself in this club scene.
Zac Wears A Suit
With or without a shirt on, Efron has completely stolen my heart forevs!
Zac Efron Is Shirtless
In case you missed the memo, Efron is shirtless a lot in this trailer. And for that I thank, well, Efron himself!
As Dirty Grandpa is due out in January, I'm officially considering it a New Year's present from Zac Efron. What better way to welcome in 2016?! See the full trailer, in all its Efron glory, below!
Images: Lionsgate Entertainment; JoBlo Movie trailers/YouTube (13)