Louis C.K. Gets Serious In 'Trumbo'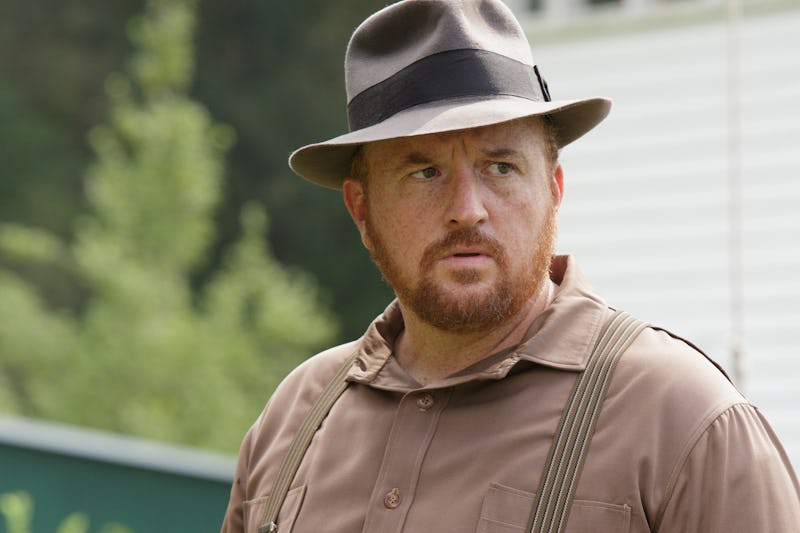 If you're a fan of Louis C.K., then you are probably used to seeing him spout harsh yet unbelievably accurate and funny truths about the world and social issues in his stand-up routines (and if you haven't seen any of them, I would suggest tuning into his stand-up specials on Netflix right now). He's even brought his comedy chops to television as a writer and actor on his FX show, Louie. That said, Louis C.K. in Trumbo shows off a whole new side of the star. It doesn't seem that a comedian would have a place in a drama about the real-life Dalton Trumbo, the famous blacklisted screenwriter of the '40s, and yet C.K. fits seamlessly into the cast. He plays Alan Hird, a friend and fellow screenwriter who was part of the "Hollywood 10," a group of screenwriters who were also blacklisted for their alleged ties with communism. But if you try to look up any works done by the real-life Alan Hird, you won't find anything, because he never actually existed.
Instead of crowding the film with all the members of the "Hollywood 10," screenwriter John McNamara created only the character of Alan Hird, a composite of real-life screenwriters who knew Trumbo. McNamara combined Trumbo's relationships with real-life screenwriters Samuel Ornitz, Alvah Bessie, Albert Maltz, Lester Cole and John Lawson to create Hird. In the film's press materials, McNamara said that these men "held harder, less flexible views of life and politics than Trumbo," balancing out the title character played by Bryan Cranston. That's quite a huge character for Louis C.K. to take on, but director Jay Roach felt that the star's comedic perspective could add a lot to the drama of the story.
"We cast Louis C.K. as a cynical, occasionally bitter, but often funny man who gets how screwed up what's going on really is and who can articulate it in a way to make you laugh," said Roach in the film's press materials. "He finds the absurdity in the situation in a way that some dramatic actors might not."
Cyncial? Bitter? Funny? That sounds exactly like Louis's stand-up. In addition, in the film, he's surrounded by heavy-hitting actors like Cranston, Helen Mirren, Diane Lane, and John Goodman. It may seem like an unlikely movie for C.K. to take on, but if you look at his past couple of films, it's not that out of the ordinary. In fact, he's easily becoming the go-to guy for supporting other actors in Academy Award-caliber movies. In 2013, he starred in two Oscar-loved movies alongside Hollywood elite. The first was Woody Allen's Blue Jasmine, in which C.K. played Al, the love interest of Ginger played by Sally Hawkins. In the movie, he's a nice guy, but there seems to be something pandering and damaged about him — which audiences only truly discover in the end. Spoiler alert — he's actually married and ultimately screws Ginger over. Like Trumbo, it was a stellar ensemble cast that included Cate Blanchett (who won an Academy Award for her role), Andrew Dice Clay, Bobby Cannavale, and Alec Baldwin.
That same year, C.K. starred in David O. Russell's Academy Award-nominated American Hustle with another all-star cast that included Christian Bale, Jennifer Lawrence, Amy Adams, Bradley Cooper, and Jeremy Renner. As another strong supporting cast member in a ensemble of A-listers, C.K. played the long-winded and skeptical Stoddard Thorsen, Richie's (Cooper) boss. Again, Louis brought a perspective of comedy to a high-strung drama about con artists.
The characters that C.K. plays in these awards-worthy films actually aren't that different than those seen in his show, Louie. His comedy serves the drama, and his overall performance is nuanced enough to make the character work well in every single scene. It's only a matter time before he gets his own Academy Award nomination for Best Supporting Actor.
Image: Hilary Bronwyn Gail/Bleecker Street