The American Girl Catalog Is Still Awe-Inspiring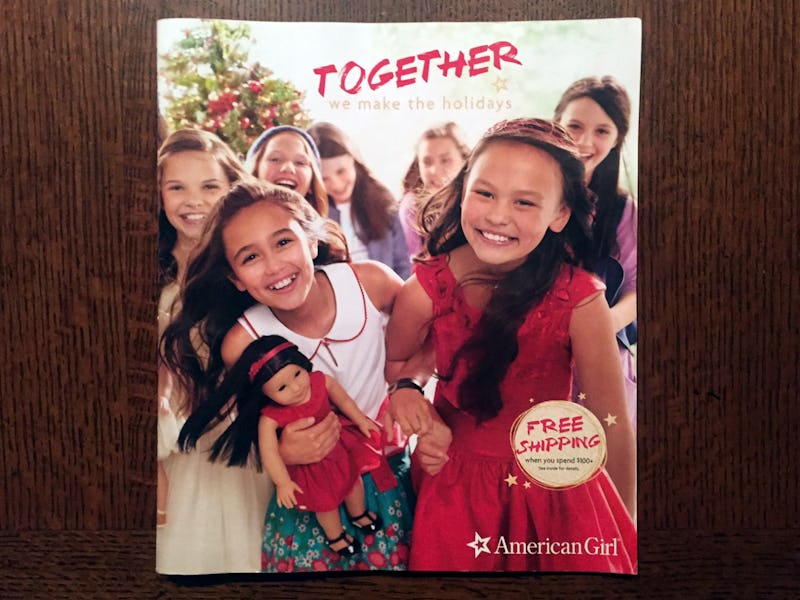 As a kid, the only thing more exciting than receiving an American Girl catalog would have been actually having one of the dolls. Unfortunately, my parents wouldn't go for it. They swore off the expensive toys thanks to my oldest sister, who ruined it for me by not taking good care of her Samantha doll. Nonetheless, I read the books, learned the dolls' valuable lessons, and daydreamed about what I would buy if only I were better at saving my allowance, or could wear my parents down.
Although our family didn't prove to be loyal customers, Pleasant Company (aka the creators of the American Girl dolls) has apparently been hanging onto my parents' address for the past two-ish decades. A brand new catalog recently showed up in their mailbox, probably in hopes that my parents would now be grandparents. To be honest, it's a brilliant marketing move, but it's not one that will pay off in this case. Not only do my parents not have any grandchildren, I don't think they'd be any more likely to buy the adored (not to mention educational) dolls for my hypothetical children than they were for me. Instead, I ended up coming across the catalog, and as I'm sure you can imagine, I couldn't help but flip through it — for the sake of the eight-year-old girl in me, of course.
Naturally, it was a nostalgic experience, one that had me reminiscing about my childhood and American Girls past. Here are 11 reactions I had while combing through the American Girl catalog as an adult:
1. Wait, who are all of these new dolls?
I don't even recognize half of the new American Girl dolls. Although, I guess they're probably not that new anymore...
2. This one has a café? Jealous.
I'd totally want the doll that loves baked goods as much as I do.
3. Who has room for all of this stuff?
I mean, seriously, a horse-drawn carriage?
4. Uh, what happened to Molly, Felicity, and Kirsten?!
I know they have to keep things fresh, but it's weird to see that the ones from my childhood are retired now. Those dolls were the best. RIP, girls.
5. These dolls have way more athletic equipment than the average person.
I want to live their lives.
6. Is it weird that I still kind of want some of this stuff?
My inner child is putting together a mental Christmas list.
7. Everything in here is so expensive.
If I'm going to pay $48 for a popcorn machine, it had better make real popcorn.
8. Even the dolls have dolls.
I can't even make this stuff up.
9. The new dolls are way more inclusive.
I've always appreciated how American Girl teaches kids about diversity. Sure, the selection isn't exhaustive — being mixed, I'd like to see a biracial doll in here — but being inclusive is obviously a priority, whether that be allowing girls to customize their dolls' appearance, or selling a doll wheelchair.
10. How dare they update Samantha's bed?
Sure, Samantha's new bed is pretty, but I still wish I had a human-sized version of her old one.
11. I'd actually wear some of these outfits.
Whoever is designing these dolls' clothes is doing a seriously good job.
Images: Courtesy of Stephanie Topacio Long; AmericanGirl.com; Stephanie Topacio Long; AmericanGirl.com ; Ambernectar 13/Flickr; Stephanie Topacio Long (2); AmericanGirl.com ; Prayitno/Flickr; Stephanie Topacio Long; AmericanGirl.com (2); Stephanie Topacio Long; AmericanGirl.com