Creative Date Spots For Your Next Night Out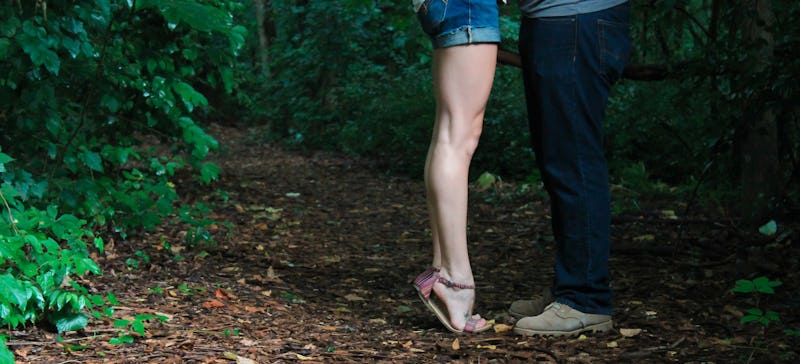 Great — you've got yourself a date with the hottie from down the hall, but do you suggest the tried and tested dinner and movie scenario or go for something more original? If you're up for the latter, there are a selection of unusual date spots to try if you're feeling a little tired of the never ending Groundhog Day of dating which equates to: Same stuff, different person.
Obviously who you are with makes all the difference, but even if you're on a date with the most amazing person in the world, you're limiting yourself to the parameters that the classic date puts in place. Sure, you might get a lingering look, a hand holding moment, or a make out session if all goes well, but why not enjoy a date that goes beyond the norm? You could be going on dates where there are way more things to talk about than where you're both from or what you majored in at college — you're going to find that stuff out eventually anyway, so spend your time checking out if there's any chemistry first.
A first date should be fun, exciting, and maybe a little nerve-wracking, not a forced discussion similar to an interview. A date with a partner you're in a long term relationship with should reignite all the reasons why you love them, not be an activity where you have to follow social constructs and consequently spend the night bored out of your minds. So here are a range of interesting places to take your partner whether it be your first, third, or one-hundredth date!
1. An Aquarium
Aquariums are a fantastic place to go on a date. Not only is there so much to see, do, point at, and talk about if there's ever a lapse in conversation any awkward pauses will be made less awkward due to the relaxing aquarium vibes. If that's not enough, people who spend time in aquariums could improve their physical and mental well being, according to a study done by Plymouth University and the National Marine Aquarium. So not only are you in for an interesting date but you could reap some health benefits too.
2. A Life Drawing Class
There will be art materials and a naked person. In other words, the best ever two ingredients for a date. If it's your first date, drawing a naked stranger will really break the ice and will make for a great, "how we met" story if things go well. On the other hand, if you don't have a spark with your date, at least you got to see someone naked.
3. Paintball
Having a paintball adventure will really show you what your partner's made of. Long term partners can use this as a way to let off some steam and have a blast with each other and newbies can see what their date is really made of. The only thing to decide is: Will you be on the same team?
4. Nature Swimming
If you're in the early stages of your relationship, at some point you're probably going to see each other naked – that is if you haven't already. If you've yet to bare all to your new partner, going for a dip and stripping down to your swimsuits is a great step in the right direction to feeling comfortable with each other when you're not wearing much. Natural swimming pools have many advantages over public swimming pools including that the water in a natural pool is chemical free. You'd be surprised as to where you might find natural pools, too; for example, did you know there are six great swimming holes in upstate New York? Ask friends and family or if you're new to the area, get Google-ing or asking the locals.
5. Stargazing
Stargazing is as romantic as dates get. Picture yourself snuggled up to your date, all cozy in your warm clothes with a flask of coffee, taking in the wonders of our galaxy, and feeling both insignificant and totally awe-inspired at once. If you want to be even more adventurous, you could find a place to camp out under the stars and snack on a midnight feast as you lose yourselves in the moonlight. If you're both new to star gazing, you can use fantastic astronomy apps such as Star Walk™, which uses your device to educate you on the whereabouts of different stars, constellations, and planets in real time. On the other hand, if it's too chilly to sleep under the stars, you can take your date to a public observatory.
6. Visit A Fairground
A visit to a local fairground or carnival conjures up nostalgic memories of cheesy, romantic pop culture moments such as Sandy and Danny in Grease and Marissa and Ryan in The O.C. Even if you find these romantic references embarrassing and not the least bit romantic, you're sure to have a heap of fun with your date playing games, hopping on scary rides, and eating delicious fairground food.
7. Take A Train Ride
Hop aboard an historical train to take in your beautiful surroundings and maybe learn a thing or two about your date and the local history. You can take in the stunning fall foliage in an open-air car, enjoy a reenactment of a train robbery, or even enjoy a twilight ride including a fine dining excursion.
8. Have Dinner In A Themed Restaurant
Themed restaurants are definitely not just for kids; they are a great place to go on a date because you're in unusual settings so there is a lot to talk about. Take, for example, Ninja New York Restaurant in NYC, which is an experience rather than just a place to eat, including castle inspired surroundings and a Ninja magician who performs magic at your table. If you prefer something a little less adventurous and slightly more chill, then visit a cat cafe where you can have a coffee and pet some kitties. Just make sure your date likes cats first!
9. Go To An Inspiring Talk
There might be a common interest which you and your partner share which you'd love to explore further via a professional talk. This could be anything from meditation to science to economics; whatever the interest, there's sure to be someone sharing their knowledge with the world. TED Talks are a great place to start and you can attend a conference by application. Alternatively, you may have an idol, perhaps a favorite movie star who is giving a talk about their work and life or someone who inspires and motivates you both. There could also be a person whom one of you admires and you wish to share their message with your partner. If you're low on funds or live in the countryside where perhaps these events are hard to come by, share an evening with your partner where you take it in turns to pick TED Talks to watch from the comfort of your sofa, in order to learn more about yourself, your partner, and the world we live in.
Diverge from the norm and embark upon an exciting date spot which you and your partner will love because life's too short for boring dates.
Images: Kate; FrancisTaylor; MariPi; JeffSheldon; JoshFelise; DanielRoe; CharlieFoster; MayurGala /Unsplash; Pexels; Giphy (1)