7 Things You Didn't Know About 'She's All That'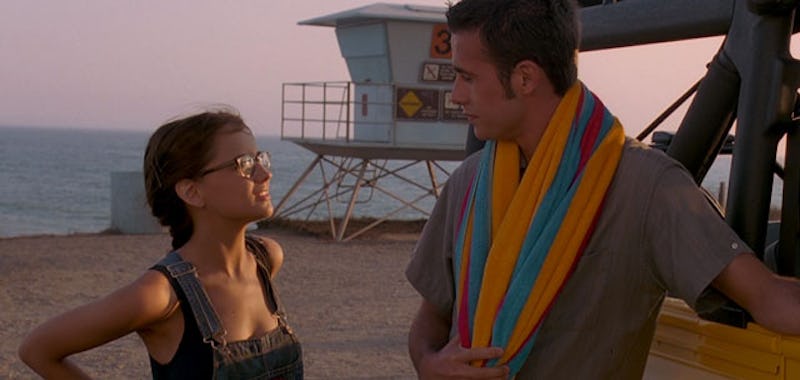 So you've watched She's All That more times than you can count. You've memorized every word. You spent an entire Saturday teaching yourself the dance move in the movie. But, do you know these things about She's All That ? Because, for as many times as you may have referenced the film in the past year, there are probably a few things about the movie that you never knew. After all, even though the film defined an entire decade when it came out in 1999, there are a couple of things that were kept under wraps.
The movie, a modern adaptation of My Fair Lady, is one of the most popular teen movies of the '90s, and rightfully so. It reached number one at the box office in its first week, and stars Freddie Prinze Jr. as Zack, a popular high school senior who is challenged with turning an unpopular girl into a prom queen. Of course, we all fell for the film (let's be honest, we all mostly fell for Prinze who, at the time, was in his heartthrob prime), and when it came out on video, we all played that dance scene on repeat until we knew every step by heart. (That wasn't just me, right?)
But, despite whatever devotion you have to the film, there are a few things that you probably didn't know about it. Check out this list to test your She's All That knowledge.
1. Freddie Prinze Jr.'s Casting Changed The Whole Script
In an interview with Cosmopolitan , director Robert Iscove said that Zack was much more of a jerk in the original script. But, because Prinze was such a charmer, they decided to change him into a much sweeter guy. Awww.
2. M. Night Shyamalan Was A Writer On The Movie
Even though the movie is missing his normally creepy vibe, Iscove also told Cosmopolitan that Shyamalan was a writer on the movie. In fact, he made the major changes to Prinze's character that are mentioned above.
3. Sarah Michelle Gellar Refused To Speak
In the same interview with Cosmopolitan , Iscove claims that Gellar was just on the set to visit Prinze. She agreed to play the small part, but told them that she wouldn't speak — not even to say "no" or "thank you" to the actor playing opposite her.
4. A Remake Is In The Works
According to The Wrap, sources have reported that the Weinstein Company is developing a remake of the iconic '90s movie. Personally, I'm seriously hoping it's a completely new story. It's too soon for a remake, right?
5. It Was Filmed At The Same High School As Buffy The Vampire Slayer
And that high school is Torrance High School in Torrance, CA, a suburb right outside of Los Angeles. (Multiple other films and TV shows have been filmed there too, including Bring It On, and Beverly Hills, 90210.) Is it any coincidence that Prinze and Gellar ended up finding love?
6. The Film Was Gabrielle Union's Debut
And what a breakout role it was. The star has gone on to star in such films as Clueless, Grown Ups, and 10 Things I Hate About You.
7. Um, Rachel Leigh Cook Was Actually Beautiful
OK, maybe you knew this one, but you at least suspended your disbelief to believe for an hour and a half that glasses and unibrow could make somebody unattractive.
Now, the next time you and your friends get together to watch/recite every line by heart, you'll have new information to share that they're probably totally in the dark about. You can thank me later.
Image: Miramax (8)