You Need To Watch 'Crazy Ex-Girlfriend'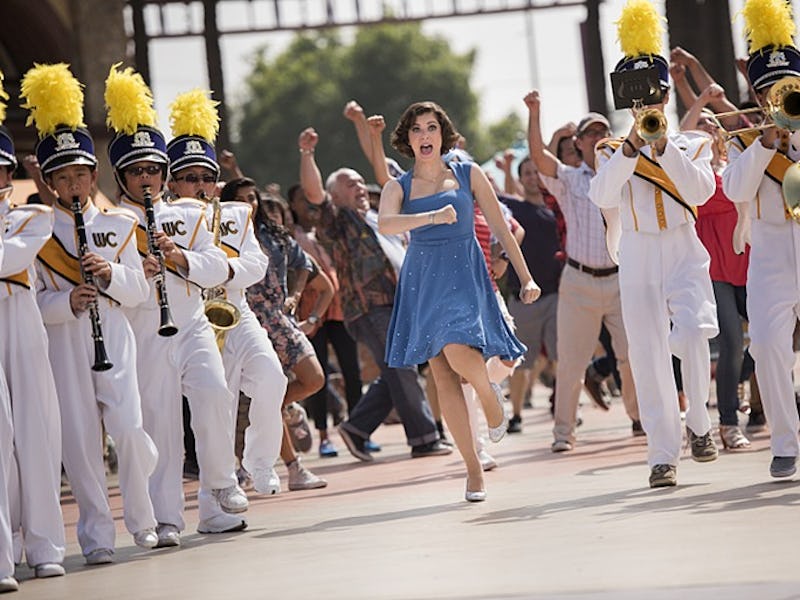 Joining the ranks of great shows with terrible titles like Cougar Town, Terriers, and Trophy Wife, The CW's Crazy Ex-Girlfriend was one of the best TV shows of the fall. Refreshingly original, with a heroine you cannot help but love, and catchy original songs you will hum for the rest of the week after each new episode airs, Crazy Ex-Girlfriend is a delight from start to finish. It is one of the rare TV shows I find myself loving unconditionally. If you are letting the admittedly off-putting title stop you from checking out the wonders of Rebecca Bunch's adventures in West Covina then allow me to tell you why it is time to learn to let go of hating the title and start loving the show.
Like a less romanticized Felicity, Rebecca quits her lucrative job in New York after running into her old camp boyfriend Josh and moves to West Covina on a whim. She tells herself that she didn't move to be with Josh — who she quickly discovers has a girlfriend — but she definitely did, just not for the reasons she thinks. That's the secret of Crazy Ex-Girlfriend : it isn't what you think it is about or what Rebecca thinks it is about, it is actually about something far more important and relatable — finding happiness in your adult life.
Bloom was nominated for a Golden Globe for her work on the first season of the show. Need more convincing? I would honor Rebecca by offering up my argument in song, but you will just have to settle for a list instead.
1. Rachel Bloom Is Your New Favorite Actress
YouTube star Bloom reminds me of the screwball comedy actresses from the '30s and '40s. Like a Myrna Loy or a Katharine Hepburn, Bloom can rattle off rapid fire dialogue, sing, dance, display vulnerability, and be the smartest woman in the room all in the same scene. She has an expressiveness in her eyes that will make you laugh and want to hug her simultaneously. Her talents are endless as far as I can tell, and nowhere is that more evident than in the way she takes Rebecca from unbridled enthusiasm to subdued sadness without ever losing one ounce of credibility.
2. The Show Gets Real About Life As A Woman
If you've read Roxane Gay's Bad Feminist or have simply accepted that while you are feminist, you are not a perfect feminist (spoiler alert: no one is), then you will appreciate Crazy Ex-Girlfriend on a whole other level. The show exposes the misogyny inherent in the idea of the "girl feud," it sings songs about beauty expectations, and it even pokes fun of its own title in the opener. Rebecca engages in problematic behavior, but she also owns who she is in a way you will admire. She's kind of a mess, and that's OK because she is working through it.
3. Greg & Rebecca Are The Next Luke & Lorelai
Rebecca came to West Covina for Josh, but when it comes to love, the show is firmly Team Greg and Rebecca. He's an adorably grumpy bartender with confidence issues and a heart of a gold. She's a lawyer who goes way overboard, but is insanely lovable. Together they can argue with the best of them, but they also make each other laugh. A lot. They will make your heart have a feelings explosion every single week.
4. Rebecca Has Awesome Lady BFFs
Rebecca and her new West Covina best friend Paula are an amazing tag team. Rebecca helps Paula take on her son's principal, and Paula helps Rebecca with all of her Josh schemes. Their friendship is one of the show's greatest assets. Then there's Heather, who originally saw Rebecca as a subject for her abnormal psychology class, but now just wants to hang out with her. All three of these women are wonderful together, and don't even get me started on what could have been if Rebecca hadn't made out with Josh's girlfriend Valencia because their brief foray into friendship was a beautiful thing.
5. The Musical Numbers
From an homage to Ginger Rogers and Fred Astaire to a song about insane beauty rituals, the musical numbers are a highlight of each episode. They are catchy, on point, and they will make you laugh until your sides ache. TV should take note because this is how original musical numbers should be done.
6. West Covina Is The Best Small Town Since Stars Hollow
From what I have seen so far, West Covina is the sort of place that has eight-year-olds frequent sports bars and hosts elaborate taco festivals. It's also two hours from the beach, four with traffic. It is just as quirky as the characters who live there and I never want to leave.
7. Rebecca Is A Character Worth Rooting For
The show is told entirely from Rebecca's perspective. Even though her life in New York looked great from the outside, it wasn't the life she wanted. She wasn't happy, and being happy is more important than accepting a big promotion. Yes, she is pinning all of her hopes for happiness on Josh (a guy whose life is equally unsettled), but along the way she is building a community for herself. Rebecca is gaining friends, security, and with every mistake she learns something new about herself. Sometimes the show can be immensely sad because Rebecca is her own her worst enemy, but she's also her best advocate when it counts. You will root for this woman, relate to her, and probably want to be her best friend.
Crazy Ex-Girlfriend airs Mondays on The CW. Do yourself a favor and check it out because it is worth resurrecting the term "must see TV" for.
Images: Eddy Chen/The CW; austinlanghams/Tumblr (2); brookheimers/Tumblr (3); summerroberts/Tumblr;