Hinge Launches A New Feature To Cut All The Games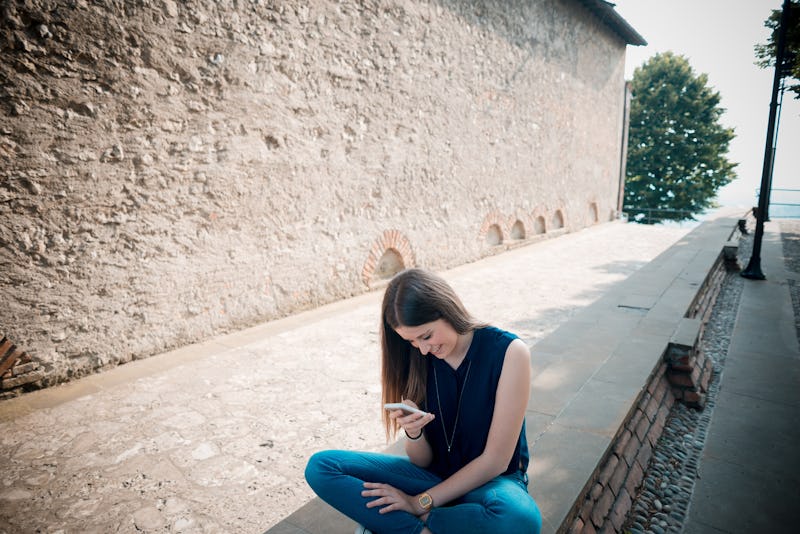 Hinge, the dating app that connects you to matches via Facebook (your first-tier friends or friends of friends), has launched "timed matches" as of Nov. 2. Now, Hinge users will now have 24 hours to initiate a conversation with someone and 14 days to exchange phone numbers. Otherwise, you'll lose the match and he or she will disappear. After all, when we meet someone IRL, we exchange numbers right away, so what's the hold-up online? (Plus, since Hinge connects us to people we know or whom our friends know, there really shouldn't too much hesitation in exchanging numbers. Our friends serve as referrals, so it is like meeting their friends at a party... only, on Hinge.)
Personally, I think the timed matches concept, which apps like Coffee Meets Bagel, Bumble, and The League all have, is excellent news. As a Hinge user, I have never had a Hinge date, let alone a solid message exchange. I find that the men I match with like to match… but then I do not hear from them (even when I initiate the e-conversation). (I mean, what is the point of matching and never talking?!)
As of Nov. 1, I had 30 Hinge matches, and how many of those resulted in messages back and forth? Three! Not great odds. (Even with Tinder, which often gets a bad rap, I find guys write me actual messages (and I, them) — and then follow through with setting up actual dates, which I go on — though I know many people love to match with people and not necessarily contact them.) So, Hinge giving users a time limit is great, especially for those who need that extra push. (I'll be curious to see what happens with my Hinge matches now!)
In case you're not familiar with Hinge, like Tinder, you and a potential match both have to "like" each other in order to begin talking. Unlike Tinder, Hinge only gives you a certain number of matches a day (up to 20), so you cannot sit there swiping endlessly. Hence, perhaps users take the limited-number-of-matches-a-day more seriously.
Hinge's timed matches idea is a result of studies showing that men play games, taking 20 percent longer to respond to messages than women. (I know some people, guys and girls alike, like to wait so they don't look too eager, but, down the line, are you really going to dismiss someone for writing to you too fast?!) Hinge tested the use of timed matches in five markets (Denver, Omaha, Houston, Atlanta, and Dallas) and discovered that both the number of conversations started and phone numbers exchanged increased by 50 percent. That's a whole lot more matching.
Hence, we can assume (and hope!) that game-players will be weeded out and that our inboxes will become full of actual e-conversations instead of simply a bunch of matches' faces with no conversations to boot.
Now, I know what you're thinking: Does this actually work? Luckily, Hinge did that preliminary research and found the following, too.
Messages Sent In The First 24 Hours Are Twice As Likely To Receive A Response
Hinge found that messages sent within the first 24 hours were twice as likely to receive a response—even though most users took up to 2.5 days to begin conversing (or an endless number of days, in my case). So, say something... anything! If someone is interested, they will write back—even if your opener was "How do you know Mike (or whomever your mutual friend is)?"
Users Are 50 Percent More Likely To Exchange Numbers When They Have Deadlines
Hinge found that users were 50 percent more likely to exchange numbers when they were encouraged to communicate with their matches early on. Don't you feel we get more done when we have deadlines? Exactly! Hopefully, that "14 days left" (or less!) clock will help you message your match(es)!
If You Don't Take Action, Say Bye-Bye-Bye To Your Match(es)
That's right, if you don't act within 24 hours and message a match, he or she will disappear from your list of matches. (And we're not on these apps just to match with people and not date, right?! I'm sure we all have better things to do!)
As I said above, I'm curious how this will affect my Hinge matches. Guess I'll have to log in and see.
Want more of Bustle's Sex and Relationships coverage? Check out our new podcast, I Want It That Way, which delves into the difficult and downright dirty parts of a relationship, and find more on our Soundcloud page.
Images: Fotolia; Hinge (2-5); Giphy (6)