Jamieson May Align With Andre On 'Empire'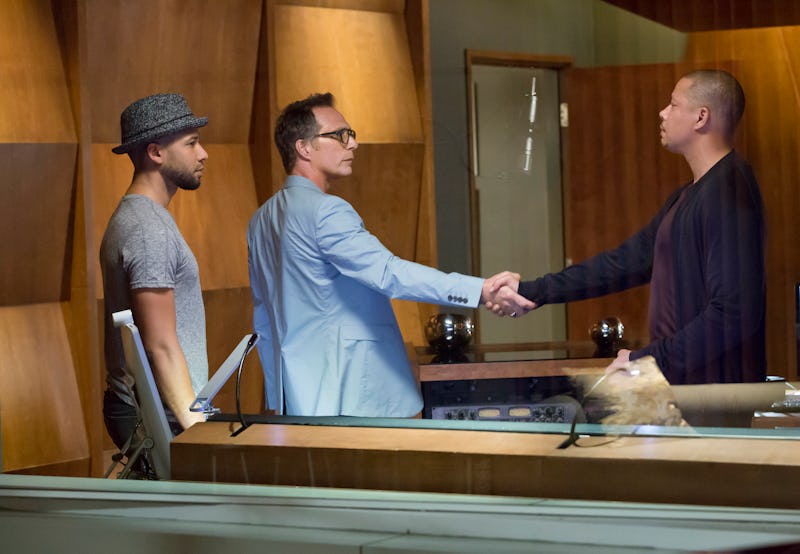 The list of guest stars putting their mark on Empire Season 2 is even longer than that of the show's celebrity-filled freshman season. Next on the docket is Entourage and Prison Break alum William Fichtner, who will make his Empire debut in Wednesday's episode, "A High Hope For A Low Heaven." Fox hasn't made much information about Fichtner's role available yet. In fact, Empire hasn't even been listed on his IMDB filmography yet. But there are a few hints in the episode's synopsis and trailer as to what role he will play in the lives of the Lyon family. As far as his name is concerned, he's credited simply as "Jamieson." That could be the character's last or first name; either way, he's enough of a presence to only be known as one. Like Madonna. Or Drake. So who is Jamieson on Empire?
Fox released a set of photos from Wednesday's episode including the one above, which shows Jamal, Jamieson, and Lucious in one of Empire's recording studios. Fichtner is in a sky blue blazer, so likely a creative type, not a stuffy board member. None of the men in the photo are smiling. Lucious Lyon has been known to smile even as he's dismantling a rival's life, piece by piece, so his poker face doesn't mean everything. Still, I read tension in their poses, especially between Jamieson and Lucious. They don't look happy to be shaking hands.
In the last new Empire episode, Lucious officially reopened Gutter Life Records, a division of his company. Gutter Life was established to give voice and structure to raw talent, so fittingly, Frank Gathers' daughter Freda Gatz was the first artist signed to the resurrected imprint. The official Fox synopsis of Wednesday's episode suggests that Jamieson may be a player in Gutter Life, and possibly a thorn in Lucious's side. The synopsis reads:
Lucious and Cookie must put aside their differences and work together as parents to protect their family and keep them out of danger. Jamal does his best to get back in the studio and break away from being defined solely as a gay artist, while Hakeem struggles with how to feel and act like a man. Meanwhile, Andre works to shut down a division at Empire, until he discovers a disciple in the midst of Lucious' Gutter Life records...
Andre was baptized in the most recent episode, and you'll remember that Lucious is not at all happy about it. This description makes it sound like Andre sees Gutter Life as a drain on resources and another attempt by Lucious to stick it to his enemies even after they're dead, by taking Freda under his wing. But maybe Jamieson is that unnamed "disciple;" having a like-minded parishioner in his midst might be enough reason for Andre to support the label. In the promo clip below, Andre seems to be shaking hands with someone wearing a light blue jacket and making a deal that his father doesn't agree with. Does Lucious not trust Jamieson because he thinks that the church is taking Andre away from the business? Or do he and Jamieson have some past beef that's about to come to light?
Whatever his role, William Fichtner's Jamieson is about to learn never to let his guard down around the Lyons.
Image: Chuck Hodes/FOX