How To Make Delicious Cranberry Sauce Jell-O Shots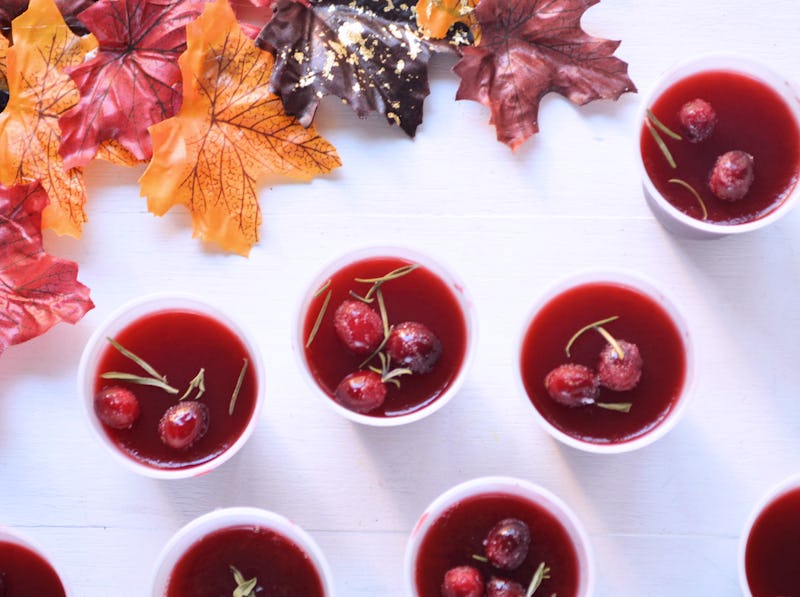 With November in full swing, you're going to want these Thanksgiving cranberry sauce Jell-O shots in your recipe repertoire. I've been daydreaming (and night dreaming) about clever and easy Thanksgiving dinner ideas for this year's festivities. And since the holiday season tends to be super hectic, I'm going to lay some emphasis on the "easy" part. Think of it this way: life in general keeps us on our toes. There's no need to stress ourselves out even more before the upcoming Friendsgiving celebrations, especially when it's all about having a good time with our best buds. That's where this unique recipe comes in.
Inspired by the beloved cranberry sauce of the Thanksgiving season, these Jell-O shots provide a non-traditional twist to the average turkey day meal. These would be amazing served with your favorite fall pie after stuffing yourself with as much turkey goodness as you can handle. The level of sweetness can also be adjusted to your liking.
Before we get started, let's just talk about cranberries. This particular berry is an underrated fall flavor that adds the perfect touch of festive warmth and sweetness to any dish. Between the dark red hue and medley of vitamins, cranberries are the ultimate "it" berry of fall and winter. So much, in fact, that cranberry beauty products have become popular during this time of the year.
Ready to make your own cranberry sauce Jell-O shots? Keep reading for the easy peasy tutorial, and get ready to be a kick-ass hostess.
Ingredients:
- Cranberry juice or cocktail (two cups)- Cranberry sauce (one can)- Cranberry, raspberry, or cherry Jello-O (one three-ounce package)- Mini vodka bottles (two)*- Cranberries and rosemary for garnish (optional)- Mini plastic drinking cups
You'll Also Need:
- Stainless steel pot - Measuring cups- Measuring spoons- Metal soup ladle
*Apple, ginger, vanilla, or orange-flavored vodkas work best for this recipe. If you're not one for super sweet concoctions, feel free to opt for unflavored vodka. Between the cranberry juice, sauce, and Jell-O, these shots can be pretty sweet!
Author's Note: Steps one through five should be done on a stove top. For this tutorial, the pictures for these steps were taken off of a stove top for photography purposes.
Directions:
1. Pour two cups of cranberry juice into a stainless steel pot. Place over medium heat until a slow rolling boil forms.
2. Add the entire can of cranberry sauce.
3. Stir until most, if not all, the cranberry sauce has dissolved. If you have a few chunks left, that's totally OK! Remember, the finished product will have a jelly consistency anyway.
Once the cranberry sauce is thoroughly mixed into the juice, reduce the heat to a low simmer.
4. Add the vodka and mix well. To make virgin Jell-O shots, simply skip this step.
5. Add one packet of Jell-O. You can also use non-flavored gelatin for a less sweet alternative.
Continue stirring until all of the ingredients are thoroughly mixed together.
6. Turn off the heat, and let the pot of delicousness cool down for a bit. This should take a couple minutes.
Now, it's time to divvy it up. Carefully pour the mixture into the mini plastic drinking cups. A metal soup ladle works really well for this.
7. Continue until the mixture is evenly split up among the little plastic cups. This recipe makes 12 shots.
Cool in the fridge until the Jell-O has completely set. This should take about two to four hours, depending on your fridge.
8. Optional: To make a garnish for the Jell-O shots, cover a handful of cranberries with sugar. This creates a festive, glistening layer of sparkle on the cranberries.
9. Top off the Jell-O shots with sugar-coated cranberries and rosemary.
10. Serve cold, enjoy, and brush yo' shoulders off.
For more fall food ideas, check out Bustle on YouTube.
Images: Kirsten Nunez