20 Fall Pie Recipes You Need In Your Life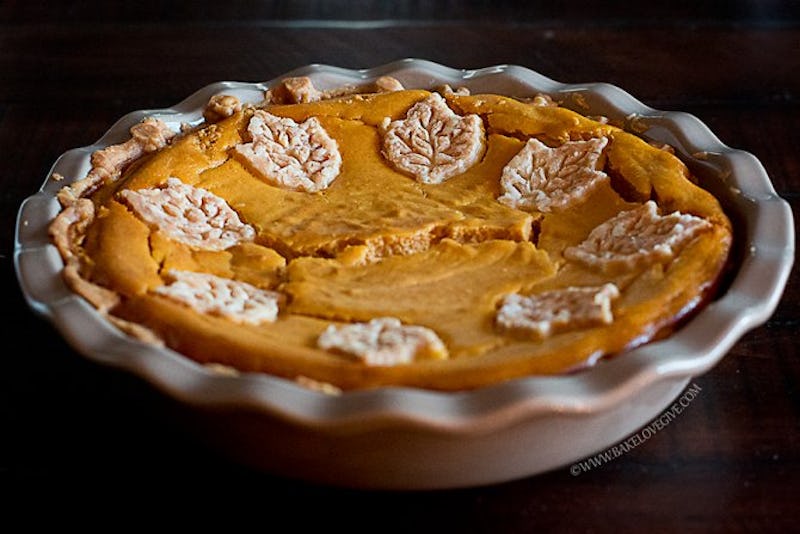 Now that we're well into autumn, I hope you've been indulging in all the seasonal goodness. I'm talking about the fall breakfasts, beers, and pumpkin spice-infused everything. Is your stomach grumbling yet? While we're at it, let's talk about easy fall pies. This classic dessert seems to be the ultimate fall dish. I'm thinking it has something to do with the cozy, welcoming nature of these beloved desserts. Whatever it is, I like it.
Before you start declaring that you have non-Martha Stewart skills, give this list a chance. There are some serious gems on here that require zero fancy techniques or ingredients. Some recipes encourage the use of a store-bought crust, while others depend on things like canned cinnamon rolls. Other recipes require leftover turkey meat, something that's all too easy to procure during the fall season.
It's safe to say that everyone is 1,000 times nicer to you when you show up with pie. I'm pretty sure it's been scientifically proven by a professional foodie out there. And while I don't encourage you to tick people off just to test this out, I can guarantee you'll get tons of autumn cred. Basically, this list takes the cake... well, pie.
1. Savory Pumpkin Pie with Quinoa Crust
My head spins whenever I look at this recipe title. Savory? Quinoa? Crust? What?! I have so many questions.
For starters, the savory pumpkin filling also uses zucchini. Talk about a deliciously healthy dose of good-for-you vitamins. As for that protein-packed quinoa crust? I'm sold.
To make me super jealous with your very own pie, visit What's Cooking Good Looking.
2. Pumpkin Pie Cheesecake
If two of our favorite traditional desserts had a baby, this would be it. And it is darn good looking.
Made with a gingersnap cookie crust (!!!), this darling baby is full of cozy holiday spices. Granted, it's technically a cheesecake, but the pumpkin pie-twist is a game changer. It's like a creamy pumpkin pie full of cream cheese. That orange and white swirl combo is pretty easy on the eyes, too.
Send all love letters — uh, thank you notes — to Lick My Spoon.
3. Sweet Potato Pie
While we're on the topic of traditional desserts, here's a classic recipe. It goes without saying that autumn isn't complete without a sweet potato pie or five. Making your own may take some elbow grease, but it is so (so) worth it. You'll also get some serious kitchen points.
Visit Joy the Baker for the full recipe.
4. Leftover Thanksgiving Pot Pie
Fall seems to be the ultimate field day for foodies. First up is Halloween with all the sweets. Next is Thanksgiving, complete with juicy turkey, savory stuffing, and addicting cranberry sauce. Love love love.
On the off-chance you have leftover turkey, try using it in this easy pot pie recipe. This is an especially awesome idea if you tend to get sick of eating leftovers in the same way. And with a puff pastry crust, you really can't go wrong.
For the full step-by-step, head to Damn Delicious.
5. Salty Honey Pie
Fans of the sweet-and-salty combo will adore this pie. It bakes like a custard, making it a super decadent dessert. This would be an amazing way to use some locally grown honey from your latest orchard trip.
You can find the full low-down at Joy the Baker.
6. One-Pot Cheesy Turkey Tamale Pie
If you're a die-hard fan of cheese and have a liking for tamales, I may have found your newest favorite pie. This recipe has so many good qualities about it that I might ask it out on a date. Don't judge me.
As a pie that is perfect for using up leftover turkey, this recipe has so much going for it. You can also replace the turkey with chicken if that's what you have on hand. Whatever you gotta do to make this happen, I support it.
Find the tutorial at Half Baked Harvest.
7. Salted Caramel Brownie Pie
What's the only thing better than a brownie? Brownie pie. Because it's an actual thing.
To (literally) top it off, caramel-filled chocolates are placed on top before it makes its way into the oven. The salted caramel sauce adds that hint of fall that we love so much. If that doesn't say indulgence, I don't know what does.
Head on over to Deliciously Yum to satisfy your sweet tooth.
8. Bourbon Pecan Pie with Dark Chocolate
Dishes always seem way cooler when alcohol is involved. This bourbon-infused pie isn't any different. Bring in the dark chocolate and pecans, and you've got yourself the perfect pie for your next autumn gathering.
Your best bet is to eat this pie cold. I'm thinking it would be amazing with a dollop of vanilla ice cream and a sprinkling of cinnamon. YUM.
Make the pie with the help of Joy the Baker.
9. Apple Slab Pie
If you're looking to feed a crowd this fall season, try making a pie with a cookie sheet. The end result will be a flat, thin pie that cuts into easy-to-eat slices. And since you can never go wrong with a traditional apple pie, this recipe is one to keep an eye on.
Want to make your own? Baked by Rachel has your back.
10. S'mores Pop-Tart Slab Pie
While we're on the topic of slab pies, let's talk about this s'mores pop-tart version. I'll be the first to admit that s'mores are usually associated with the summertime. But who says their goodness should end there? I like to look at this as a way of being able to enjoy s'mores in the fall, sans campfire. You're welcome.
Check out The Crepes of Wrath for the full recipe.
11. Egg Nog Brulee Pie
Nothing says "holidays" quite like egg nog. This pie, which is inspired by the popular beverage, happens to be topped off with a layer of sugary cinnamon.
For best results, bring this pie to your next family party and keep it out of sight. Next, start serving it the moment the questions about husbands and kids start rolling out. Crisis adverted.
Find the recipe at Confessions of a Cookbook Queen.
12. Caramel Apple Cinnamon Roll Pie
Here's another example of how two desserts can make a beautiful baby. Apple pie and cinnamon rolls? I'm feeling so many autumn vibes right now.
Because this pie is made with canned cinnamon rolls, you have exactly zero excuses to not make this pie. Plus, it has not one... but TWO glazes. Between the white cream icing and caramel glaze, you're going to officially win autumn with this concoction.
Visit Deliciously Yum to learn how to make it.
13. Curry Turkey Pot Pie with Homemade Butter Pie Crust
I seriously adore unconventional twists on traditional dishes. This particular pot pie features a curry turkey and veggie filling that is full of flavor and awesomeness. It's another badass way to use up that leftover turkey meat from Thanksgiving dinner.
To make this tasty dish, pay a visit to Foodie Crush.
14. Fluffy Pumpkin Pie
For a lightweight take on the popular pumpkin pie, try making this fluffy version. As an added bonus, you'll also learn how to dress up your pie with cookie cutters and leftover pie crust. That's a win in my book.
When you're done scarfing it down, be sure to thank Bake Love Give.
15. Jamaican-Spiced Pumpkin Pie
Another pumpkin pie? You bet. This one happens to be spiked with spiced rum, making it anything but ordinary. Combined with nutmeg, ginger, and cinnamon, this beauty is going to give you a major kick in the mouth. Fortunately, it's the good kind. I promise.
Learn how to make it with the help of Baked by Rachel.
16. Chocolate Pudding Pretzel Pie
Something about pudding makes it the ultimate comfort food. This pie happens to feature chocolate pudding in all its glory. With a crust made of pretzels and a cream cheese topping, this pie is going to be your sweet tooth's newest obsession.
Head to Mel's Kitchen Cafe to check out the recipe.
17. Rustic Turkey Meat Pie
You're probably wondering what the heck makes this meat pie "rustic." Well, aside from the charming pie crust toppings, this recipe combines turkey meat and quintessential fall spices. We're talking cinnamon, nutmeg, clove, and ginger. Basically, it's a holiday party in your mouth.
To get the celebration started, visit The Healthy Foodie.
18. Pumpkin Ice Cream Pie
If you live in a state that never sees autumn, you're going to want to bookmark this recipe. Made with creamy vanilla ice cream and pumpkin puree, this dish is the epitome of the perfect marriage.
Even if you do experience autumn, that doesn't mean you can't make this dessert. Just throw on an extra scarf, sit by the fireplace, and indulge.
Thank you, Averie Cooks, for your brilliance.
19. Banana Cream Pie with Chocolate Ganache & Salted Caramel Sauce
There goes that delish salted caramel again. Come to mama.
The raddest thing about banana cream pie is that it's appropriate all year round. Bring in the salted caramel sauce and all of a sudden, it's the perfect fall dessert. I'll take seconds, please.
View the entire recipe at Lick My Spoon.
20. Whisky Pecan Pie
To make a pecan pie without chocolate, check out this recipe by The Messy Baker. This pie uses whisky, but you can easily substitute it with bourbon. Whatever your heart desires, lady.
This is another boozy dessert that I can get behind. Learn how to make it at The Messy Baker.
Looking for more fall food ideas? Check out Bustle on YouTube.
Images: What's Cooking Good Looking; Lick My Spoon; Joy the Baker; Damn Delicious; Joy the Baker; Half Baked Harvest; Deliciously Yum; Joy the Baker; Baked by Rachel; The Crepes of Wrath; Confessions of a Cookbook Queen; Deliciously Yum; Foodie Crush; Bake Love Give; Baked by Rachel; Mel's Kitchen Cafe; The Healthy Foodie; Averie Cooks; Lick My Spoon; The Messy Baker