Could Chef Leon Return To 'Below Deck'?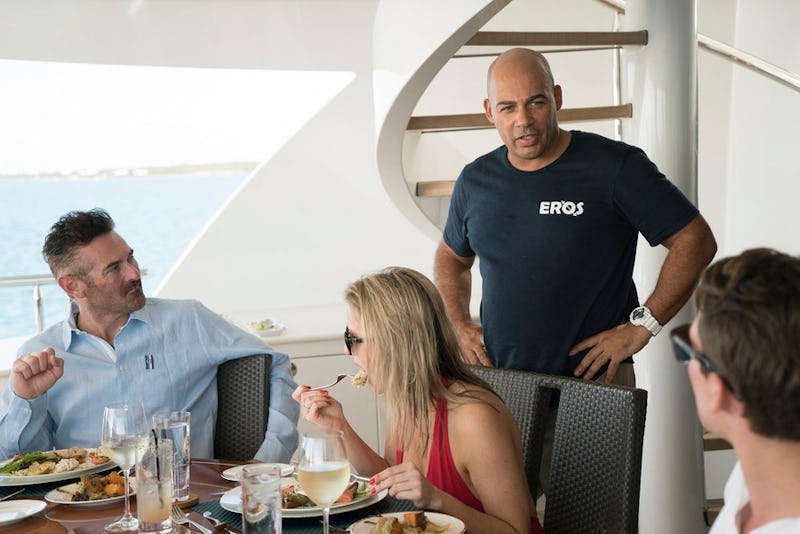 When new Season 3 cast member Chef Leon left Below Deck , everyone watching breathed a sigh of relief. Tensions between the chef and chief stewardess Kate Chastain have been building since the first episode of the season, and a fire in the galley is nothing to mess around with. So when Captain Lee made the executive decision to fire Leon and bring back Ben Robinson, it looks like he closed the book on Chef Leon returning to Below Deck for the remainder of the season. Because even if Rocky is right and Leon really wasn't at fault for the fire, the rest of the crew is getting along significantly better with Chef Ben in Leon's place.
Since the Nov. 3 and Nov. 10 episodes are the two parts of the the Real Housewives of Atlanta 's charter, that means that Ben will remain a member of the cast for another week, at the very least. But even after that, it seems unlikely that Leon will be returning to the Eros for another charter this season. First of all, the aforementioned safety concerns. Captain Lee doesn't play around with unsafe conditions, and has fired people who are great TV but bad crew members before.
Beyond that, Leon's only remaining ally was Rocky Dakota, who's not the most popular member of the crew either. She maintains that Kate was the one who was responsible for the fire, and nearly left the show when Captain Lee decided to fire Leon. But since Rocky is a third stew, she's outranked on this issue, even if it drove her literally into the deep end.
And Dave, who recently returned to the show in order to help fill in for the deck crew, posted a picture on Twitter of the filming of the reunion in Miami. Looks like Below Deck is getting the full Housewives treatment this season, including a non-Watch What Happens Live set that includes two different couches (the better to separate Kate and Rocky).
In Dave's photo, there's no glimpse of Chef Leon, suggesting that he won't be a big part of the reunion. And if he wouldn't even return to defend his case in the reunion, I'm still sincerely doubtful that Chef Leon will make another reappearance. Right now, @starchefleon, which seems to be Leon's official Twitter account, is retweeting dozens of messages in support of him and posting selfies of him hanging out in beautiful locations without the Below Deck cast.
Looks like Leon and Kate haven't repaired their relationship one bit since Below Deck. And since no chief stew and chef can successfully have such an antagonistic relationship, all the evidence points towards Chef Leon's firing being his last appearance on Below Deck Season 3. And look out, Rocky — you're Kate's next target.
Images: Virginia Sherwood/Bravo; Sidewindervx/Tumblr